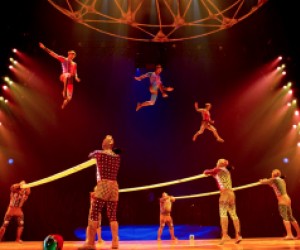 Fun & Free Activities with LA Kids this Weekend: Grossology, Grammys and Museums Free For All: Jan 25 - 26
I can't put my finger on it, but there's something different about you. You seem somehow...craftier. Hey, you've been dabbling in our WeeWork projects, haven't you! What's been your favorite so far? The Martin Luther King, Jr. Dream Mobiles? Indoor bowling? I'm guessing it's not the ice lanterns, unless, to quote my favorite snowman, you wanted to finally learn what frozen things do in summer.
If you're craving more inspiration, a score of Los Angeles area museums are free on Saturday. Seriously, the Hammer, the Skirball, the Pacific Asia Museum. Free, free, and totally free. You know what inspires me? Free. (Word to the wise: only those museums that are on the list are free. Don't try waltzing into any other ones without paying. That's called breaking and entering.)

Frankly, I don't know how you can get any more inspired than by watching the exaltation of the human form that is the latest edition of Cirque du Soleil: TOTEM. (And it even gets bonus points for being spitting distance from Santa Monica Pier.) Leave the kids home if you have to. (You don't have to; they'll love it. But you might "have to." Because, you know, kids turn into pumpkins if they stay out too late. Or something like that...)
Keep reading for some of our favorite picks for the weekend, none of which will turn your kids into a winter squash...
ALL WEEKEND

Mary Poppins Sing-A-Long (G) - Hollywood
A spoonful of sugar may help the medicine go down, but nothing will ease the pain of missing the last weekend of the Mary Poppins sing-a-long at El Capitan.

Cirque du Soleil - TOTEM - Santa Monica
Totem: the evolution of a- ma-zing. You may quote me on that. (Or read our parent review).

Opening Weekend of Animal Grossology Exhibit - Santa Ana
Vomit. Slime. Poop. And this time, it's not all coming out of your kid!

Zoodiac - Griffith Park
It's Year of the Horse; learn about horses and related animals at the L.A. Zoo. What related animals, you say? How about the Zebra, Rhino, and Tapir!

Festival of Human Abilities - Long Beach
The Aquarium of the Pacific celebrates the talents of people with various physical challenges.

Last Weekends of the Month at the Skirball - West LA
Visitors to the Skirball can help those in need of shelter, with hands-on activities from Habitat for Humanity.

Monterey Park Chinese New Year Festival - Monterey Park
New Year festivities in Downtown Monterey Park include firecrackers, a traditional Chinese Lion Dance, and a Dragon Dance, as well as Chinese folk songs, dances, and martial arts demonstrations.

Chinese Cultural Arts Celebration - San Marino
Artisans and performers from China introduce Huntington visitors to the cultural arts of China.

SATURDAY JANUARY 25

Children's Grammy Award Nominee Concert - Santa Monica
All of this year's Grammy nominees in the children's category play a special concert at New Roads School.

Museums Free-For-All - Multiple Venues
Culture on the cheap? Priceless! Select museums all across the Southland let families in for FREE this Saturday.

Saturday Morning Concerts at Books and Cookies - Santa Monica
Mista Cookie Jar entertains the kids at Books and Cookies.

FOX's MasterChef Junior Open Casting Call in Los Angeles - Westchester
Got a kid who's a kitchen whiz? Master Chef Junior is auditioning at the Radisson LAX.

Andrew & Polly Mini-Concert - West LA
Children's Book World regulars Andrew & Polly perform friendly, engaging music for children of all ages.

Lake Forest Snow Day - Lake Forest
The whole family can go sledding at Pittsford Park during the annual day of snow play.

Snow Day - Fullerton
Fullerton's Brea Dam Park offers another snowy option, with three 75-foot snow runs and separate play areas for kids under 5.

Mythical Playground: Brazilian Myths and Culture - Santa Monica
Blame it on the Bossa Nova. The music of Brazil is explored through the story of a Native American boy, a European girl, and the girl's African caretaker.

TSFY: Vivaldi's Four Seasons - Downtown
Want your SoCal kids to experience all four seasons? Send 'em to Walt Disney Concert Hall to hear Vivaldi's symphonic version.

Celebrate Chinese New Year - Redondo Beach
The South Bay Galleria celebrates Chinese New Year with free crafts and entertainment.

FIGat7th Kids Club - Downtown
Kids can welcome the New Year by decorating a good luck horseshoe or horse ornament.

Talking Drums - Downtown
Emmy-award winning actress and professional storyteller Ina Buckner-Barnette presents participatory story, song, and movement fun with African and African American folktales.

Monster Jam - Anaheim
Monster trucks smash, crash, and battle their way through Angel Stadium.

SUNDAY JANUARY 26

Whale Fiesta - San Pedro
You're in for a whale of a time (sorry!) at the Cabrillo Marine Aquarium, as it celebrates whale-watching season with puppet shows, origami, make your own scrimshaw, expert speakers, and music. Creative urges can be satisfied constructing a whale out of duct tape or sand.

Little Stars, A Two-for-One Workshop for Mamas and Starlets - West LA
Got a star in the making? Parents can learn the ins and outs of the business, then kids can take a mini acting class.

Family Flicks: Rivers and Tides - Westwood
This month's free family movie looks at Scottish artist Andy Goldworthy, who makes outdoor sculptures out of found natural objects such as leaves, rocks, and ice.

Autry Explorers - Griffith Park
This month families are invited to participate in lively dance games with a global beat.

Hammer Kids: Animal Dream Theater - Westwood
Kids write and perform dream-like puppet plays in a free workshop at the Hammer Museum.

Westside Jewish Community Center's Annual Tu B'Shevat Festival - West LA
Westside Jewish Community Center celebrates the "birthday of the trees" with food, games, tree planting, family art, entertainment, moon bounce, petting zoo, and pony rides.

Stunt Dog Experience - Long Beach
Stunt dogs amaze with Frisbee catching, pole weaving, high jumping, and even a doggie triathalon.

Family Jam: Drum up the Sun -Taiko - Westwood
The Fowler Museum drums up some Sunday fun with a Taiko performance and a drum-making workshop.

Pete the Cat visits Storytime - The Grove
Pete the Cat visits Barnes & Noble at the Grove for storytime. (Also at the Grove, the American Girl Store hosts a mother-daughter event, Just Mom and Me.)

Zimmer Sunday Family Programs - Mid-Wilshire
Lunar New Year festivities at the Zimmer include arts & crafts, folk games, and Lion Dancers.

As always, there are more activities listed on our daily events calendar, and if you don't already receive this post as a weekly email, you should totally subscribe. Whatever you choose to do this weekend, we hope you have a weekend of pure inspiration.