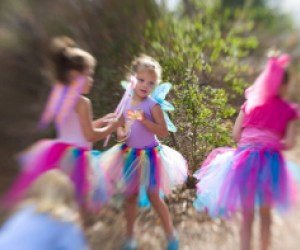 Fun & Free Activities with LA Kids this Weekend: Camellias, Fresh Beat, and Boat Show Feb 8 - 9
We here in So Cal are suffering from what I would call an embarrassment of riches. True, one of our favorite pastimes is gloating about the weather to friends far and wide. Winter? What winter? You mean that time I had to wear long sleeves? But with yet another snowstorm slamming our cross-country brethren, it almost seems untoward to list off the many sunkissed activities that await us this weekend.
Almost. I mean it's not as if we're keeping anyone from joining us in our little corner of Paradise. Are we supposed to feel bad that we can make our summer plans while experiencing summer-like temps? That we can gaze at the stars without turning into icebergs? That our kids see snow in the movies and ask us "what's that?"
Maybe we should send them a little something to show we care. We're starting to feel the Valentine's love with heart-shaped workshops aplenty. I'm sure some handmade cards and craffy gifties would go a long way towards warming their hearts. Or maybe they'd just prefer a sweater.
Keep reading for some of our favorite picks for the weekend...
And don't forget the 2014 Winter Olympics start this weekend! We've got some fun ideas for an Olympics viewing party with the kids.
ALL WEEKEND

Camellia Festival - La Cañada Flintridge
Descanso Gardens' annual Camellia Festival features guided faery tours, tea time, and camellia "walk & talks" amidst the backdrop of the largest camellia collection in North America.

42nd Annual Camellia Show - San Marino
Hundreds of gorgeous blooms compete for top honors at The Huntington's annual Camellia Show.

The Fresh Beat Band in Concert - Downtown
Shout it out – just like a rock star! The Fresh Beat Band performs at the Nokia Theatre L.A. LIVE.

Cirque du Soleil - TOTEM - Santa Monica
Did the free preview on the Promenade convince you? It's time to see Cirque du Soleil at the Santa Monica Pier!

Still Awake Still! - Costa Mesa
Miss Ivory Tinklefinger is hired to sing the audience to sleep, but her piano has other ideas.

Frozen Sing-a-long (PG) - Hollywood
Do you wanna build a snowman? Or maybe you just want to sing about it. The Frozen sing-a-long continues through next Thursday at the El Capitan.

Los Angeles Boat Show - Downtown
Kids (and parents) who love boats can get their fix at the LA Boat Show at the LA Convention Center.

SATURDAY FEBRUARY 8

Lowes Build and Grow - Multiple Locations
You're going to get a lot of valentines. You're going to need a valentine holder. Make one at Lowes.

San Gabriel Valley Lunar New Year Parade and Festival - Alhambra
This annual Chinese New Year parade and festival promises crafts, food, a fashion show, a cultural pavilion, entertainment, and red envelopes for children.

Summer Opportunities Fair - Pasadena
Parents and children can learn about summer programs, with representatives from more than 100 camp programs that range from day camps to culturally immersive travel.

Valentine's Fun with Hillary George - West LA
The "super librarian" (and musician) brings Valentine's Day fun to Children's Book World.

Made with Love: Valentine's Craft Event - West LA
Lakeshore Learning ups the ante on its usual weekend crafts, with multiple Valentine-themed projects.

True Pablove - A Valentine's Family Celebration - Downtown
Families can enjoy a day of fun, with Valentine-themed arts and crafts, live music, a silent auction, kids' activities – and it's all in an effort to fight childhood cancers.

Target Free Family Saturday: Aloha from Hawaii with KoAloha Ukulele - Downtown
The Ukulele takes center stage at this month's free family festival at the Japanese American National Museum.

Family Day at the Movies - Downtown
Regal Cinema at LA Live gives the Family Day treatment to The LEGO Movie (PG).

Baby Loves Disco LA - Downtown
Kids and parents can shake their groove things at BLD's Valentine's Day Ball.

Public Star Party - Griffith Park
Tilt your heads up and check out the sky at the Griffith Observatory. Thar be stars!

Kids Club - Cerritos
The Kids Club at Los Cerritos Center gets a visit from some special guests from the OC Zoo.

FIGat7th Kids Club - Downtown
Kids can make Valentines at FIGat7th's Kids Club.

BHCP Kids Club - Baldwin Hills
This month's Kids Club celebrates the achievements of African American heroes in science, sports, music, arts, education, and human rights.

Chinese New Year Celebration in Beverly Hills - Beverly Hills
Beverly Hills celebrates the Chinese New Year with entertainment, shopping, and dining.

Monster Jam - Anaheim
Monster trucks smash, crash, and battle their way through Angel Stadium.

SUNDAY FEBRUARY 9

Lego Day: A Celebration of Building and Architecture - West LA
Everyone loves LEGO! The Skirball Cultural Center celebrates the little plastic bricks.

Lucky Diaz & The Family Jam Band - Santa Monica
Lucky Diaz & the Family Jam Band bring their hip-shaking, head-bopping, all-out-dance-party performance to McCabe's biweekly Sunday kids' concert series.

Children's Garden Workshops - Irvine
Kids can play Garden Detective and unlock the mysteries of the Monarch in this free workshop at Orange County Great Park.

Free Day at OCMA - Newport Beach
It's a Valentine's Jubilee at the Orange County Museum of Art!

Summer Opportunities Fair - West LA
Winter? Ha! Try summer! Representatives from sleepaway camps of all shapes and sizes are at the Skirball to help get your kids' summer plans in order.

LoveBug & Me Music Event with Healthy Nibbles at RAWVOLUTION - Santa Monica
Moms and dads, babies and big kids can dance, sing and play instruments with LoveBug and Me Music, while enjoying healthy and tasty treats.

Kids in the Courtyard: Fantastic Figures - Westwood
Kids can construct their own life-size guardians in this free workshop at the Fowler Museum.

Big Sunday's 2nd Annual Valentine-making, Bingo-playing Community Dinner - Hollywood
Families can share the love as they make Valentines to bring to seniors, shut-ins, people in shelters, and military families. The event also features Bingo and a community dinner.

Date with Dad - The Grove
Girls can share a pre-Valentine's Day date with Dad at the American Girl Store at the Grove.

As always, there are more activities listed on our daily events calendar, and if you don't already receive this post as a weekly email, you should totally subscribe. Whatever you choose to do this weekend, we hope you have a fabulous time!