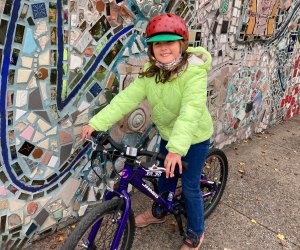 8 Great Places to Learn to Ride a Bike in Philly
What silver lining has the pandemic brought? Time to learn a new skill — and for Philly kids, that might be riding a bike.
But with Philadelphia's notoriously ancient and bumpy sidewalks, and all of its of pedestrians, a pedal around the block might not be in the cards for little riders. So what's an urban dweller to do? Read on for a list of places you can take your novice rider to get those wheels spinning.
It's the perfect spring activity and a great addition to our Spring Fun Guide, so pedal on.
The Best Places to Learn to Ride a Bike in Philly
This 50-acre National Historic Landmark features Bartram's Mile, which runs along the west bank of the Schuylkill River between Grays Ferry Avenue and 56th Street, on either side of Bartram's Garden. Eventually, this segment of the trail connects with Gray's Ferry Crescent trail via a bridge that is currently being constructed — an added bonus for those kids who love to watch construction equipment in action. After your ride, take a stroll through the historic garden or plop down in the fields for a picnic.
The Horticulture Center, located in West Fairmount Park, has a network of walking trails and paved roads that are well-suited to two wheels. The scenery's not too shabby either: It includes the Demonstration Gardens (planted and tended by volunteers), a reflecting pool, gazebo, a grove of cherry blossom trees, a butterfly garden, and the Shofuso Japanese House.
RELATED: Destination Playgrounds for Philly Families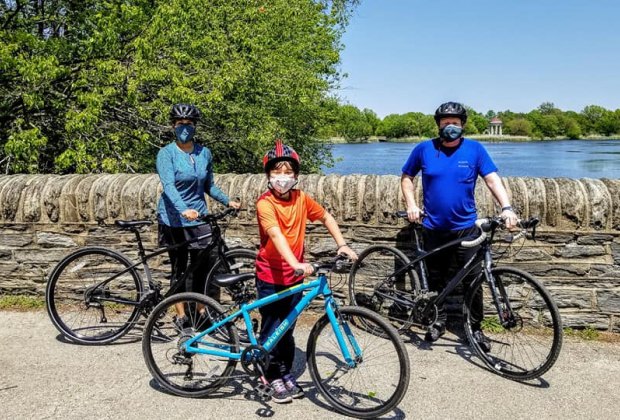 FDR Park offers a variety of terrain. Photo courtesy of Friends of FDR Park
FDR Park, within walking distance of the city's beloved sports stadiums, is criss-crossed with trails and is now home to an additional place to ride: the Meadows. Once the FDR Golf Course, the land has been allowed to grow over with native vegetation. The former cart paths wind through the fields, past swings and child-built branch forts, and are pretty smooth and friendly to new bike riders.
RELATED: Family-Friendly Campgrounds Near Philly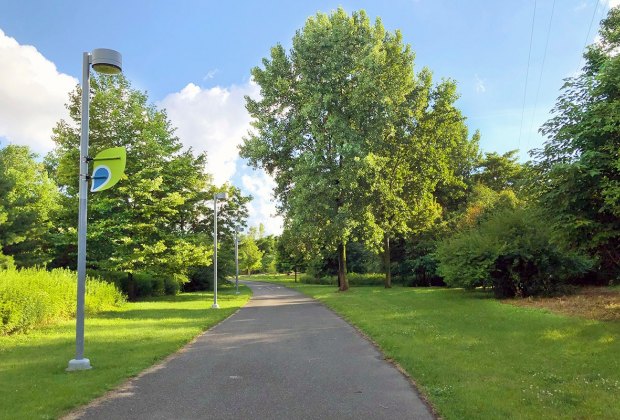 Grays Ferry Crescent Trail is a flat and gentle spot to learn to ride. Photo courtesy of Schuylkill Banks
If you want to get off the beaten path for a ride, check out this out-of-the-way part of the Schuylkill Banks Trail, which is most easily accessed from the intersection of Wharton Street and Schuylkill Avenue in the Forgotten Bottom area of Grays Ferry. The 4,000-foot paved trail runs along the Schuylkill River through 12.3 acres of greenspace, with plenty of room to pass others safely — if you even see anyone else, which you probably won't.
Located in West Philadelphia's University City, this pedestrian- and bike-friendly walkway is part of the University of Pennsylvania's campus. The paved and bricked path stretches between 36th and 40th streets and is completely closed to auto traffic, making it a safe spot to learn to ride — and for those inevitable falls. It might be less green than the rest of the destinations on this list, but it has the advantage of being lined with grand Penn buildings and their eye-catching architecture.
This 1,200-acre site is a bicycle enthusiast's dream. With a few miles of bike-friendly paths and streets that are flat and well-paved, it's a great place for beginning riders. There are parking lots galore and may of the buildings aren't in use, which makes the whole place more sparsely-populated than other places in the city (which includes fewer cars). A great place to start is the Central Green, a 5-acre space that is encircled by a 20-foot-wide track. It's flat and wide and has space to explore further, including a hammock grove, picnic tables, an amphitheater, and a fitness station.
Located on the Delaware River in the Fishtown neighborhood, this park is a peaceful waterfront destination for locals and visitors alike. The new paved trail along the edge of the water is short, but a great place to get those first few pedal strokes in for practice. It features seven acres of greenspace, picnic tables, and a sizable playground. Shade trees and a river breeze make Penn Treaty a particularly great summer destination when the rest of the city is sweltering.
A bit farther afield is Pennypack Park, in the Northeast, and the Pennypack Trail. Although the trail runs into Montgomery County, it's doubtful little legs will make it that far so the paved portion in the city is a perfect start. Beginning in the Holmesburg neighborhood on State Road, the trail runs along Pennypack Creek and across the Pennypack Creek Bridge, then into Pennypack Park itself — the third-largest park in Philadelphia.