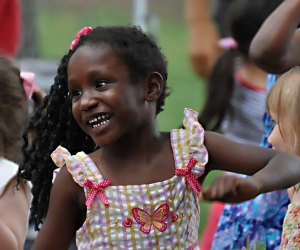 Weekend Fun for Chicago Kids: Pride, Potter, Sesame Street, Concerts, Baby Shark
Pride month comes to a rollicking close this weekend with kid-friendly fun in celebration of all Chicago families. Navy Pier hosts a free, day-long family Pride festival this Saturday with storytimes, performances, a marching band, and fireworks. Meanwhile, Barnes & Noble stores around Chicagoland are also hosting special Pride storytimes with crafts and activities, and there's a family Pride fair at Gallagher Way on Sunday where kids and parents can celebrate before the big parade.
Sesame Street rolls into town on Saturday with a huge, free party (tickets are already sold out, but if you're one of the lucky ones going, shake Oscar's hand for me). Other big family fests and fairs this weekend include the Logan Square Art Festival, a Renaissance Faire Family Day, a circus festival at Maxwell Street Market, and the Juneteenth Family Celebration.
If you're a fan of rolling out a picnic blanket and enjoying some music alfresco while the kids run around in the grass, there are outdoor concerts happening at the Brookfield Zoo, the Grant Park Music Festival, and at family concerts out in Park Ridge, Naperville, and Wheaton. Harry Potter fans won't want to miss the magic of hearing the Chicago Symphony Orchestra perform the score from The Prisoner of Azkaban (the best film in the series, IMHO), or seeing the first Harry Potter film on the big screen at Thalia Hall.
Chicago SummerDance and Family Yoga this weekend offer plenty of ways to get up and get moving, too. But if your playlist has been taken over by a certain sharp-toothed aquatic family, the Baby Shark Dance Party this weekend is your best bet.
For more kid-friendly summer fun, bookmark our ever-growing list of 50+ FREE Things to Do With Kids in Chicago This Summer, and our jam-packed event calendar.