Kid-Friendly Restaurants Open on Thanksgiving in Atlanta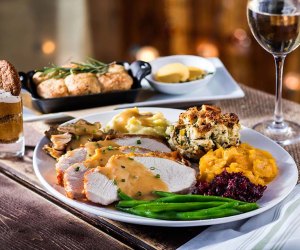 11/4/22
- By
Rebecca Ruffin Leffler
Instead of wearing yourself out by hosting turkey day this year, consider dining at restaurants open on Thanksgiving in Atlanta instead. You get to skip waiting in grocery lines, polishing the silver, cooking multiple items to please everyone, and cleaning up after everyone finishes.
Got a picky eater who doesn't love traditional Thanksgiving fare? We've included restaurants open on Thanksgiving in Atlanta offering a variety of foods to enjoy during the Thanksgiving feast. Our list of kid-friendly, Atlanta restaurants open on Thanksgiving is perfect for everyone— whether you're dining with a large group or just your little ones.
The holidays are always busy so make reservations early and select a scheduled time that doesn't interrupt your toddler's naptime or teen's social schedule. To be on the safe side, confirm plans with Atlanta restaurants as schedules and labor shortages can change spontaneously. If you truly want to host Thanksgiving at home, skip the cooking as many of these restaurants offer pick-up options!
Now that you have more time and energy to enjoy the holidays, visit the Atlanta Holiday Guide for up-to-date info about the best Atlanta holiday and Christmas events. And don't forget to fill up on more tasty ideas by checking out our Guide to Kid-Friendly Restaurants in Atlanta.
Tasty Restaurants Open on Thanksgiving in Atlanta
$14.99 in-store or to-go
Beginning at 11am, order Cracker Barrel's Homestyle Turkey n' Dressing Meal. The meal includes turkey breast, gravy, cranberry relish, cornbread dressing, sweet potato casserole, green beans, and a roll. Cracker Barrel will also offer its regular menu, as well as seasonal specials like Cinnamon Roll Pie breakfast and Glitter Globe Spritzer. Reservations aren't accepted but join the online wait list. While waiting, families can enjoy the rocking chairs on the front porch and browsing the gift shop.
Prefer eating at home? Pre-order the fully-cooked Thanksgiving meal at least 24 hours in advance. The family dinner that feeds four to six people costs $99.99, and the larger feast feeds eight to 10 people and costs $149.99. You can also order turkey breast, sides, desserts, and rolls a la carte.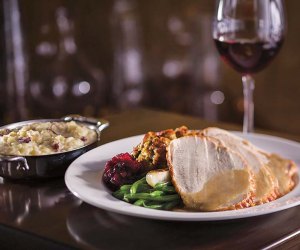 Everything tastes amazing smothered in The Capital Grille's Thanksgiving dressing.
$47 per adult; $17 per child
Restaurants open on Thanksgiving in Atlanta include The Capital Grille. This Atlanta restaurant is a great place to let kids practice table manners, while they enjoy a Thanksgiving meal of turkey, brioche stuffing, greens beans with almonds, mashed potatoes, and cranberry-pear chutney. The regular menu of dry-aged steaks and seafood is also available. Families who have their own turkey but want the delicious sides can order "Thanksgiving Sides at Home," which serves four adults for $135.
Pricing to be determined
In addition to its regular menu, Dantanna's is serving a traditional turkey leg dinner from 4-10pm on Thanksgiving Day. Parents and adults can also enjoy the special holiday cocktails, including the Salted Caramel White Russian and Smoky Pear Margarita. Complete the meal with sweet potato pie, pumpkin cheesecake, or apple empanadas topped with vanilla ice cream.
$105 per adult; $27 per child 12 and under
Head to ENZO on Thanksgiving day, 11am-6pm, for an extravagant holiday feast. Located in Fayetteville, Enzo's extensive Thanksgiving prix fixe menu includes delicious items like burrata and lobster, crispy olives, roasted butternut squash lasagna, turkey roulade, and mouth-watering desserts. Price includes food and beverages.
$85 per guest
Dine at the award-winning Farmhouse at Serenbe on Thanksgiving noon-6pm. Located in the summer dining room of the original farmhouse (now The Inn at Serenbe), the special menu includes corn chowder, salad, turkey, ham, crab-stuffed flounder, potatoes, pumpkin cheesecake, and more. If you'd rather eat at home, pre-order starters, sides, and desserts by 5pm on Sunday, November 20 (starting at $14/pint).
Five Church - Buckhead and Midtown
$70 per adult; $20 per child
If you want to eat a bit of everything, feast on the Thanksgiving buffet at Five Church from 11am-7:30pm. In addition to a charcuterie platter, hummus bar, and devilled eggs, the buffet features turkey, ham, prime rib, and salmon, accompanied by over 15 sides, and five desserts! It's sure to please even the pickiest eaters. If you prefer to dine at home, order the Thanksgiving family-style takeout which feeds four adults for $250 or six adults for $350.
RELATED: Festive and Delicious Birthday Cakes for Atlanta Kids
$30.95 per adult
Up the cool factor of your Thanksgiving by heading to Hard Rock Café. Children love the rock memorabilia, and adults can travel down memory lane. The restaurant serves a Thanksgiving dinner of turkey, gravy, stuffing, cranberry sauce, roasted vegetables, and sweet potato hash from 11am-10pm. Enjoy a slice of pumpkin pie topped in caramel sauce and whipped cream for an additional $9.95. Hard Rock Café is also serving its regular menu.
$45 per adult; $17.95 per child 12 and under
Hobnob offers tasty choices to please everyone in the group! Hobnob's three-course prix fixe menu is served 11:30am-6:30pm. After starting with curried pumpkin soup, an apple and butternut squash topped green salad, or pimento cheese on sourdough bread, choose one of four options: turkey breast, ham, braised ribs, or seared salmon with all the fixings. For dessert, choose pecan pie, pumpkin pie, or chocolate layer cake.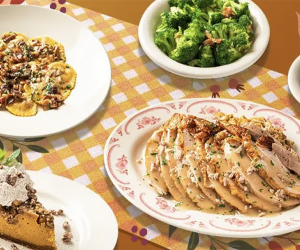 Restaurants open for Thanksgiving include kid-favorite, Maggiano's Little Italy.
$41.99 per adult; $17.99 per child 5-12
Kids love spaghetti so why not go Italian during Thanksgiving? Wear stretchy pants at this family-style feast from 11am-6:30pm. Families will start with bruschetta and choice of salad followed by two entrees, two sides, two pastas, and two desserts. Entrees include turkey breast and stuffing, ham with sweet potatoes, or parmesan tilapia with tomatoes, and lots of sides and dessert options.
$65 per adult; $32.50 per child
Enjoy a three-course, prix fixe at Milton's. Served with honey butter biscuits and cornbread muffins, the offerings include squash bisque, smoked turkey breast, ham, fried chicken, shrimp & grits, steak, and trout, followed by delectable pies. For at-home dining, order the Thanksgiving Feast for $175 (serves 2-4 adults). Alternatively, order just the turkey for $120 or a pack of sides for $80. Pick-up occurs 9am-4pm on Wednesday, November 23.
$70 per adult; $35 per child
Situated along the Chattahoochee River, Ray's on the River has been a favorite Atlanta restaurant since 1984. Enjoy the Thanksgiving buffet 11am-7pm, featuring turkey, prime rib, brisket, and salmon with sweet potatoes, stuffing, Brussels sprouts, mac 'n cheese, green bean casserole, pecan pie, and more. Musician Nathon Sexton performs on the pavilion from 1-5pm.
$34 per adult; $17 per child
This kid-friendly restaurant is offering a three-course menu on Thanksgiving 11am-8pm. Main courses feature turkey breast, mashed potatoes, and sausage-apple stuffing with choices like Brussels sprouts or broccolini. Dessert includes a choice of pumpkin cannelloni, traditional cannelloni, or pumpkin tiramisu. If your little ones don't like turkey, the regular menu is also available.
$47.95 per adult; $16.95 per child
Ruth's Chris Steak House has a family-friendly reputation, and this Thanksgiving the chefs prepare a three-course prix fixe feast from noon to 9:30 pm. Choose gumbo, Caesar, or steak salad for the first course, then enjoy turkey with all the fixings and a choice of one side for the main course. Pumpkin cheesecake served with vanilla ice cream follows.
Pick up the Thanksgiving feast to eat at home between 10am-5pm on Thursday, November 24 (serves four adults and costs $195); to-go sides can be picked up by 6 pm on Wednesday, November 23 (costs $36.95).
Seasons 52 – Dunwoody and Buford
$34.95 per adult; $16 per child
Known for its seasonally rotating menu, fresh ingredients, and delicious mini desserts, Seasons 52 is open on Thanksgiving. The three-course menu includes all-natural turkey, gravy, brioche stuffing, cranberry relish, green beans, butternut squash, and mini pumpkin pies.
Alternatively, take home the Thanksgiving "Green Box" (feeds four to six people) by Monday, November 21, which includes all of the above items plus a green salad for $195.
$60 per adult; $30 per child 12 & under
Enjoy a three-course prix fixe menu at South City Kitchen from 11am-8:30pm. Start with she-crab soup, fried green tomatoes, or squash salad. In addition to turkey with all the fixings, guests can order classic Southern fare including jambalaya, shrimp & grits, and short ribs. The Thanksgiving meal ends with a choice between chocolate pecan pie or pumpkin caramel custard pie.
$79 per adult; $34 per child ages 6-12
Located at City Springs, The Select serves a family-style meal from noon-5pm. In addition to soup and salad, entrees of roasted turkey and smoked ham will be accompanied by stuffing, sweet potato casserole, mac & cheese, green bean casserole, and more. Multiple desserts, including apple pie and chocolate cake, round out the Thanksgiving feast. Reservations required

Boston Market serves traditional plated Thanksgiving meals, as well as whole pies and side dishes.
Atlanta Restaurants Open for Thanksgiving Takeout
Boston Market - Stone Mountain, Druid Hills, Windy Hill
A la carte starting at $7.99
The fast-casual chain is a staple of comfort food and Thanksgiving is no exception. The various Heat & Serve Thanksgiving Dinner packages feed anywhere from six to 12 adults and require at least two hours for reheating. Entrees include a choice of a whole turkey, roast turkey, spiral ham, or boneless ham, accompanied by sides, rolls, and either apple or pumpkin pie. Items can be ordered a la carte starting at $7.99. Pick up between 7am-3pm on Thursday, November 24.
$250 per four people
Let chefs Ron Hsu and Aaron Phillips of Lazy Betty prepare your Thanksgiving meal. In addition to turkey leg roulade, the holiday dinner includes roasted turkey breast, trimmings, and pumpkin cheesecake. Pick up orders between 2-6pm on Wednesday, November 23.
RELATED: Touchdown! Best Places to Watch College Football in Atlanta with Kids
$35-$40 per pie
Don't forget dessert this Thanksgiving! Order a scrumptious pie from Humble Pie, also owned by chefs Hsu and Phillips of Lazy Betty. Order bourbon pecan pie, pumpkin pie, or almond cranberry clafoutis pie by Sunday, November 20 and pick up Wednesday, November 23 at sister restaurant Juniper Cafe.
A la carte starting at $10
Order traditional Thanksgiving items a la carte, including turkey, ham, sides, and chocolate bread pudding. If you have plans for Thanksgiving dinner but need items for a family breakfast, Swan Coach House has you covered with a cheesy breakfast casserole and mini ham biscuits. Pick up all orders on Tuesday, November 22 or Wednesday, November 23.
Photos courtesy of the restaurants