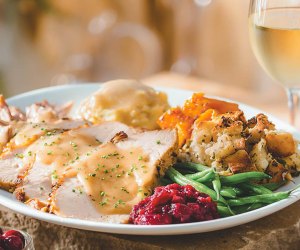 10 Kid-Friendly Restaurants Open on Thanksgiving in Atlanta
Thanksgiving is right around the corner. Are you ready? If not, maybe it's time to involve the professionals and hit up Atlanta restaurants open on Thanksgiving.
When most holiday travel plans were canceled last year, many families began a new food tradition—visiting restaurants open on Thanksgiving. The trend continues this year, as the benefits of having someone else prepare the Thanksgiving meal are endless —no polishing the silver; no fighting off grocery shoppers for cranberry sauce; and no clean up! Whether the holiday feast is for your immediate family or a large-scale gathering, we've got you covered with our list of restaurants open on Thanksgiving offering kid-friendly fare.
Take our advice: Reserve early so you can select a scheduled time that doesn't interrupt your toddler's naptime or your teen's social schedule. Even after you've made reservations, it's a good idea to confirm everything again with restaurants as things can change spontaneously, especially with staffing shortages. If you love all the Thanksgiving preparations except for the cooking, many of these restaurants offer pick-up options as well.
Want more ideas for the holidays? Visit our Holiday Guide for up-to-date info about the best Atlanta holiday and Christmas events. And don't forget to fill up on more tasty restaurants in Atlanta here!
OUR LATEST VIDEOS

Boston Market serves traditional plated Thanksgiving meals, as well as whole pies and side dishes.
Atlanta Restaurants Open on Thanksgiving That Kids Love
$10.99 per dinner/$6.99 per lunch
Beginning at 10:30 am, order Cracker Barrel's Thursday special, the Turkey n' Dressing Dinner, until 8 pm. The dinner includes turkey breast, gravy, cranberry relish, cornbread dressing, sweet potato casserole, an additional side, and a choice between corn muffins or biscuits. If you're not that hungry, order the lighter lunch version until 4:15 pm. Cracker Barrel will also offer its regular menu, including its popular all-day breakfast. Although reservations aren't accepted, shorten the wait time by joining the online list. While waiting, you and your family can enjoy the rocking chairs on the front porch or browsing in the gift shop.
Prefer eating at home? Pre-order the fully-cooked Thanksgiving meal at least 24 hours in advance. The family dinner that feeds four to six people is $95, while the larger feast feeds eight to 10 people and costs $145. You can also order turkey breast, sides, desserts, and rolls a la carte.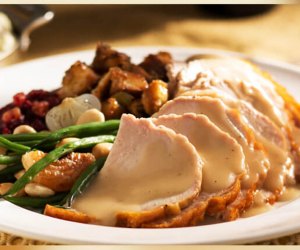 Everything tastes amazing smothered in Capital Grille's Thanksgiving dressing.
$43 per adult/$15 per child
Atlanta restaurants open on Thanksgiving include the upscale Capital Grille. With its elegant dark wood paneling and ornate chandeliers, Capital Grille is a great place to let kids practice their table manners. The restaurant offers a Thanksgiving meal of turkey, brioche stuffing, greens beans, and cranberry-pear chutney. The regular menu of dry-aged steaks and seafood is also available. Families who have their own turkey but want the delicious sides can order "Thanksgiving Sides at Home," which serves four adults for $125.
$29.95 per adult/$10.95 per child
Up the cool factor of your Thanksgiving feast by heading to Hard Rock Café. Children love looking at all the rock memorabilia, and adults can travel down memory lane. The restaurant serves a Thanksgiving dinner of turkey, gravy, stuffing, cranberry sauce, roasted vegetables, and sweet potato hash from 11am-10pm. Enjoy a slice of pumpkin pie for an additional $7.95. If the kids want to try one of the burgers that made the restaurant famous, Hard Rock Café is also serving their regular menu.
Hobnob Neighborhood Tavern – Town Brookhaven, Perimeter, Alpharetta, Atlantic Station
$39 per adult/$15.95 per child (under age 12)
Don't love turkey, ham, or the traditional Thanksgiving meal? Fortunately, Hobnob offers tasty choices to please everyone in the group. Hobnob's three-course prix fixe menu is served 11:30am-8pm. After starting with curried pumpkin soup, kale salad, or pimento cheese on sourdough bread, choose one of four options: traditional turkey breast with fixings, potatoes, and collard greens; mustard-glazed ham with sweet potatoes and Brussels sprouts; braised short ribs with cheese grits and garlic green beans; or seared salmon with quinoa, cauliflower, and carrots. For the final course, choose pecan pie, pumpkin pie, or chocolate layer cake.

Restaurants open for Thanksgiving include kid-favorite, Maggiano's Little Italy. Photo by Bill Leffler
$40 per adult/$17.99 per child (ages 5-12)
Kids love spaghetti so why not go Italian this Thanksgiving? Wear stretchy pants at this family-style feast from 11am-6:30pm. Families choose two salads, two entrees, two sides, two pastas, and two desserts. Entrees include turkey breast and stuffing, ham with sweet potatoes, or parmesan tilapia with tomatoes, while sides include traditional favorites such as creamed corn, garlic mashed potatoes, creamed spinach, or sausage stuffing. Enjoy tiramisu, pumpkin praline cheesecake, and apple crostata for dessert.
Pricing for the carryout meal that feeds up to five people will be added to the website soon.
Open since 1945, Mary Mac's Tea Room is the epitome of Southern food and hospitality. The 13,000-square-foot restaurant, one of the largest in Atlanta, still makes everything from scratch in the kitchen. Thanksgiving is no different! In addition to Mary Mac's regular menu, the restaurant hosts a Thanksgiving feast from 11am–7pm. The meal includes turkey breast with all the trimmings, sweet potato souffle, and green beans, followed by sweet potato pie. Reservations are not accepted, and seating is based on a first-come, first-serve basis.
Mary Mac's also offers bulk pick-up Thanksgiving dinner that feeds four adults for $89.95 or a dinner that feeds 10 adults for $204.95. Families can also order whole turkeys, smoked ham, and sides individually. All require a 24-hour advance order.
$29.99 per adult/$15 per child
This kid-friendly restaurant is offering a three-course menu all day on Thanksgiving 11am-8pm. Start with a choice of soup, Caesar salad, or green salad. The main course features turkey breast, mashed potatoes, sausage, and apple stuffing with a choice between brussels sprouts or broccolini. Dessert includes a choice of pumpkin cannelloni, traditional cannelloni, or pumpkin tiramisu. If your little ones don't like turkey, the regular menu is also available.
The Thanksgiving to-go menu feeds five people for $155 and 10 people for $225. Place your order by November 21, 2021.
$44.95 per adult/$15.95 per child
Of the special occasion restaurants, Ruth's Chris Steak House has a family-friendly reputation with its children's menu offered throughout the year. This Thanksgiving the chefs will prepare a three-course prix fixe feast from noon to 9:30 pm. Choose gumbo, Caesar, or steak salad for the first course, then enjoy turkey with all the fixings and a choice of one side for the main course. Pumpkin cheesecake served with vanilla ice cream follows.
Pre-order the Thanksgiving Day feast to eat at home by 6pm on Friday, November 19 (serves four adults and costs $175); individual, to-go sides can be ordered by 6 pm on Monday, November 22 (costs $36.95).
Seasons 52 – Perimeter and Buford
$32.99 per adult/$16 per child
Known for its seasonally rotating menu, fresh ingredients, and delicious mini desserts, Seasons 52 will be open on Thanksgiving. The three-course menu includes antibiotic-free turkey, gravy, brioche and sage stuffing, cranberry relish, green beans, butternut squash, mashed potatoes, and mini pumpkin pies.
Alternatively, take home the Thanksgiving "Green Box" (feeds four to six people) to eat at home, which includes all of the above items plus a green salad for $175.
Boston Market – Stone Mountain, North Druid Hills, Windy Hill
$13.99 per holiday meal/$39.99 feast for three
The fast-casual chain is a staple of comfort food and Thanksgiving is no exception. The holiday menu includes a choice of sliced roasted turkey breast or a half-rotisserie chicken, two sides, a dinner roll, and a choice between a slice of apple pie or pumpkin pie. The Feast for Three includes larger portions of the turkey breast or rotisserie chicken, three large sides, three dinner rolls, and a whole apple or pumpkin pie. Side offerings include macaroni and cheese, sweet potato casserole, sweet corn, mashed potatoes, and vegetable stuffing.
The Heat & Serve Thanksgiving Dinner packages feed anywhere from four to 12 adults and require at least two hours for reheating. Order by 2pm on Wednesday, November 24, 2021.
Unless noted, photos courtesy of the restaurants