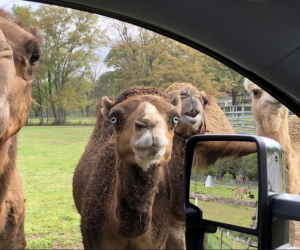 Georgia Reopening Phase 1: What's Open and What's Closed in Atlanta
After weeks of coronavirus lockdown, only seeing each other in car parades and 8pm howls, giving our kids at-home haircuts for virtual birthday parties, and only buying gifts via pick-up or delivery, Georgia paved the way as one of the first states to allow businesses to slowly open doors. Phase one of the reopening began May 1, with more restrictions removed each week since. Governor Kemp's decision has been met with mixed feelings; while some patrons and businesses are eager to restart something that resembles pre-pandemic life, others still weigh the risks and choose to remain mostly at home. Whichever your perspective, there are options now for getting out of the house, and we've pulled together some that interest families most.
First in the line of order of Georgia's business openings were bowling alleys, hair salons, gyms, and tattoo parlors. In the weeks to come, restaurants were given the go-ahead to open as well—first patios and then dining rooms. Shopping malls and retail stores have also been staggering their openings throughout the state.
Some businesses, including restaurants with dine-in only options, have taken their time.
Tal Baum, restauranteur and proprietor of local restaurants Aziza, Bellina Alimentari, Falafel Nation, and Rina, opened shuttered doors of her restaurant group on May 18 for take-out dining, after choosing to remain closed during the lockdown.
"It is an incredible feeling to reopen our doors to the Atlanta community and have our Oliva family in the restaurants again," she says, adding that each restaurant will strictly adhere to CDC guidelines as well as those spelled out by Governor Kemp, in an effort to keep staff and patrons healthy and well-fed.
The next phases of reopening—set for end of May—are deemed "non-essential" and include bars, restaurants, and nightclubs, according to Governor Kemp.
Georgia's newly relaxed shelter-in-place rules may not have changed some families' decisions to remain indoors; but for those who choose to venture out and explore, here are some options to enjoy while following the recommended guidelines issued by the CDC and local government officials: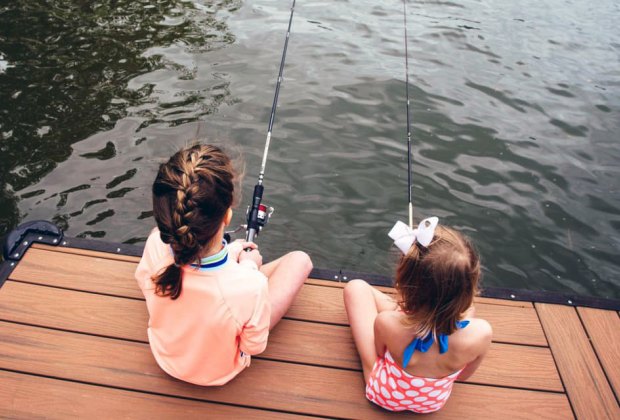 With more than 19,000 acres of water, Lake Oconee offers plenty of wide open space to get out and breathe in the fresh air. Photo courtesy of Visit Lake Oconee
What's open in Atlanta now?
State Parks and Lakes
Georgia's vast State Parks and Historic Sites remain open, including boat ramps, fishing docks, campsites, cabins, and some golf courses—though families should be prepared for limited access to public restrooms.
State Park officials urge social distancing among walkers, runners, hikers, and bikers, and encourage visitors to avoid the state's most popular parks on the weekends. Park staff may temporarily limit access to ensure social distancing if crowds grow too large.
The seasonal boat rentals and restaurants are also now open at Lake Oconee, Lake Lanier, and Lake Allatoona, where boating, kayaking, and canoeing have resumed with vigor.
Georgia Beaches
As of May 7, the state's beaches are open without restrictions.
The Atlanta Botanical Garden has reopened its Midtown location to Garden members as of May 18, and will be opening to the public on Saturday May 23, just in time for Memorial Day weekend. Members are encouraged to make reservations ahead of time, while tickets for the general public will be made available on Thursday May 21. In the spirit of maintaining social distance, all members and guests must have a timed ticket or make a timed reservation for admission. The Gainsville location is scheduled to remain closed until further notice.
This vast working farm is nestled in the foothills of North Georgia, a 45-minute ride from metro Atlanta. The farm recently started a COVID-friendly drive-through safari experience, which is currently planned through the end of June at least. Families are charged per carload ($30) to view camels, giraffes, zebras, capybaras, lemurs, kangaroos, and llamas up close. Guests have the option to buy a bag of feed ($10) to share with the animals. Children can hand-feed the camels, who have come to expect their eager outstretched hands. Reservations must be made through the website; limited time slots are available for each car to maximize interactions with the animals.
Atlanta's Zoo has recently reopened to the public with some enhanced protocols, including a timed ticketing system to limit the amount of guests at any given time. Tickets must be purchased online, and all transactions within the zoo must be paperless (no cash). Indoor experiences and facilities (excluding the restroom) remain temporarily closed, as well as the Splash Fountain, vending and souvenir machines, photo stands, statue photo-ops, and water fountains.
Bowling Alleys
As part of Phase 1, bowling alleys are allowed to open again. So far they have been proceeding cautiously, with only a few Atlanta spots opening up so far. A few alleys currently open include Bowlmor and Stars and Strikes.
As of May 15, Atlanta's YMCAs have opened their doors for adult recreation use, as well as childcare for first responders. Visitors must complete a COVID-19 pre-check each day that they plan to use the facilities. Hours are adapted to allow for closures to clean during the day, and no one under the age of 18 is allowed to use the facilities.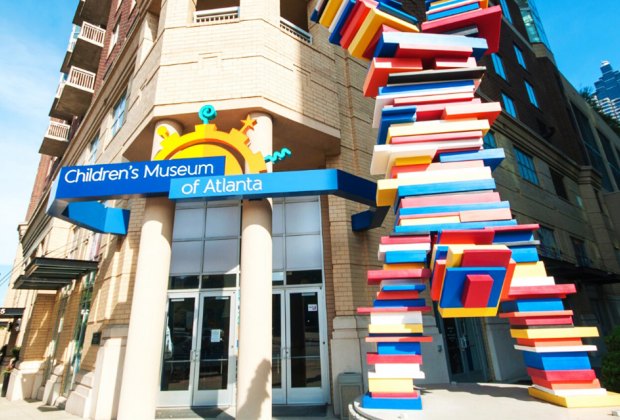 The Children's Museum of Atlanta is still closed but posting recipes, vocab lists, playlists, and more online! Photo courtesy of the museum
What's still closed in Atlanta?
Movie theaters
Although Governor Kemp has given the go-ahead to open movie theaters, most are choosing caution. So far none of the major movie theater chains have reopened.
The museum remains closed. Families with annual memberships will be credited with extra months when the museum reopens. The museum runs virtual programs on weekdays in the meantime.
Atlanta's aquarium also remains closed until further notice, and also offers some fun virtual programming during the closure.
Six Flags Over Georgia & White Water
The Atlanta amuseument park and water park are remaining closed until further notice. Members are able to put their memberships on pause during the closure.
When will schools, camps, and daycares reopen in Atlanta?
The school year has come (or is soon coming) to an unremarkable end, with digital learning, Zoom calls, and porch step graduations. Planning is still in place for the 2020/21 school year, with no formal announcements yet for the state. The tentative school calendar is available online.
Most experts agree that if school can resume in the fall, it will look different for staff and children, with enhanced safety and security protocols and social distancing measures.
Some childcare facilities throughout the state have reopened with new ratios of children to caregivers, following the Department of Early Care and Learning guidelines issued by the State. Employees must be screened and sanitation should be enhanced.
As for the summer camps, parents have waited eagerly for news of their children's summer camp openings, and, in some cases, closures. Many camps have announced that they will not be opening for summer sessions, while some camps and daycares have announced they will welcome children and ease some stress for working parents. Check individual camp websites and monitor email communications for opening information.
Finally, in all cases, state officials are encouraging Georgians to continue to follow social distancing guidelines and to wear face coverings when in public.