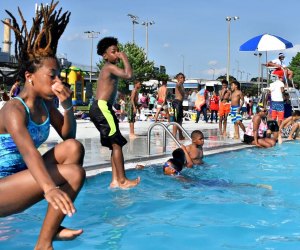 Best Free Public Swimming Pools in DC
No matter if it's the middle of summer and your kids are begging for some pool time or winter has you looking for ways to get out of the house and burn some energy, there are plenty of public swimming pools in Washington, DC that are free for residents. All you need to do is show proof of residency for some watery fun free of charge. So grab the pool toys and some snacks and head to the water at our favorite public pools in DC.
Indoor Pools
Open year round, these pools are often part of a recreation center that offer family and children's programs as well.
Deanwood Aquatic Center
Deanwood offers guests a lap pool, leisure pool with water slide, and plenty of programs for the entire family, from preschool aquatics to classes for seniors. Located within the Deanwood Recreation Center, Monday-Friday 6:30am-8pm and Saturday-Sunday 9am-5pm.
Takoma Aquatic Center
This indoor pool features a dedicated children's/leisure pool, as well as a 17-lane lap pool. Takoma hosts unique events throughout the year, including DPR's Black History Month Invitational Swim Meet. There's also a fitness center on site. Takoma Aquatic Center is open Monday-Friday 6am-9pm, Saturday-Sunday 9am-5pm.
Barry Farm Aquatic Center
This indoor facility, formerly outdoors only, underwent a complete renovation in recent years. With a lap pool, leisure pool, and a large indoor waterslide, the entire family will enjoy a swim. Open Monday, Wednesday, Friday 6:30am-8pm and Saturday-Sunday 9am-5pm (closed Tuesday and Thursday).
Ferebee-Hope Aquatic Center
Ferebee-Hope offers programs and classes for children and adults, some of which are partnered up with the YMCA. Hours vary between the summer and school year so be sure to check its website for the most up-to-date hours.

Rosedale Pool. Photo courtesy of DC Department of Parks and Recreation
Outdoor Pools
Open for the summer season from Memorial Day Weekend through Labor Day Weekend
Rosedale Pool
Younger children will love the slides and kiddie pool at Rosedale Pool. There's also a larger lap lane and a newly completed library and community center on site. The pool is open Monday, Tuesday, Thursday, and Friday 11am-8pm, Saturday-Sunday 11am-6pm (closed Wednesdays).
Park View Children's Pool
Located in Petworth, this wonderful outdoor pool is designed specifically for children ages 12 and under. So bring the younger kiddos and enjoy some pool time. Park View Children's Pool hours are Wednesday-Friday 11am-6pm and Saturday-Sunday 11am-6pm. The pool is closed daily from 2-2:30pm.
Francis Pool
The metro area's most popular outdoor public swimming facility, Francis Pool features three separate pools, shady spots, and plenty of umbrellas to cool off under, as well as two 25-meter lap lanes for swimmers looking to get a workout in. Francis Pool is open Monday and Wednesday through Friday from 10am-8pm, Saturday-Sunday 11am-6pm and is closed on Tuesdays.
Harry Thomas Sr Pool
Located in Ward 5, Harry Thomas Sr Pool is considered a hidden gem and has been ranked as one of the city's best public pools. With a large outdoor pool and children's wading pool, it's perfect for families with both younger and older children. Open Monday and Wednesday-Friday 10am-8pm and Saturday-Sunday 11am-6pm (closed Tuesday).
Oxon Run Pool
This outdoor pool has a unique L-shape, which offers plenty of swimming space for families. Best of all, there's a playgroun onsite for kids who want to play in and out of the water. Oxon Run is open Tuesday-Friday 10am-8pm and Saturday-Sunday 11am-6pm (closed Monday).
Benning Park Pool
Located near the Maryland border, Benning Park Pool has a leisure pool that both kids and grownups will enjoy, plus a water slide for the younger ones. Open Monday-Wednesday, and Friday 11am-8pm and Saturday-Sunday 11am-6pm (closed Thursday).
Note: The Washington, DC public pools are open to non-residents as well and admission, based on the swimmer's age, ranges from $3-$7. Discounted swim passes for 30 or 90 days are also available. All public swimming pools require a valid ID for entry.