SPONSORED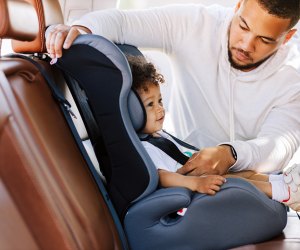 Kidmoto Brings Safe, Reliable Airport Car Service with Car Seats to More Areas
If you haven't obsessed over whether or not to lug your kid's car seat to the airport, are you even a parent?? Getting everyone to and from a flight safely can be a total headache—as if flying with kids isn't already overwhelming enough—but the folks at Kidmoto have made it their mission to make the trip simple. With a fleet of professional drivers and safety-inspected livery vehicles equipped with pre-installed convertible car seats, the family-friendly service provides transportation to and from a number of major airports, and cruise piers, too. Plus, now the stress-saving airport car service has expanded to serve Philadelphia, Orlando, Tampa, and Charlotte, in addition to New York City. Read on to find out how Kidmoto works and why it's one of the safest and most reliable options out there for your whole crew.
Booking a trip with Kidmoto really couldn't be easier. By downloading the free mobile app from the App Store or Google Play, or visiting the website, you can quickly schedule a ride—even months in advance—or start by just requesting a quote. You can choose between a sedan, minivan, or large SUV with up to four rear-facing, front-facing, or booster seats, and you can rest easy knowing your child seats are properly harnessed and installed by a trained professional driver. And to make sure your trip is safe from the potentially ancient car seat models, shredded seat belts, or unsecured seats you might find when riding with other services, all car seats are regularly cleaned and checked for damage, and all vehicles are registered, insured, and carefully inspected to keep kids safe.
Oh, and Kidmoto offers a whole lot more than reliable drivers, safe cars, and premium seats. How about helping parents cope with overtired kids, who may have been stuck in airplane seats for hours, by tracking your flight to arrive on time for pick up—whether you're ahead of schedule or landing late? Drivers can even do inside terminal pick-up for a small additional fee. Plus, whether you can't wait to see the lights of Times Square, you're ready to meet Mickey, or you need a Philly cheesesteak stat, Kidmoto is happy to take you straight from the airport to whatever attraction is at the top of your to do list. After all, you don't have any car seats to schlep around, right?
To learn more and to book your first stress-free ride for the whole family, download the Kidmoto app from the App Store or Google Play, or visit the Kidmoto website. Safe travels!