Consignment Shops for Kids & Teens in Montgomery County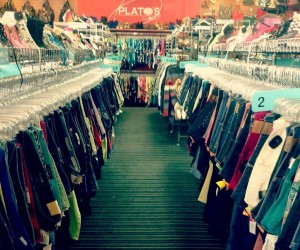 Children's consignment shops are a great resource for parents looking to save money on kids' clothes and baby gear. Many of the resale boutiques in Montgomery County specialize in brand-name apparel, offering deep discounts on gently-used designer clothes. Consignment stores also give parents an easy, year-round option for selling outgrown items.
Read on for our roundup of kids' consignment shopping in Montco. Also be sure to check out our post about children's consignment shops in neighboring Bucks County and our two comprehensive lists of spring and fall consignment sale events.
Pooh's Corner Consignment- Abington
1314 Easton Road
(215) 576-6665
This shop carries gently used children's clothing (from sizes newborn through juniors), shoes, toys, outdoor play equipment, baby gear, strollers and maternity.
To consign: Appointments are needed to consign and there is a limit of 40 articles per appointment. Clothes should be on hangers. Consignors receive 40% of the sale price on clothes. Best of all, there is no consignment fee.
New to You- Jenkintown
439 Baeder Road
(215) 884-8824
Clothing in sizes for infants through girls' 16 and boys' 18/20 are sold as well as maternity. The store also carries all kinds of toys, books, baby equipment, and strollers. No used car seats are accepted.
To consign: Appointments are not needed. For "drop & run" consigning, bring no more than two grocery bags with clothes neatly fold,ed and no hangers. New to You accepts clothing on a seasonal basis and has a 60 day contract period. Consignors are charged a one-time fee of $5 and receive 40% on their sales.
Plato's Closet- Montgomeryville
921 Bethlehem Pike Suite A
(215) 412-5555
Plato's Closet- Willow Grove
3614 Welsh Road
(215) 659-1555
This national chain sells gently used boys and girls teen and young adult clothing, shoes and accessories. The target market is to about age 14 and up, with sizes up to girls' 18-20 and 2X-3X.
To sell: Plato's Closet is not a consignment store; rather, they pay cash upfront for your items. The store is generally looking for current, name-brand "mall store" clothing and accessories and buy all seasons, every day.
Twice As Nice Children's Consignment Boutique- Narberth
250 Haverford Ave.
(610) 667-3005
Shoppers at Twice As Nice find gently used children's clothing in sizes preemie through juniors, books, toys, baby gear, strollers, nursery items, and sporting goods.Cash, check, Visa, MasterCard, and Discover are accepted. The store is open 7 days a week.

To consign: Consignors can use drop and run to avoid the wait. Items should be freshly washed, less than 2-3 years old, and not brought into the store in bags.The consignor period is 60 days and sellers may track their items online.
Next to New Children's Shop- Schwenksville
524 Main Street
(610) 287-1107
Next to New carries high quality clothing for infants through kids, juniors, and womens.Toys are also accepted. The store has a VIP Facebook group for sneak peeks and ship items nationwide.
To consign: Items for consignment are accepted on Tuesdays and Thursdays. Contact the store directly for further details.
Photo courtesy of Plato's Closet Montgomeryville