Best Professional Children's Photographers in NJ: Capturing the Moment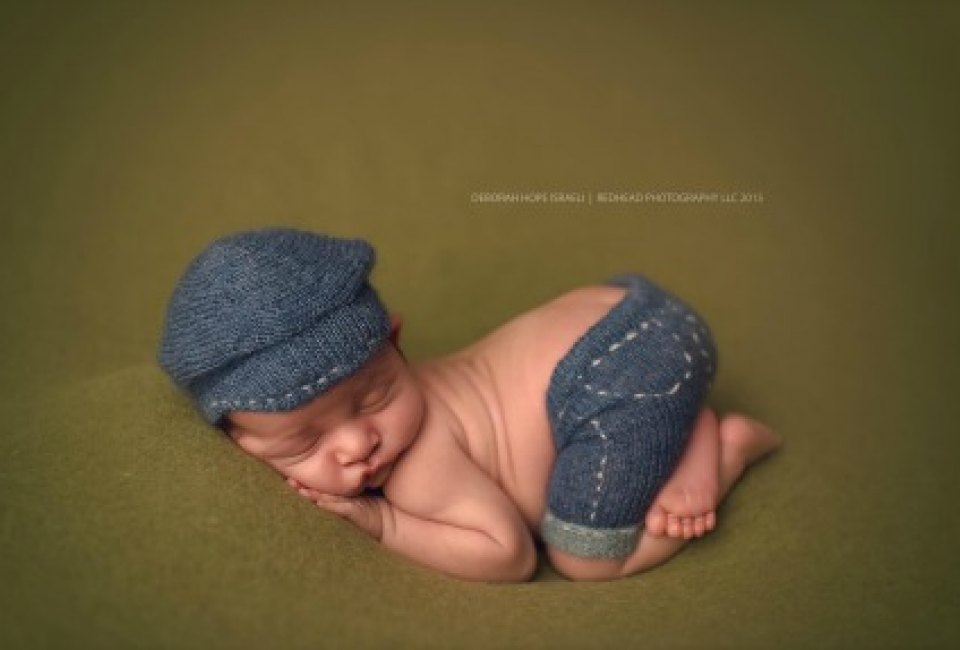 10/20/15
- By
Rachel Sokol
'Tis the season for holiday cards adorned with (professional) pictures of your cutie pies! Many moms today are hiring photographers to capture those very special moments in their child's lives, whether their child is 1 week old or 1 year old. Some of these experienced baby photographers will even travel to your home for a session. Here's a round-up of some very talented--and very patient!--New Jersey baby photographers who can capture some beautiful images of your baby.
Avnida Photography (Central Jersey studio; will travel)
Newborn sessions at held at photographer Harshita's studio in the Somerset area. "It's important I have access to the wide variety of props, blankets, headbands, backdrops and, most importantly, the controlled lighting setup in my studio," she explains. "For other baby photography, I have scouted--and continue to do so--several beautiful outdoor locations in New Jersey."
Experience: Before launching her own business, Harshita, a computer programmer turned professional photographer, was mentored by top talents, including Kristen Mackey, Sandra Bianco, and Meg Bitton. "Each of these photographers has had a positive impact on my photograph," says Harshita. "Today, a good percentage of the babies I photograph are through repeat clients, referrals and word-of-mouth recommendations from families for whom I've been lucky enough to create memories."
Good to know: "I am crazy about buying props, blankets, and backdrops. I do stylized setups for babies, especially newborns, because I believe each baby has a unique personality; as such, it is important for a photographer to have a wide variety of props to bring together a beautifully designed setup that best suits the personality of the child." Potential clients are advised to schedule at least 2 months in advance of the baby's expected due date. (862-251-8793)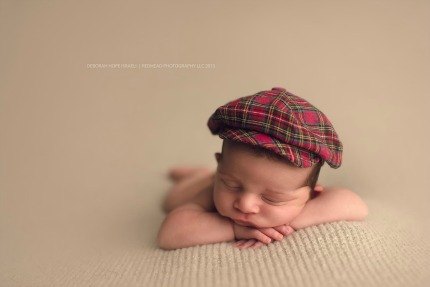 Redhead Photography (Wall, Eatontown studios)
Photographer Deborah Hope Israeli is based in Central NJ, but services the entirety of the state inclusive of NYC and surrounding boroughs. "I have two photo studios 10-minutes apart in distance, which I highly recommend to preserve your baby's safety as opposed to having a photographer bring props in their car to your house where they are exposed to the external/outdoor elements," says Deborah, who has photographed celebrity's babies and studied photography at NYU and Columbia.

Experience: Deborah has appeared on NY1, CBS, and recently The Insider; talking about baby photography; and has been featured in New York Family magazine, The Bump, and more. "I have 4 children of my own and I found I have a unique talent with newborns. As of 2009 I went exclusive with newborn photography and stopped doing anything other than newborns except maternity and baby sessions which are part of some of my newborn packages."
Good to know: Her advice for moms and dads? "Do your research. Everyone wants to be a newborn photographer these days, but very few know what they are doing, and sadly to say, very few are insured, licensed, and a run a legitimate operation. Find someone who you are comfortable working with." Adds Deborah: "People book me as far in advance as 3 months pregnant; I get very booked up and only take 16 newborns per month before I waitlist." (908-670-0273)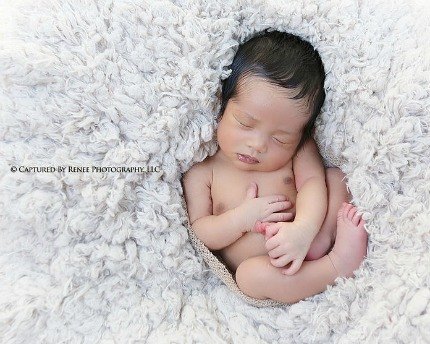 Captured by Renee (Morristown studio; will travel)
Renee Valente's 1,600 square foot studio is in northern NJ in historic Morristown. It is designed for maternity, newborn and child photography and comes complete with a private, fully stocked nursery with all the comforts of home. She also will travel to homes for some sessions.

Experience: Renee knows what changes a woman's body goes through during and post-pregnancy. "I know how we feel about the miracle we are creating. I understand what it is to be pregnant, and to be a mother; it's incredible," she says. "As a photographer, I knew I could use this personal insight to create imagery that beautifully captures these precious, fleeting moments in time that is the very beginning of this journey we call 'family'."
Good to know: Booking early on in your pregnancy is key, says Renee, and for newborns, a pre-registration for your due date is required to guarantee you a spot once baby is born. (973-979-6331)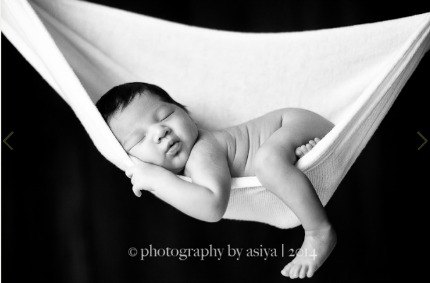 Photography by Asiya (Edgewater studio; will travel)
"I love babies and I love photography. The first week home after having a baby is a special time and it's so fleeting; babies grow so fast," says Asiya Khaki. "I enjoy being able to capture that time in the most simple and beautiful way so it can live on through photographs for years to come."
Experience: "I love using natural light and creating environments for my clients to celebrate emotions, whether that be the unscripted affection between siblings at play, or the unbridled adoration of parents holding their newborn child. The result is photographs that are both genuine and artistic, and will stand the test of time."
Good to know: Expectant mother's should book as soon as possible as availability is limited and usually books up 4-6 weeks in advance. (425-829-2239)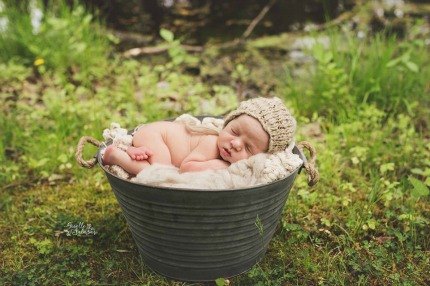 Giselle Salazar Photography (Belleville studio; will travel)
Like most newborn photographers, Giselle Salazar started out photographing her own children. "It became a passion and I loved it so much I decided to do it for a living," she says. "Plus, ​I'm good with kids and I love capturing their fun personalities."
Experience: "I also love maternity photography. I believe women look so beautiful when they're expecting and I like making women feel beautiful and special before the little ones arrive and steal their thunder!."
Good to know: "Our babies grow up so fast right before our eyes and newborn photography is a wonderful investment," says Giselle. "My clients are often say the session was worth it, and they come back, which gives me an opportunity to watch them grow, and showcase their milestones." Book 4 weeks in advance at least. (973-873-0890)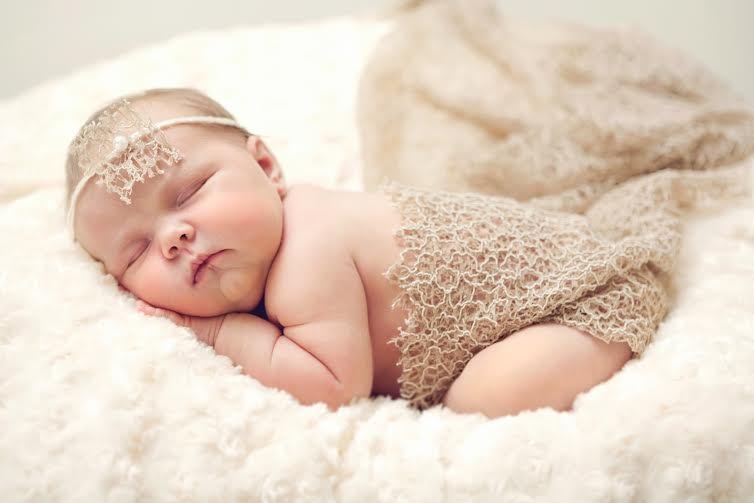 Maria Manjelo Photography (North Jersey studio; will travel)
"I live in East Brunswick; most of my clients are from Northern and Central New Jersey," says Maria, who has a studio space in North Jersey. "I also do natural light photography in outdoor sessions and at home sessions. I can travel anywhere."
Experience: "I actually started as a maternity photographer. I was very busy all year long just creating maternity photos for my clients. Then the baby photography business boomed and I noticed that photographers were photographing newborns, as opposed to infants, as I was doing," says Maria. "I started asking my clients to bring babies in at a younger age, and this is how I became a baby photographer! Babies come to this world with open heart and mind and don't even know what will face them in their life. They are gifts--what's not to love about them?"
Good to know: Maria likes to book clients for "maternity and baby sessions." "First we do a maternity session and then we shoot a newborn session. This way, I know my client already, and they get to know me. With that session they also get a first baby's album which is the same quality as a wedding album. If the clients are not interested in a maternity session, which is rare, then I ask them for their due date and to keep me in touch as soon baby is delivered. We want that 8-10 days old window to create great photos." (732-995-5789)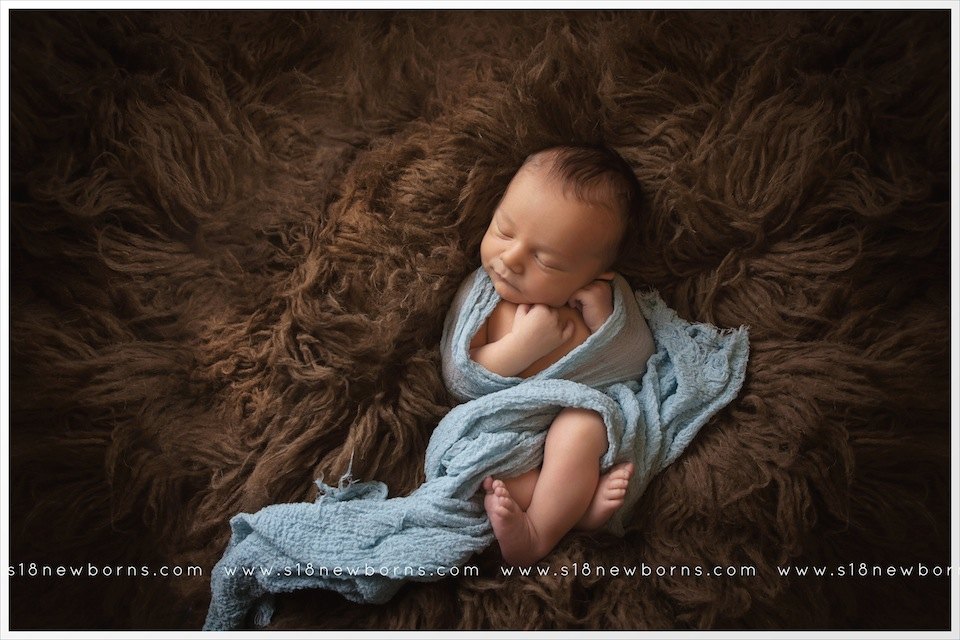 S18 Photography (Sewell studio; will travel)
Photographer Katie Glasser's studio is in Sewell, South Jersey, but she'll arrange on-location sessions all over NJ, PA, DE, and NYC. "I love working with new Moms and Dads and seeing them starting to bond with their new little ones," she says. "It's really a very special time in their lives and I'm so thankful that I get to be a small part of it."

Experience: "I first got into photography almost 5 years ago after the birth of my daughter. About a year into my journey, I started focusing on newborn photography. I love how different newborn photography is from other types of photography; it's an art of its own."
Good to know: Although everyone hears how fast the first year is going to fly by, says Katie, you won't grasp how fast it really will go until it's here and gone. "I really believe that baby photography is so important because, not to be 'cliche' but they are only this little once! So don't let the time escape you, keep the memories alive because one day when your babies are grown and having their own babies you will be so glad you did!" Most newborn sessions are booked before the baby is born, anywhere between 2-5 months prior to their due date. Other baby/milestone sessions are usually booked about 3-4 weeks in advance. (609-975-9612)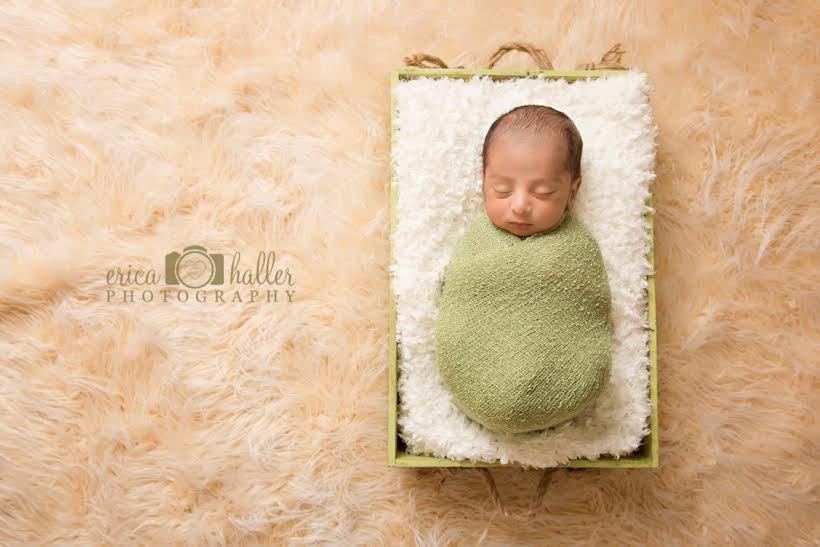 Erica Haller Photography (Hamilton Township studio; will travel)
"We do travel for sessions, but all of our newborn sessions are done in the studio to guarantee the best lighting and for access to all of our props and backgrounds. We have a beautiful 2,500 square foot studio with a room set up just for newborn sessions and an additional nursing room for the moms," says Erica, who works with a professional photo team she mentors. (Clients can request Erica, or one of her talented colleagues, for sessions.)
Experience: "I love family photography, but working with newborns was a different challenge and I love being a part of this exciting time for new and growing families. Newborn photography is special and unique. Each photographer can bring something different to the client experience. We pride ourselves on giving new moms and dads a relaxing, boutique experience and delivering the best products available through professional artists. Parents put their feet up, enjoy lunch or snacks and watch the session unfold. Additionally, we have trained newborn assistants who work with the photographer to assure someone is always within arms reach of the baby and all poses are done safely. This also frees up mom and dad for a nap if they'd like."
Good to know: "We have two photographers that are specially trained and certified in newborn photography so we are often able to accommodate last minute requests, but the majority of our clients book sessions during the second trimester so we have lots of time to plan." For other milestone and family portraits most of Erica's sessions fill up about a month in advance. (609-903-2001)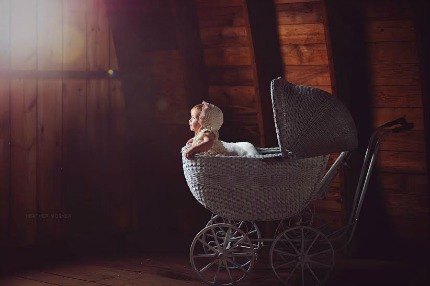 Heather Mosher (Branchburg studio; will travel)
"My studio is located in Central NJ, however most of our clientele travels to us from NYC and Hoboken," says Heather, adding that she'll travel for sessions throughout the tri-state area. "The studio has been featured in The TODAY show and I have a book that is sold via Barnes and Noble and Amazon.com to help parents take better images of their children."
Experience: "I have been in business as a studio for over 16 years, prior to that I worked in the children's fashion industry in Miami as an editorial/commercial photographer," explains Heather. "I've always loved children and as a mother of four from 18 years old all the way down to our one-year-old. They are a constant source of inspiration."
Good to know: Heather's approach to photography speaks for itself via "organic images that allow the beauty and sweetness of your child to shine through, instead of the 'props.' I don't believe in the overuse of colors, props, and other items that distract from that pure sweetness. I want your family and friends to remark on what a beautiful child you have brought into the world and not how many cool set-ups your photographer had. My genuine hope is that you will always be proud to display the images we create of your child." Most clients do try to book newborns at least 3 months in advance. (908-630-7897)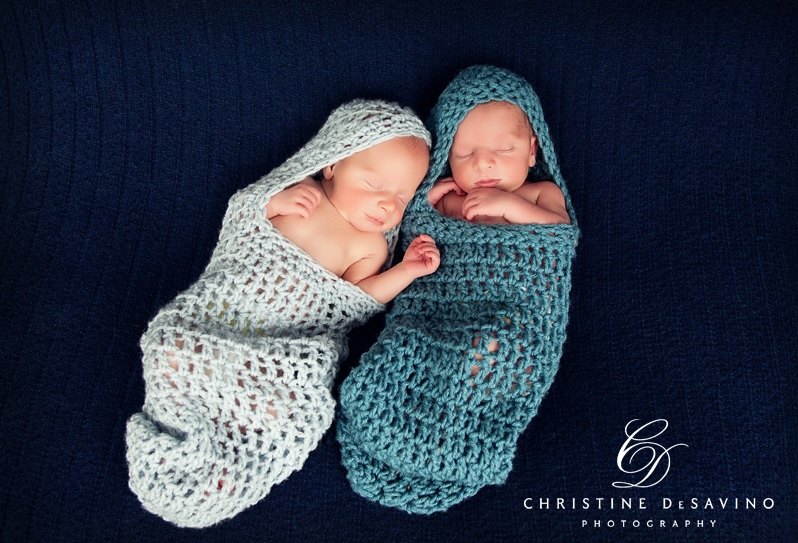 Christine DeSavino Photography (Hillsdale; will travel)
Mom Christine DeSavino specializes in the fine art of children's portrait photography. "I'm based in Northern NJ, but travel to Jersey shore locations in the summer for beach shoots," she explains. "I was drawn to children's photography after having my own kids. I was a photographer before I started a family, and once I did it was a very natural progression. My family is everything to me, so there's nothing more gratifying than capturing meaningful images that will become family heirlooms for my family and other families…it's a special job."
Experience: In her work, Christine focuses on the child, capturing the beauty and innocence of each stage in the child's journey. From the expectant mother to the newborn infant, from the precious baby to the determined toddler, from the curious child to the confident teen, her photography captures the unique qualities that children embody.
Good to know: "One thing that I'm told over and over again, is how patient I am with babies and children, as well as how easy I am to work with for the parents. This gives me great satisfaction because, of course, I want the quality of my work to stand out, but I also strive to make the overall experience wonderful from beginning to end," says Christine. "I do travel for sessions to NYC, Westchester, as well as Northern Jersey. Depending on the season, I would book 1-3 months in advance. But I will always try to fit in last minute bookings if I can." (917-697-1835)
Originally published 2011
Sign up for the Mommy Poppins Newsletter today!