Online Robotics Camp
Young Gates - Kids Online Personalized Classes

Artificial Intelligence with Scratch Online Camp
Young Gates - Kids Online Personalized Classes
Thompson Park's Annual Creative Arts and Music Festival
Thompson Park
Sign up for our free newsletters.
New Jersey's Best Summer Pick-Your-Own Farms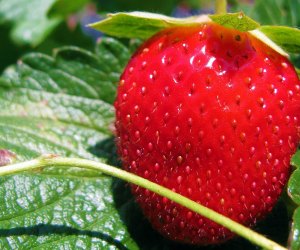 5/1/16
- By
Jennifer Battista
New Jersey earns its "Garden State" nickname with an abundance of pick your own fruit and veggies available throughout the summer months. Whether berries, peaches or even flowers strike your fancy, there are plenty of wonderful places to take the kids for a fun hands-on activity. Picking their own produce is the perfect opportunity for children to see where food comes from, eat locally and have a great time too. The NJ picking season starts at the end of May and runs through the fall months. Read on for the skinny on seven pick-your-own locations. And remember to always call ahead before visiting to check availability. Happy picking!
Alstede Farms (Chester)
Choose from strawberries, blueberries, peaches, melons and more at this Morris County farm. In addition to fruit picking, the farm offers fun children's activities such as pony rides, a moon bounce, a hay pyramid and scenic hay rides on Monday, Wednesday and Friday afternoons, as well as weekends. Bring along lunch to eat at their picnic tables or purchase food at the farm. Alstede is a popular location so visit early on weekdays to avoid the crowds. Open 9am to 8pm daily. 908-879-7189
Battleview Orchards (Freehold)
Visit Battleview Orchards to pick strawberries, cherries, peaches and nectarines. Apples and pumpkins are offered later in the season as well. The Country Store is open all year so stop in for delicious pies, breads, sweet corn and tomatoes. Open daily from 9am-6pm. 732-462-0756
Lee Turkey Farm (East Windsor)
Despite the name, there's more than just turkeys here. Visitors can pick their own cherries, peaches, melons, nectarines, pears and corn throughout the summer months. Sour pie cherries, sugar snap peas, leaf lettuce and spinach are currently in season. Oven-ready whole turkeys, as well as fruit and cream pies, are also available. Hours are 9am-6pm Monday through Saturday and 2-6pm on Sunday. 609-448-0629
Melick's Town Farm (Oldwick & Califon)
Melick's Town Farm offers fruit picking and fresh produce at several NJ locations. The Oldwick Farm features strawberry picking and flower picking while the Califon Farm is the place to go for peaches. Their Bridgewater farm stand also sells a wide selection of fresh fruit and vegetables. Hours for fruit picking are 9am to 6pm daily during summer months. 908-439-2318
Phillips Farms (Milford)
Located along the beautiful Delaware River, Phillips Farm is berry heaven with strawberries, blueberries, raspberries and blackberries available for picking. Peaches and apples are offered later in the season as well. Visit their farm stand for delicious treats such as fruit spreads, tomato sauce and apple cider. Hours are 8am-6pm daily from May through August. 908-995-0022
Stults Farm (Cranbury)
This farm is a great place to go for crop picking while avoiding large crowds. Produce such as blackberries, tomatoes, peas and beans are available in season. Stop by the Farm Stand for fresh fruit, veggies and other treats. Hours are 2-6pm Monday through Friday and 10am-6pm Saturday and Sunday. 609-799-2523
Terhune Orchards (Princeton)
Families are invited to Terhune to pick blackberries, cherries, blueberries, apples and more. The farm is known for their "Read and Pick program" for children 3 to 8 years--this unique event combines storytime with fruit picking in the orchard. Other farm activities include wagon rides and summer discovery walks. Picking hours are 9am-5pm daily. 609-924-2310
Photo credit: Sweet Mandy Kay via photopin
Originally published 2012