Dance Through Domino Park on a New Illuminated Public Art Installation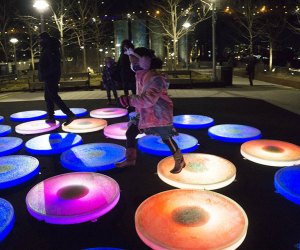 With one more week before daylight time savings begins, we've found something fun to light up your evenings: Domino Park has debuted a new public art display, Reflect, from artist Jen Lewin.
The installation in the park's popular summertime sprinkler area had us running, jumping, frolicking, and generally enjoying its colorful interactive nature. Read on for the details, and find more great public art to explore in Lower Manhattan, too.
Editor's note: While we are trying to promote safer activities that occur outdoors or with social distancing guidelines in place, please keep your family and others safe by always wearing a mask and maintaining an appropriate distance.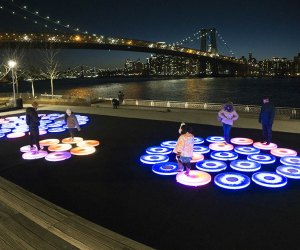 Reflect is set along the Brooklyn waterfront in Domino Park.
Reflect spans 2,400-square-feet and is laid out as concentric circles. After dark, these circles, raised a couple of inches off the ground, respond to visitors' movement: Step, jump, run, dance, and you'll see different patterns emerge.
The work is part of a larger piece, Cosmos, and is being displayed in the U.S. for the first time. Reflect's first exhibition took place during the spring and summer of 2020 in Tokyo, and a complex code developed by Lewin powers its light-up patterns.
RELATED: Public Art Lights up Downtown: Electric Dandelions, Talking Heads, and More Installations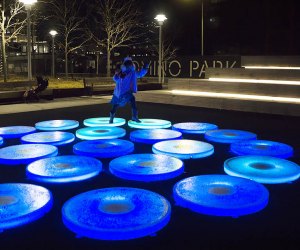 Each individual circle has its own complex wiring that responds to visitors' movements. It's thrilling to see the colors change with each step.
We visited at night, and it was almost as much fun playing ourselves as watching other visitors interact with the installation. Its location at the foot of the bleacher-like Seating Steps makes for some great people-watching, and though plenty of people passed by during our visit, it never felt too crowded or unsafe for COVID-fun. The views of the Manhattan skyline add to the allure.
RELATED: Share Your Pandemic Parenting Photos for Public Art Display in Dumbo

Reflect is on view in Domino Park through Thursday, April 15.
Daytime viewing brings a totally different experience, with the surface on the installation acting as a mirror, reflecting the sky and surrounding structures.
The installation is on display through Thursday, April 15. While you're there, be sure to save some time to check out the Domino Park Playground, one of the city's best.
Photos by the author