Submerge: NYC Marine Science Festival
Hudson River Park Pier 84

Sugar Skull! A Dia de Muertos Musical Adventure
The Sheen Center for Thought & Culture

Cirque-tacular presents 'The Art of Circus'
BMCC Tribeca Performing Arts Center
Expanded Summer Streets Returns Saturday: Explore Car-Free NYC with Kids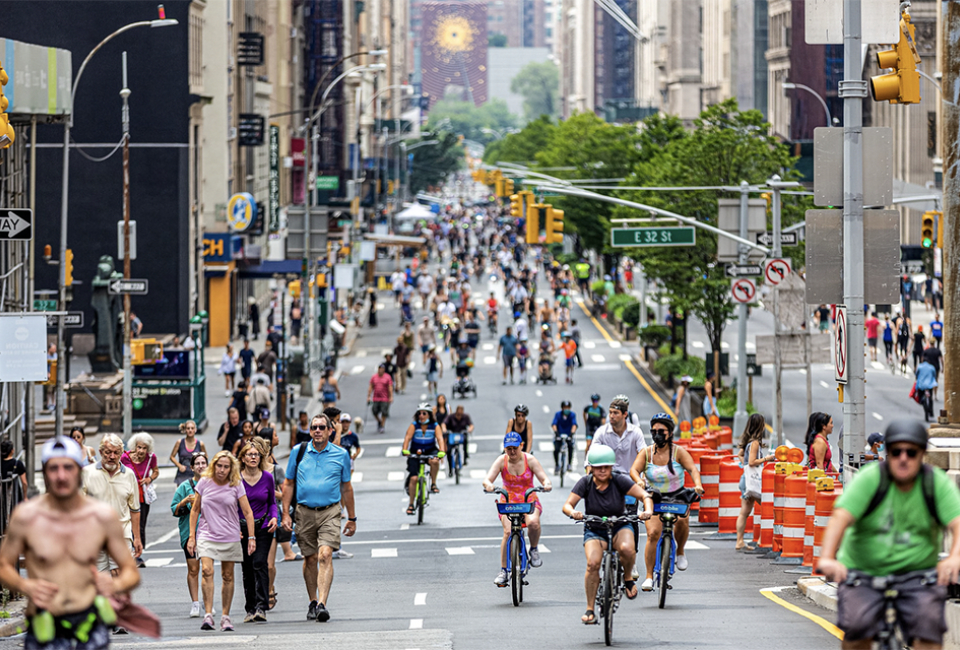 8/4/22
- By
Jody Mercier
Summer Streets, easily one of our favorite NYC summer festivals, returns for a trio of car-free Saturdays on August 6, 13, and 20. And, in 2022, the miles-long Summer Streets festival extends further north than ever before, closing Park Avenue from 109th Street south.
The annual Summer Streets event gives New Yorkers more than eight miles worth of car-free summer fun to explore from East Harlem all the way south to the Brooklyn Bridge. Pedestrians, skaters, and bicyclists can enjoy six fun-filled rest stops overflowing with fun activities, giveaways, and entertainment. Most of the interactive stations are 100% FREE, so read on for all the details on this ultimate summer festival.
Subscribe to our newsletters to get stories like this delivered directly to your inbox.
Held August 6, 13, and 20, Summer Streets closes Park Avenue and Lafayette Street from East 109th Street to the Brooklyn Bridge to cars from 7am-1pm. In addition, all New Yorkers can net a FREE CitiBike rental on Saturday, August 6 by using code SUMMER22 in the app to unlock unlimited 30-minute rides over the 24-hour period.
There are six rest stops along the way, each offering different entertainment and activities. While there's no dedicated children's zone, each of Summer Streets' fun-filled rest stops offers some family-friendly action.
RELATED: Free in August: 40+ Things To Do in NYC with Kids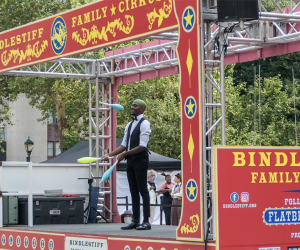 The Bindlestiff Family Circus performs at the Uptown Rest Stop on Saturday, August 20.
Summer Streets Rest Stops Around Manhattan
At the Uptown Rest Stop, located at East 109th Street and Park Avenue, enjoy art and culture programming courtesy of Ebony Bold, Art Lives Here, Play Machine with Naji, the Studio Museum in Harlem, and Harlem Needle Arts. HONK NYC presents pop-up performances and the Bindlestiff Family Cirkus stops by on Saturday, August 20. You'll also find the NYC Parks Play Mobile here on the same day.
A new Upper East Rest Stop debuts at East 81st Street and Park Avenue. Meet with reps from Black Girls Do Bike to get bike-riding tips, repair help, or join a bike tour. Fit Club NY presents physical therapy services and Unlimited Biking offers FREE bike rentals. A Fitness Stage offers a variety of classes.
RELATED: 100 Free Things To Do in NYC this Summer with Kids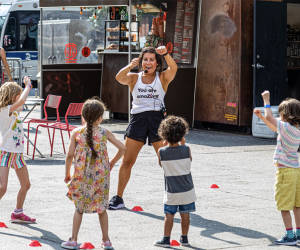 Kids can get active in the Fitness Zone sponsored by Zing! Kids Fitness at Summer Streets' Midtown Rest Stop.
The Midtown Rest Stop at East 51st Street and Park Avenue is home to Zing! Kids Fitness classes, plus a performance stage with a family-friendly lineup each week. An arts and culture hub here includes everything from planting workshops to watercolor lessons and recycled art-making for all ages.
RELATED: Best of August: Top Things To Do in NYC with Kids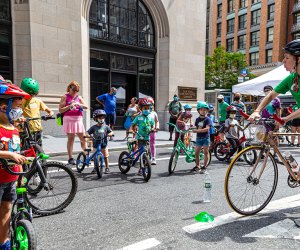 Kids line up for lessons at Learn to Ride clinics during the annual Summer Streets festival.
Visit the Rose Hill Rest Stop, running between East 26th and 27th Streets along Park Avenue for a Learn to Ride station courtesy of Bike New York. This Summer Streets rest stop also houses the popular DOT programs, including the FREE bike helmet giveaways and the Truck's Eye View station. It's also the site of one of the Dance Party NYC sites.
At the Astor Place Rest Stop, located on Lafayette Street and Astor Place, active kids can get physical in a pop-up parkour playground courtesy of The Movement Creative. When they've worked up an appetite, visit the Taste of Summer snack and beverage sampling zone.
The last rest stop is located at Foley Square on Centre Street and Duane Street. Here, enjoy adaptive basketball games with the Wheelchair Sports Federation, explore a Summer Streets Art Stop, or take a break in the cooling zone stocked with beach chairs and watch fellow Summer Streets visitors pedal, walk, skate, and run past.
For more details on specific entertainment for each date, visit the Summer Streets web page.
A version of this story was published in 2017; it is updated annually.
Photos courtesy of New York City Department of Transportation via Flickr

Sign up for our free
newsletters.
Mommy Poppins is a family activity website that helps people find things to do with kids.
©
2023
MommyPoppins. All Rights Reserved.
mp-prod4-v4.32.99
Click Here to Sign Up!
i