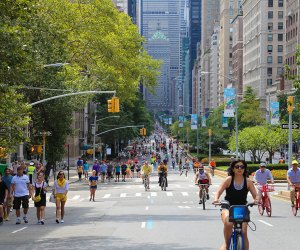 Summer Streets Returns This August: Explore Car-Free NYC with Kids
Summer Streets, easily one of our favorite NYC seasonal festivals, returns for its 12th season of car-free Saturdays on August 3, 10, and 17.
The annual Summer Streets event gives New Yorkers three consecutive Saturdays of car-free summer fun, with a seven-mile stretch of city streets from the Upper East Side to the Brooklyn Bridge closed to cars and open exclusively to pedestrians, skaters, and bicyclists. Five fun-filled rest stops overflow with fun activities, giveaways, and entertainment.
Most of the interactive stations are 100% FREE but some require advance registration. Read on for all the details on this ultimate summer street fest.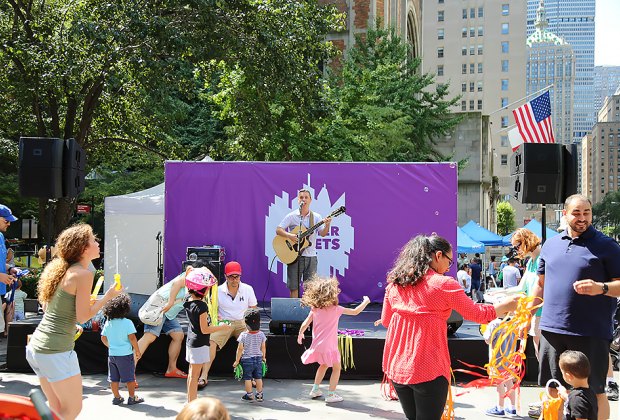 Dance in the streets during a show on the performance stage.
Held August 3, 10, and 17, Summer Streets closes Park Avenue and Lafayette Street from 72nd Street to the Brooklyn Bridge from 7am-1pm.
There are five rest stops along the way, each offering different entertainment and activities. This year's Children's Corner is located at the Uptown Rest Stop, on the northern edge of the route at 51st and Park. You'll find a Kids Fitness Zone where, depending on the date, kids will be able to learn parkour (August 3), take on a challenging obstacle courses (August 10), and enjoy a mobile gym from the NYC Parks Department (August 17). Arts and crafts are also provided here, with a rotating array of some of our favorite cultural institutions sponsoring cool, kid-friendly fun, including potting plants with the New York Botanical Garden, playground design with The Noguchi Museum, and crafting a paper "chain of kindness: with teaching artists from the Children's Museum of the Arts among others.
RELATED: Something for Every Day: Summer Fun Guide for NYC Kids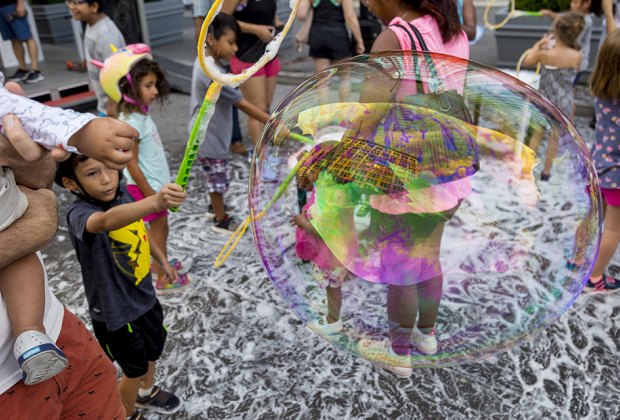 There are plenty of kids' activities at each stop.
Another thing to expect a lot of here, and at each of the other rest stops, is corporate advertising...
The Midtown Rest Stop, located on East 25th Street between Madison and Park Avenues, has a City Picnic theme, with food and beverages to sample from vendors like GoGo Squeez, Chameleon Cold-Brew, NUUN Hydration, Deep River Snacks, and more. Bike rentals are also offered here, along with FREE bike repairs courtesy of the Five-Borough Bike Tour, a Citi Bike tent, and learn-to-ride kids bike classes, plus FREE helmet fittings courtesy of the DOT.
Further downtown, the Astor Place Rest Stop, at Astor Place and Lafayette Street, features a Dance Festival theme, with four diverse dance companies performing each week, and beyond the action on the stage, it's easily as kid-friendly as the Children's Corner uptown. Adventurous kids will get a kick out the Clif Kids Park, where they can try their hand at mountain-bike-like trails under the supervision of trained coaches. Nearby, the Gazillon Bubble Show's Bubble Garden dazzles kids of all ages.
As in years past, the Soho Rest Stop, at Spring and Lafayette Streets, invites you to feel the burn with its Fitness Zone theme. True to the theme, it hosts a variety of fitness classes including yoga, Zumba, dance, and boot camp. A new addition: The NYPD sponsors a 28-foot-tall rock climbing wall, open to all those weighing between 45-250 pounds. You must register in person for a color-coded wristband, and expect to arrive before 8 a.m. to secure your spot for the day. Four-legged friends aren't left out of the fun: An on-site dog park and agility course allows them to enjoy the festivities, too.
RELATED: 50 Ways NYC Kids Can Stay Cool this Summer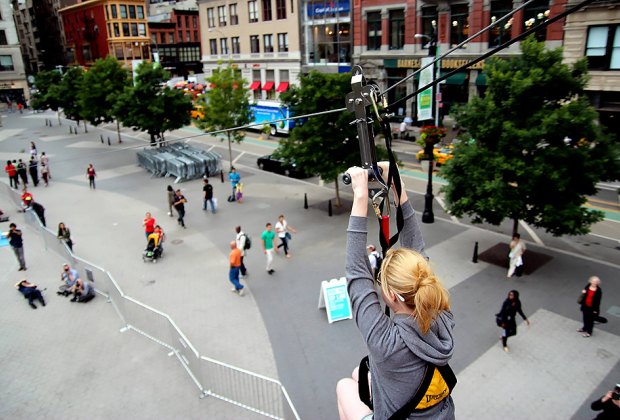 Fly down Centre Street as part of the Foley Square Rest Stop.
The Foley Square Rest Stop, located at Duane and Centre Streets, has a Fly Free theme, with the perennial favorite zip line stretching 165-feet long and soaring 30 feet above Centre Street as its main attraction. Weight requirements are similar to the rock wall, and you must register in person each day, arriving before 8 a.m. On the first weekend, yogis age 13+ are invited to attempt to set a world record for the most yogis executing a simultaneous handstand. There will be basketball and football clinics, plus inline skate rentals and demos, too.
Organizers are actively looking for volunteers to man rest stops and help keep everyone safe. For more details on specific entertainment for each date visit the Summer Streets web page. Each rest stop features stages with a diverse array of performers, and, as always, there are tons of public art installations, and interactive tours to take along the way.
A version of this story was published in 2017; it is updated yearly.
All photos courtesy of New York City Department of Transportation via Flickr