Disney on Ice: Rockin' Ever After - Review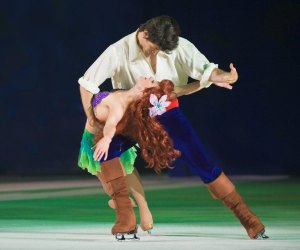 There are certain points on which Disney on Ice can always be counted upon to deliver: a ticket to this show guarantees sightings of Mickey, Minnie, and a posse of princesses; that's the toddler guarantee. There's also always top-notch figure skating - from solo performances, to duos, to large-scale group numbers - offering adults plenty to enjoy whether or not they're fans of mice and mermaids.
But what's new this year? What makes Rockin' Ever After different from all other Disney on Ices?
Well to start there's Merida. Disney's newest, arrow-slinging heroine takes to the ice, bow in hand and brothers in tow, amid much Celtic merry-making and some occasional pyrotechnics. Kids who were frightened by the bear scene in the film needn't fear; the scariest thing Merida's mother does in this version is a camel spin. But watching the ice convert to Scottish highlands, amid kilts and bagpipes and what certainly feels like fields of green, is a treat to behold.
Ariel makes an appearance again this year, and the Little Mermaid sequence is not just a repeat of what's gone before. The way the ice becomes first the surface of the ocean and then the depths below is breathtaking. The shipwreck sequence is wonderful - surpassed only by the use of silks to create depth as Ariel swims up and down through the air, twirling seamlessly back onto the surface of the ice. Magic is achieved no matter how you look at it.
Rapunzel is back, too, and the crowd that comes with her provides plenty of slapstick comedy - right down to the pantomime horse. If any on your crew are prone to giggles, they'll get their chance.
The final sequence this year is the classic Beauty and the Beast, which never gets old. The musical numbers lend themselves to big spectacle, with skating crockery and candelabras, and the skater who plays Belle is a particular treat to watch. Parents of very sensitive little ones may appreciate the warning that there's a violent moment toward the end, when the beast is stabbed. Obviously it all ends well, but at the end of a long evening it was a little jarring for some little ones around us.
Do bring warm clothes and coats, as the cold gradually sinks in over the course of the evening. It's not a distracting cold - I've been colder at the Hollywood Bowl on a summer evening - but for sure a warm coat is required.
A MOM discount code allows a family of four to attend certain performances for $80; be sure to ask when calling, or use the code MOM when checking out at Ticketmaster. And if you go to a performance at Staples, we recommend arriving a little early - or stay a little late - for some inspirational ice skating at the LA Kings Holiday Ice Rink at LA Live. The rink is directly opposite the entrance to Staples Center, opens at 5pm weeknights, and features a giant Christmas tree to skate around. Add a Disney princess dress, and someone's got a perfect holiday photo!