Cocomelon Party Time Brings Catchy Tunes to Los Angeles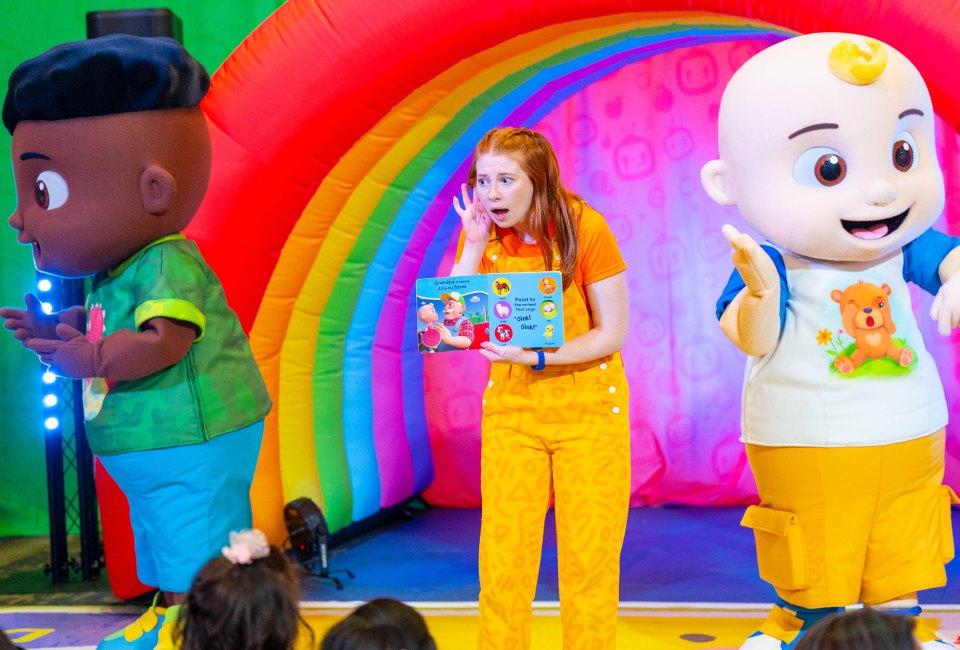 11/2/23
- By
Gina Ragland
Cocomelon Party Time is coming to Los Angeles! Young kids can't get enough of Cocomelon, and now they'll have even more reason to celebrate. Babies, toddlers, preschoolers, and parents will soon be able to dance and sing with JJ, Cody, and the rest of the Cocomelon gang in real-time.
This kid-centric experience will bring cherished nursery rhymes to life in Los Angeles. Cocomelon Party Time will delight young kids who can't get enough of the popular television show. Keep reading below for what to expect at Cocomelon Party Time, from interactive activities, dance parties, and meet and greets.
For more interactive experiences from favorite characters and shows coming to Los Angeles, enter into the whimsical world of Dr. Seuss and step inside Bluey's house at CAMP.
Let The Cocomelon Celebrations Commence
The Cocomelon Party Time experience begins on Friday, November 17, and has a limited run through Saturday, December 30. Tickets are on sale now.
Cocomelon Party Time tickets are based on timed sessions, and each session lasts approximately 60 to 75 minutes.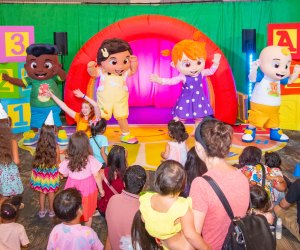 Expect sing-alongs and story times. Photo by Tom Pandi
The Cocomelon celebration will occur at Santa Monica Place, also home to the Cayton Children's Museum and the Dr. Seuss Experience. That's not counting all the fabulous holiday festivities that will be occurring there, too, which you can find details about in our Events Calendar.
Cocomelon Party Time
Immerse yourself into the charming and imaginative world of Cocomelon. Kiddos will soon be singing, "Yes, yes, yes, I want more Cocomelon!" if they aren't already. Ideal for children ages one to five, interactive activities will be plentiful throughout the experience.
RELATED: Things To Do with Preschoolers in Los Angeles Before They Turn 5

Hit the dance floor and boogie to catchy Cocomelon tunes. Photo by Tom Pandi
Of course, it would not be a Cocomelon party without singing and music. A light-up disco-like dance floor (like the one in that Looby Loo episode in JJ's Tree House) will be ready-for-dance moves. Story times and sing-along performances will take place, as well.
Party games like pin the tail on Cody's Dino, ring toss, and Bear Bean Bag Toss will be available for play in the Cuddly Corner. A make-believe hot air balloon ride will take kids through the clouds and to a rainbow play zone. There will also be activity stations for coloring and a make-your-own party hat.
Each party guest will receive a party-themed snack bag and get a meet and greet with favorite Cocomelon characters like JJ, YoYo, TomTom, Cody, and Nina.
RELATED: The Best Toddler Playgrounds in Los Angeles

Meet your favorite Cocomelon characters! Photo by Tom Pandi
Finally, the celebrations will also include the launch of Cocomelon Lane. Expect a brand-new story-driven Cocomelon series that will soon be premiering on Netflix on the same date that Cocomelon Party Time kicks off in Los Angeles on Friday, November 17.
Places featured in this article:
Sign up for the Mommy Poppins Newsletter today!