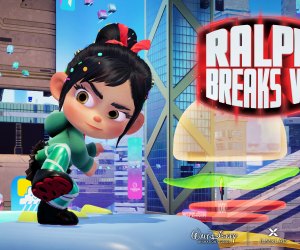 Because Living a Movie Is Way Cooler than Watching One— Meet Ralph Breaks VR
Virtual Reality: it may sound like a phrase describing the half-awake state in which most parenting takes place, but in fact it's something way cooler. VR to our kids is putting on a pair of goggles and going somewhere entirely different, to experience things that aren't remotely happening. And that type of adventure is the trade of a seemingly uneventful little space in Glendale and Anaheim called The VOID, whose newest VR experience lets visitors enter the world of Ralph Breaks the Internet.
But what is VR and how does it work? It's actually quite simple: you are digitized, your atoms dissembled and shot through the ether until you're reassembled as a cartoonish, gun-toting internet-dwelling photonic projection—I kid, of course. In fact, VR is The Matrix, Ready Player One, and a holodeck all rolled into one. It is 100% real, and you are going in. The experience takes place in a venue called The VOID, an unassuming retail space at the Glendale Americana at Brand as well as at the Downtown Disney shopping district in Anaheim. You wouldn't think a mind-tripping adventure awaited you next to a Victoria's Secret and across from a Cheesecake Factory, but you'd be wrong.
Inside The VOID, players freely move around within the limits of the space. Everything you see is a projection mapped onto that space that you see via the helmet you wear. And it's not just the world: you, too, have been transformed. When you look at your hand, you see an animated limb. Your fellow players are right there with you, only now they are the cartoonish Netizens, (characters from the movie). I wondered why one of the characters was smaller til I realized it was my 9-year-old daughter.
I always thought the limitation on any virtual experience would be the part of your brain that knew it wasn't real, a kind of uncanny valley of reality that was 'real adjacent" but not real enough to make you believe you were actually walking through and interacting in another world. Perhaps this particular experience is helped along because the world it paints is cartoonish and by definition unreal, but I had zero difficulties suspending disbelief and buying into the reality of what I was doing.
The story we entered is based on the new film, Ralph Breaks the Internet. Ralph and Vanellope whisk players away into the inner working of the internet, a kind of city of the future with flying cars and animated combatants. They guide players along, accompanying them every step of the way. We were presented with a series of interactive challenges: The basic tasks are shoot at everything, shoot at pixilated space invaders, and shoot at fluffy bunnies and kittens (don't worry, the ammo is milkshakes and pancakes). You can also shoot at each other, but that's just for fun.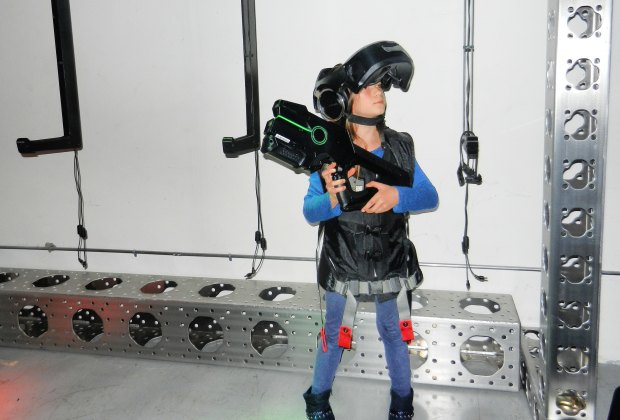 The world looks entirely different through these lenses. Photo by Mommy Poppins
I went with Ralph's 'just push every button you see' strategy. While that may have been satisfying, it wasn't necessarily effective. It was my gamer daughter who instinctively realized that each game had a bit of a puzzle aspect to it, such as who you were supposed to aim at or in what order. (I'm not giving anything away here, so you're going to have to figure it out yourself.)
Further immersion in the experience comes from recoil in the weapon and other forms of feedback, such as the buzz of being zapped. Of course, being zapped probably means you did something wrong, so I wouldn't know anything about that.
Ralph Breaks VR is a collaboration between ILMxLAB, The VOID, and Disney Animation. The people who put this together come from the worlds of sci-fi literature, animation, visual effects, and visual illusion, with resumes reflecting just about every pop culture classic of our generation. The team worked closely with the Ralph Breaks the Internet filmmakers so as to create an experience that is true to the movie.
The VR is set in the world of Ralph Breaks the Internet, but it doesn't rely on any special knowledge that you get from the movie. It doesn't matter whether you see the movie first or do the VR first. (But you do have to do both because, come on now). If you've seen the commercials, you know they go into the Internet. And now you are ready! In our case, we did the VR first, which led to some fun moments of recognition when we did see the movie.
I was a little worried that my daughter would be overwhelmed or intimidated, or that I would feel unsteady trying to navigate the virtual world, but neither turned out to be the case. My daughter instinctively adapted to the world (kids these days are pretty much pre-wired for all things virtual). My first few steps were tentative, but I quickly realized that walking around the virtual world was as natural as moving around the real one. The recommendation is for kids to be bigger than 48" or at least 10 years old (or both). This has nothing to do with maturity and everything to do with sheer size; players put on a backpack that's comparable in weight to a packed schoolbag, but a small child probably would not be able to walk around comfortably with it.
Let me warn you in advance: You are going to want to do this one again, in part just to discover all the Easter eggs. I was so busy taking out targets that it barely occurred to me to look around, mainly because the whole thing is just so astonishing that you never want it to end. Ralph Wrecks VR would make a great experience gift, or winter break outing. Looking ahead, it would also be a great way to honor a deserving someone on, say, Mother's Day.
Ralph Breaks VR is currently available at The VOID locations at Glendale Galleria ($30) and in Downtown Disney District ($33). The hyper-reality portion is approximately 11 min, allow 30 minutes from check in to check out.
Places featured in this article:
---
The VOID at Glendale Galleria
---
The VOID at Downtown Disney District