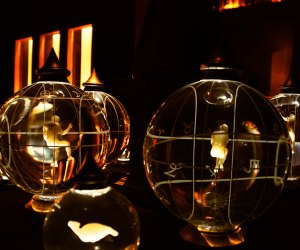 Visit the Magical, Mystifying World of The Museum of Jurassic Technology
Looking for something to do with the kids that's outside of the box—and without the usual upsell for overpriced novelties? Then maybe it's time to give Culver City's Museum of Jurassic Technology a try. Equal parts whimsical and educational, there's nothing else in Los Angeles quite like this modern day cabinet of curiosities. But be forewarned—the less you know about its secrets, the more fun it is to explore.
The idea behind this venue is hard to describe, which is purposeful. On the museum's website, it claims to be "an educational institution dedicated to the advancement of knowledge and the public appreciation of the Lower Jurassic," even though there is no relation to the Jurassic era, lower or otherwise. (Hint: if Jurassic Technology doesn't exist, is anything you see inside real?)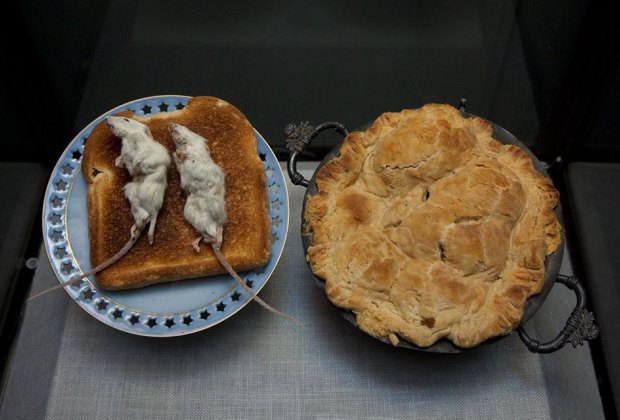 Mouse Cures: it was once thought that eating mice was a cure for bedwetting.
Questioning everything you see—even at a museum—isn't something most of us do, and for parents the Museum of Jurassic Technology presents a one-of-a-kind learning opportunity. When kids ask questions, and they definitely will, this is the place to challenge them to use their cognitive reasoning skills. What is the purpose of a museum, if not teaching? If what you're seeing isn't real, does it still have value? You and your kids both may be thinking about the world in an entirely new way after your visit, and you'll definitely be talking about this place for days.
"Historically, museums were places where you went to learn things, places of enlightened amusement," the museum's founder David Wilson told The Daily Beast in 2015. "These days people carry more knowledge then they will ever need in their pocket. So then what are museums for? To me, they are still about what they were about when I was a kid: a sense of place and the experience that can be had in that place."
With an arch style that combines a 19th century love of the obscure and unusual with a 1950s aesthetic of outdated technology, the fun here is in trying to wrap your head around what exactly you're seeing. Portraits of Soviet dogs launched into space give way to undulating dioramas of 16th century stagecraft. A detailed exhibit breaking down the history of string figures intersects with a wondrous look at Konstantin Tsiolkovsky, the father of Russian rocket science. Around every corner (and there are there a lot of corners), you'll find something whirring, clicking, flashing, or floating. Don't be concerned if exhibits are closed or broken—instead, ask yourself why they may not be available.
While the museums isn't geared specifically toward kids with its dry presentation of the obscure and possibly unreal, it will certainly appeal to the intellectually-minded among them. If you've got a child who loves to ask questions, especially when it comes to history and science, this is a fun place to see how creative both of those categories can be.
RELATED: Free Admission Days at 23 LA & OC Museums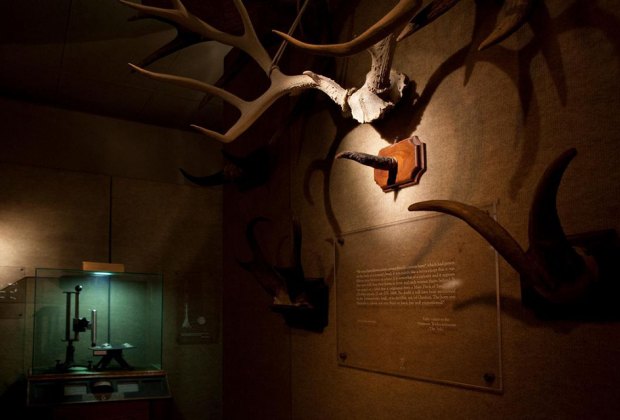 A collection of horns that includes animal and human horns.
Little ones may not appreciate this museum and its various bone displays and shadow-draped hallways, but braver kids will dig the moving models and maze-like atmosphere of the decor. Still, this is definitely a place suited to kids 10 and up.
The museum's hours are as unusual as its collections, operating Thursdays from 2pm to 8pm and Fridays, Saturdays, and Sundays from 12pm to 6pm. While there's a suggested donation of $8 for adults, kids aged 13 to 21 pay only $5, and anyone younger gets in for free. Parking is limited to the street or the nearby Target, but there are public transportation options: the Metro Expo line Culver City Station on Venice Blvd. and Robertson is three blocks east of the museum.
"We don't want people to leave here with anything in particular," said Wilson, " because we think of ourselves as just presenting things. We are half of the equation, at best. People's minds are the other half. What they do with it is forever surprising and amazing, which is how it should be."

The most Jurassic looking thing about the place may be the rooftop garden.
All photos courtesy of the museum