Jumping Around at Orange County's Latest Extreme Sports Park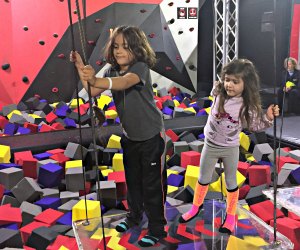 Bouncing off the walls in Orange County just got a whole lot more interesting. We recently checked out Circus Trix, Mission Hills' latest and greatest extreme sports park. Part trampoline park, part aerial sports gym, part Ninja Warrior training course, this place offers thrill-seeking kiddos plenty of opportunities to take flight. We went on a mission to see just how many ways a kid could could bounce there.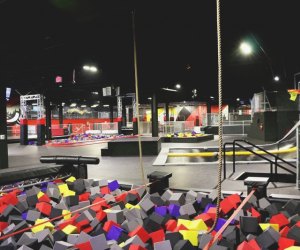 Photo courtesy of Circus Trix OC
The 60,000-square foot facility includes more than 60 trampolines, a zip line, aerial silks, half a dozen foam pits, trapeze swings, extreme dodgeball, a slack line, and an indoor AirDunk basketball court. My 7-year-old and 5-year-old could barely contain their excitement in the the sprawling play area, immediately racing over to an all-ages zip line that flies through the air above a foam pit. The kids also flew through the air on a flying trapeze—with a little assistance from an attendant who helped them grab the bar before launching themselves into the next giant foam pit of squealing children. Little ones can opt for riding a traditional swing instead of a trapeze bar, but daredevils (like my son) seem to love the sensation of jumping into a pit filled with foam blocks.
There is also an aerial silks station, where kids can swing, twirl, and turn on aerial silks hanging over yet another foam pit.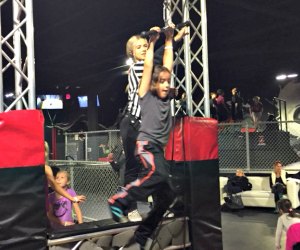 Before anyone ran away and joined the circus, our entire family headed over to the trampoline area for some group bouncing time. The kids also launched a jousting match along a balance beam over another foam pit; the winner earned bragging rights for the rest of the day.
We adults caught a rest while the kids took on the Ninja Obstacle Course. They swayed back and forth on glass platforms, climbed monkey bars, and flew through the air on rope swings to the final challenge.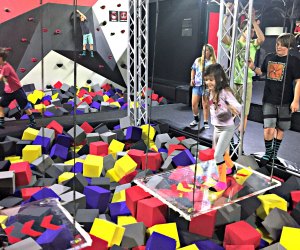 My son was a big fan of the rock climbing wall, where he and his dad got in some father-son bonding, racing each other to the top repeatedly. (They also seemed to bond over watching sports on the gym's many giant TV screens.) My daughter, however, couldn't get enough of the vaulting area, where she hurled herself through the air onto a giant red beanbag over and over again.
Our Saturday afternoon visit was not overly crowded; there was plenty of room to jump without crashing into other guests, and lots of attendants on hand for safety. That said, some little ones might do better at the KidJump session, an hour from 9am-10am reserved only for the under-six set (Mondays through Saturdays).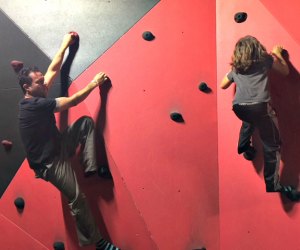 According to my son, this extreme sports park is "way cooler" than its competitors, with its many options for acrobatic adventure. The space is clean, and we found the attendants friendly. Plus Circus Trix offers a rotating calendar of events including Family Night, theme nights, school jumps, and slumber parties. And, of course, birthday parties are a big part of the business, with packages for 10-30 jumpers and a variety of included activities.
Two tips to know before you go: First, buying tickets in advance online definitely saves time upon arrival. Second, no matter what socks you bring, Circus Trix requires everyone to buy the grippy socks sold there (for $3). Happily, there are plenty of cute designs to choose from, so kids don't mind.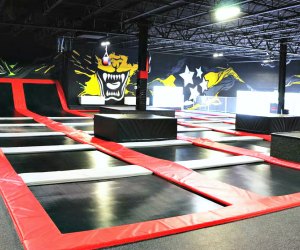 Admission is currently $17 and up for adults and children. Private party rooms are available for birthdays starting at $300. Check Circus Trix OC for more details.
All photos by author unless otherwise noted