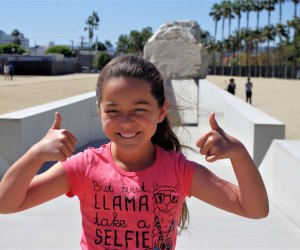 Great (and Cheap!) Ways To Beat the Heat Indoors Around Hollywood This Summer
It's 10am, and it's already insufferably hot outside. The kids have abandoned the back yard and are now climbing the walls, bored stiff by their "rainy day" (or should we say "indoor day") toys. What's a parent to do? If you live much east of the 405 like I do, then you have a love/hate relationship with the beach. I'm a lover at heart, but after a few continuous days of schlepping cross-town, my family and I have had it with the coast. We need other ways to get out of the home in our own sweltering neck of the woods - ways that aren't compromised by a random Sig Alert. Is our only option the nearest overly-crowded, overly-chlorinated public pool? No!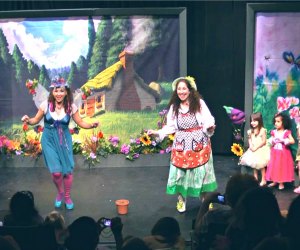 Auntie Angelica's Fairy Garden. Photo by Wes Johnson
Go See Live Theater
Hollywood has no shortage of stage shows, and a few cater to and/or star children. Here is a selection of what's available to see this summer:
-- It's a Musical World is at the Bob Baker Marionette Theater, the longest running children's theater in LA. (It's also #39 on the bucket list.) If you haven't treated your family to this experience, now's a great time. Performances are 2:30pm on weekends and 10:30am on some weekdays.
-- Giggle Gaggle at Joy Theatre is an ongoing sketch comedy show performed by the theater's company of talented kids ranging in age from 4 to 11. Joy's worthy mission is to build confidence in its players "through teamwork, love, and laughter." Performances are at 2pm on Saturdays and Sundays.
-- Auntie Angelica's Fairy Garden is a musical that plays monthly at the Whitefire Theater. Brought to you by the people who put on the popular Faery Hunts outdoors at Griffith Park, the venue for this version is a cool, indoor theater. For tickets, call 818.324.6802.
-- Story Pirates' Flagship Show, an innovative collaboration between improv performers (think Second City and the Groundlings), musicians, and the kids in the audience, plays for one evening (August 24, 2013) at the Bob Baker Marionette Theater.
- The Wizard of Oz opens at the Pantages Theater for three weeks starting September 17, 2013. Tickets are available for purchase now.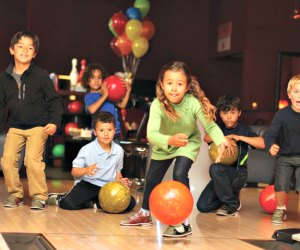 Photo courtesy of Lucky Strike
Go Bowling
This old-school activity is very in-style on the east side, where many bowling alleys are surprisingly modern and fresh-smelling. Helpful accommodations will please the littlest of bowlers, like bumpers to keep balls out of the gutter and starting ramps to provide rolling speed.
-- The original Lucky Strike is in the heart of town at Hollywood and Highland, and it is very Hollywood. (The inside bar is made from a lane featured in The Big Lebowski, and local artists' work is featured on the walls.) Bonus points given for the kid-friendly menu. A second location is downtown at LA Live.
-- Jewel City Bowl in Glendale has been reinvigorated thanks to a total remodel a few years back. Great service and decent food make this a favorite for kids' parties. Lanes can be rented by the hour or per game, whichever suits.
-- Shatto 39 Lanes in Koreatown is the no-frills alternative on the east side - cheap bowling and cheap food in an unpretentious dive with the same arcade games you played as a kid.
-- Pinz Bowling Center in Studio City deserves a shout-out for its participation in the Kids Bowl Free program, offering kids two free games every time they bowl this summer. That and the in-house Jerry's Deli are worth the drive.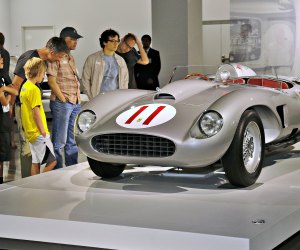 You'll be just as cool as the cars at the Petersen Automotive Museum. Photo by Stephen Russo
Go To a Museum
Many of our kids' favorite museums are around Hollywood. Each has its own special events and/or discount pricing to woo families away from the summer sun.
-- Giddy up to the Autry Museum of the American West in Griffith Park to pan for gold and learn about our region's history. Special activities include West Wednesdays, a Day of the Cowboy and Cowgirl festival, an American Girl craft and scavenger hunt - not to mention free admission on the second Tuesday of each month.
-- Many a child would name the Petersen Automotive Museum as the highlight of Wilshire Blvd's Museum Row. Cruise through the period-accurate "streetscapes" on the first two floors showcasing a vast car collection, then make a pit stop at the children's interactive Discovery Center upstairs. There are special activities for kids every Tuesday and Story Time on Saturdays at 2pm.
-- Located a block west of Museum Row, and often overlooked by tourists, the Zimmer Children's Museum is the place for pretend play in LA. A rescue center, airport, theater, and main street are backdrops providing hours of fun and socialization. Special activities are offered each day at 11am and 3pm, and grandparents get free admission on Thursdays.
-- Anchoring Museum Row is the LA County Museum of Art (LACMA). Installations such as hanging "spaghetti," the levitating boulder, and rows of street lights thrill children before they even set foot inside to view Metropolis II or try their hands at watercolor painting in the Boone Gallery. And thanks to the NexGen program, each person under 18 (including babies) plus one accompanying adult get free general admission.
-- Nearby on 6th Street are the La Brea Tarpits, home to the interactive Page Museum. A sister to the Natural History Museum, more than a million Ice Age fossils are on view here. Kids can watch paleontologists in action and learn about creatures such as the ground sloth, dire wolf, and mammoth. And get up close to a saber-toothed cat at the Ice Age Encounter show on Wednesdays and Saturdays.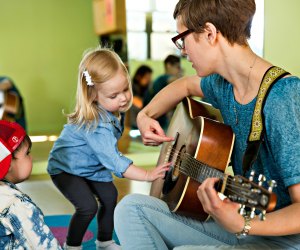 Strum on a guitar at Play on 3rd. Photo by Orit Harpaz
Go Play In Someone Else's Playroom
Hurray for the invention of the drop-in indoor playspace! There's no better time than the summer to utilize these east side gems:
Romp on Highland and Melrose is the biggest at 5000 square feet, including a gym, a unique room filled with sand, ball pit, and huge slide. Open play is offered weekdays and sometimes on weekends during the summer as well. For adults, there's free WiFi and coffee.
For young kids, try PLAY on 3rd, a small neighborhood space that's also popular for its music classes. The front community room is low-key and ideal for toddlers and pre-schoolers, and even their baby siblings. It's filled with a thoughtful collection of mostly wooden toys (no gym equipment). The room next to it is dedicated to art, usually a fun drop-in class called Messy Art offered five days per week at various times.
For something in between there's The Awesome Playground in Eagle Rock, a moderately-sized play gym that offers a racing track with plenty of ride-ons, a large pretend-play "crooked house," an obstacle course and slide, plus a separate baby/toddler area.
And finally...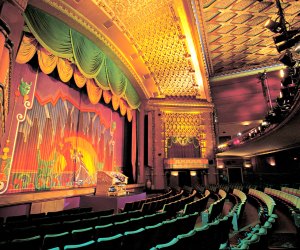 Interior photo courtesy of El Capitan Theatre
Go To The Movies
Tinseltown does movies like nowhere else - from the historical theaters to assigned stadium seating in a dome to on-site restaurants and bonus entertainment. So take advantage of the city's obsession with cinema.
El Capitan is the leading movie theater for children in LA and has been mentioned often in the Mommy Poppins community. The experience starts with a live stage show that sometimes steals the show.
ArcLight Hollywood is a behemoth theater and extremely kid-friendly thanks to its assigned stadium seating, a decent restaurant in-house, and a gift shop that's fun to browse.
Pacific Theatres Grove 14 also offers assigned seating plus, well, The Grove, which for kids is the next best thing to an amusement park. This theater also takes part in the Monday morning Mommy and Me series, giving parents a place to watch movies with babies and young toddlers in tow.
Enjoy!
Top photo shot at LACMA's Levitated Mass by Joey Zanetti/CC BY 2.0