Groundhog Day: Where To Find Groundhogs (and Their Shadows) with LA Kids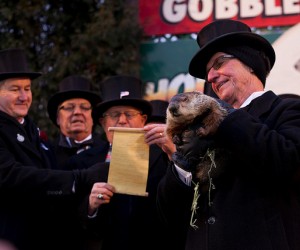 The simple truth is that we Southern Californians are less inclined to seek out rodents to predict the weather than are our Eastern counterparts. The weather doesn't hold the same mystery for us as it does for, say, New Englanders. But that doesn't mean we have to be left out in the cold on Groundhog Day. After all, who can resist the fun of an entire holiday dedicated to ambushing a small, furry animal first thing in the morning and scrutinizing its shadow (or lack thereof)? So while the people of Punxsutawney put on their top hats to attend their highly scientific meteorological gathering, how about we find some ways to show that we care about their weather, too? After all, if the little guy is calling a premature end to ski season, we might want to know.
The first trick is to find a groundhog—also known as a woodchuck (and no, they can't chuck wood, so get that right out of your head). I can spare you the effort of searching the internet for woodchucks in the LA area, because the sad truth that they're only discussed in sentences that include the word "exterminator." For that reason, no local park or cemetery will admit to having them. But they do. If you know a local park that has lots of holes in the grass, that could be a spot to watch for a furry-faced meteorologist. One park that is a sure bet is Barrington Park in Brentwood; there is a grassy party area behind the tennis courts that is positively riddled with groundhog holes, and the little guys love leftover party food. Put a treat outside a hole and wait for the groundhog to show his face. Then wish him a happy Groundhog Day, of course.
Another good spot is in Griffith Park, in the grassy areas around Shane's Inspiration playground. The little guys have evidently learned that picnic droppings are good in that area and have built their back doors for easy access.
If you prefer to greet a groundhog without any displays of patience, you could make do with his close cousin the prairie dog. Most people can't tell them apart anyway, and prairie dogs are conveniently housed at the Los Angeles Zoo. Presumably a prairie dog spotting his own shadow would have the exact same effect on the weather as a groundhog.
If you're game for the Southern Californian version of this fauna-based weather prediction custom, you could instead head to Palm Springs, where the Living Desert hosts the moderately famous Mojave Maxine—a desert tortoise credited with heralding spring for the Southwest. Being a tortoise, she moves a bit slower than Punxsutawney Phil and his family; no one really knows what day she'll come out of hibernation, but when she does, that's when it's spring. The Living Desert is sponsoring a contest for kids to predict the date of her appearance.
And finally, if you prefer celebrating at home, how about watching the film Groundhog Day on Netflix? Whenever you emerge, chances are you'll see your shadow; we are still in southern California after all.
Originally published on February 1, 2013
Photo by Anthony Quintano via flickr