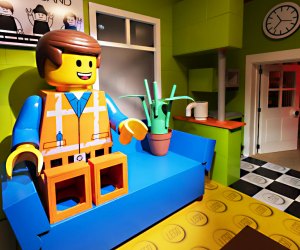 Everything Is Awesome at The LEGO Space Hollywood
If your kids are hyped up about The LEGO Movie 2: The Second Part opening February 8, you could make them feel special by taking them to experience it live and interactive right now at the LEGO Space Hollywood. The free pop-up photo op experience offers tons of Instagrammable moments, interactive installations, and fun reveals from the new movie. And don't think for a second they would make a LEGO space without giving you the opportunity to play with LEGOs.
The space is divided into two sections: The first gives a taste of Apocalypseburg, one of the worlds in the new movie. Here visitors get to see Lucy's (aka Wyldstyle)'s motorcycle, the wreckage of the Statue of Liberty (you darn dirty Duplos!), Emmet's apartment, a Sewer Baby, and some "see into the future" binoculars. Pretty much everything is touchable and designed to be sat on or otherwise interacted with. And, it goes without saying, photographed!
RELATED: The Lego Movie - A Parent Review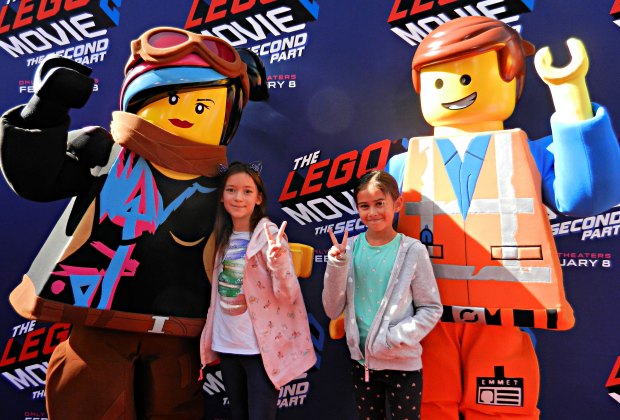 What's a movie experience without a Step-and-Repeat? Photo by Mommy Poppins
The second area is a little more free form, with GIF-making photobooths on offer, including a dance-off, a sticker room where the walls are your canvas, and, yes, a chance to validate your Special status by playing with LEGOs.
Don't get too freaked out, but some of the characters you meet along the way might have something to say to you. Or maybe they'll just follow you with their angry angry, feline eyes. And keep an eye out for floor mats: stepping on them activates some cool interactive features.
I've hesitated to visit the many photo op installations that have popped up in recent years, in part because my not-particularly-smartphone would never be able to capture the full glory of the scenes. At this event, however, we are all created equal, because professional cameras can take the picture for you! Between photo ops and GIF-makers, visitors can have about half a dozen images sent by text or email, in addition to whatever photos you take yourself (I'm guessing about 100 more!).
The LEGO Space isn't a giant ad: it's a giant playspace where visitors are just expected to have fun. No one is selling us anything (no souvenir stand); no money changes hands, and we don't have to sign over our Sewer Babies. Entry to this experience is free. Though I have no doubt there will be plenty of ways to spend our hard earned cash on LEGO Movie 2 merchandise in the future, our money is no good at the LEGO Space Hollywood. All we're expected to do is have a good time.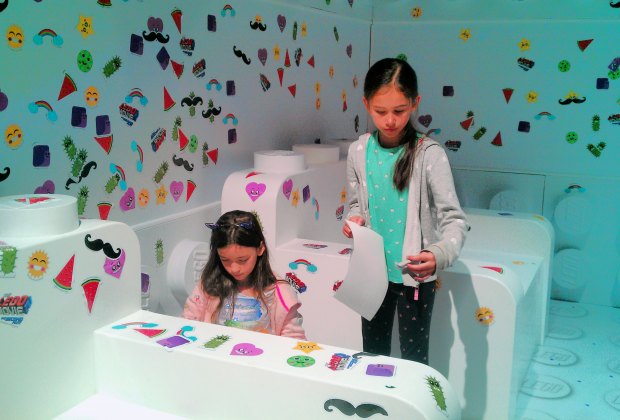 There's a whole room dedicated to stickers. Photo by Mommy Poppins
What you need to know:
The LEGO Space Hollywood is a free ticketed experience, suitable for all ages. Guests can reserve tickets in advance or show up and wait in line. Allow 40 - 60 minutes to fully enjoy the LEGO Space—perhaps a little more if your kid is likely to get caught up in the sticker room or dance off. Note: online reservations are currently full; interested guests can add their names to the waitlist. Walk-ups are welcome and encouraged, though.
The LEGO Space is located at the NW corner of Hollywood & Vine.
The attraction runs from Tuesday, January 29, through Sunday, February 10, 2019.
Weekdays (Mon-Thurs): 2pm to 8pm
Weekends (Fri-Sun): 11am to 9pm