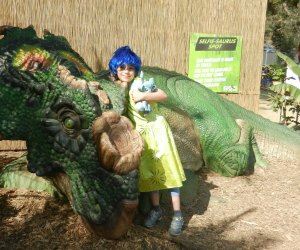 LA Zoo's Non-Scary Halloween Fun for Kids
LA really loves its Halloween. You can spook yourself silly just about anywhere: the aquarium, every last theme park, at pumpkin patches, farms, and railroads. So it makes sense that the Los Angeles Zoo and all of its party animals would want to get in on the action.
Unlike many other Halloween fests, Boo at the LA Zoo is not designed to scare the bejeebies out of you. Its haunts are played for fun, or to provoke amazement at animal oddities. The Zoo never loses sight of its greater mission: to inform kids about animals. So amidst the decorations and silliness, Halloween is presented through a lens of education and animal facts.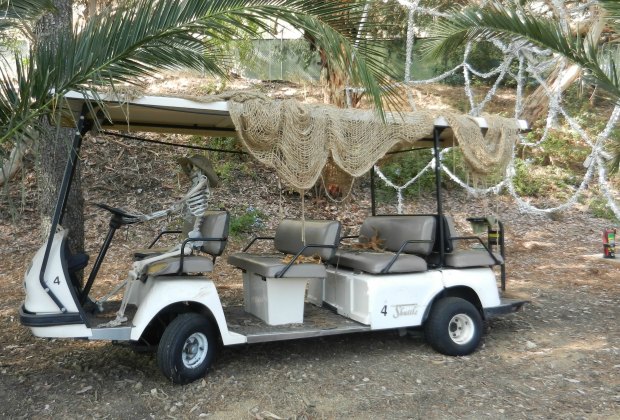 Looks like someone took a wrong turn at the Brachiosaurus...
This year, Boo at the Zoo has the added bonus of Dinosaurs Unextinct. The exhibit already creates a sense of playful wonder with the lifesized animatronic dinos, some of whom are inclined to spit on unsuspecting (read: gleeful) kids. It turns out these prehistoric creatures are great fans of Halloween. They've decorated their grounds with skeletal remains, the bones of some unfortunate explorers. The dinos are sticking around through the end of the month, clearly looking to score big on Halloween. (Question: What are the dinosaurs hoping for in their trick or treat bags? Answer: anything but an asteroid.)

Boo at the Zoo offers added features every day in October, though the weekend is when the fun reaches a peak. Daily activities include LAIR, a cornstalk maze with spooky photo ops, creepy caves and up-close animal encounters. On weekends, the fun picks up with added activities, including a Swazzle puppet show, the Mad Science Fire and Ice Show, a Halloween Dance Party and animal feedings.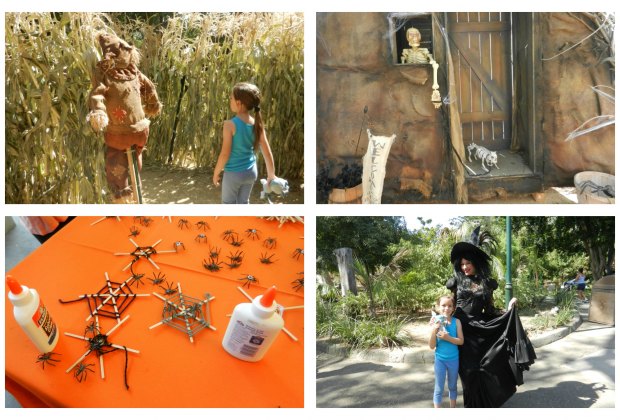 Photo ops, spooky decorations and crafty activities throughout the zoo

One of the simplest and yet most satisfying Halloween activities on the schedule is the animal feedings (weekends only). On weekend days, a herbivore and/or a carnivore is treated to a holiday delicacy. For the plant-eaters, it's a pumpkin or similar treat. Be warned, the meat eaters are given carcasses for their special feedings, which could be upsetting for younger zoo visitors to witness. (And some of us older visitors, too!) On the day of our visit, the komodo dragon was given a femur bone; we chose to steer clear.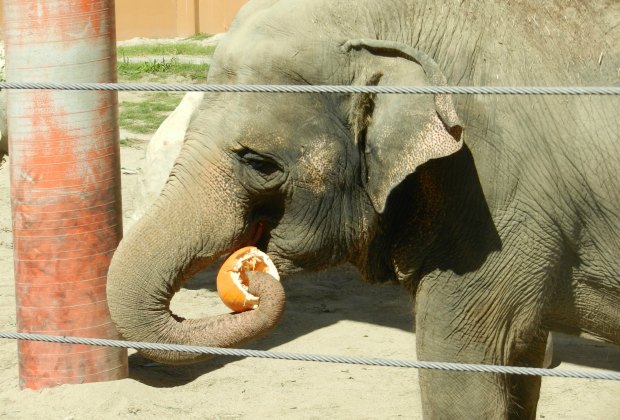 Nom nom pumpkins
When it comes to Halloween, the LAIR was born ready. As the home to a wild assortment of invertebrates, amphibians and reptiles, the LAIR is as spooktacular as it gets. Nothing says Halloween like a room full of venomous snakes and spiders.
Just a little up the road, the ever-popular Swazzle performs its Musical Monster Mash-Up puppet show several times a day on weekends, featuring silly songs and sing-alongs, (and very enthusiastic audiences!) Continue on to the Carousel area for crafts and GEC Street Team providing a Halloween Dance Party with break dancers, DJs, nostalgic family stage games and prizes.
Over by the Winnick's Children's Zoo, the caves are gussied up for the holiday, with spooky sounds and creepy shadow play. Through an incredibly cool use of shadow art, giant tarantulas and flying bats appear to be lurking nearby. The caves are dark, and periodically illuminated by red or blue mood lighting, so while nothing particularly scary happens in the caves, sensitive kids might find the sensory aspects overwhelming.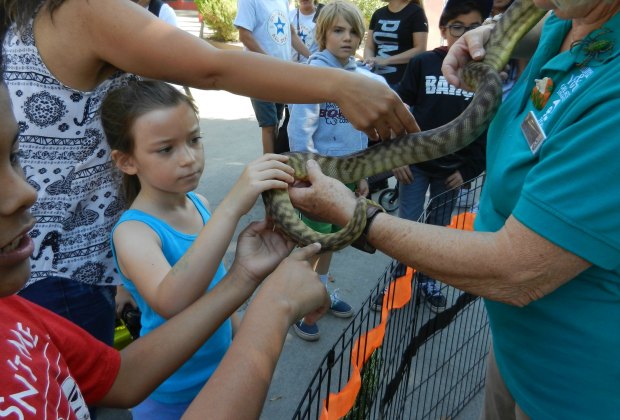 Animal encounter!

We also ran into an animal close-up around there, and were able to get up close and personal with a Very Large Snake.
Continue on into the children's zoo area to find the Fire and Ice Mad Science Show. Through the magic of science, matter changes state, with ice sublimating into gas, and "safety paper? more like danger paper!" disappearing in flame. The Mad Science show is offered once a day on Saturdays and Sundays, with multiple opportunities for kids to volunteer on stage.

Um... it's supposed to do that, right?

Are you getting excited for Moana, the upcoming release from Disney Animation? On the last two weekends of October, the Zoo partners with Disney for added activities and giveaways previewing the film.

What about trick or treating, you ask? Boo at the Zoo does offer some goody gathering on the final weekend before Halloween (October 29 & 30). That weekend also features special costume character meet-and-greets with PJ Masks and Peppa Pig.

A word on dressing up: we started the day in costume, but quickly reverted to street clothes, (that Joy wig is itchy!) While we did see some other costumed kids, most zoo goers early in the season choose to go without. Expect to see more goblins and ghosts emerge as the big day looms closer! (And it's always a wise idea to bring a change of clothes, given the unpredictability of the weather).
Boo at the Zoo 2016:

Daily activities: LAIR, Dinosaurs Unextinct, Ghoulish Grove with cornstalk maze and photo ops, creepy caves and up-close animal encounters.

Weekend activities: Swazzle Musical Monster Mash-Up Puppet Show, Mad Science Fire and Ice show, spooky crafts, Halloween Dance Party with the GEC Street Team, animal feedings, pumpkin carving, strolling characters.

Additional Activities: Disney Moana activities Oct 22-3 and 29-30; Trick or Treating and PJ Masks and Peppa Pig costumed characters, Oct 29 -30.
Boo at the Zoo runs from October 3 through October 31.
All Boo at the Zoo activities are included in Zoo admission except for Dinosaurs Unextinct. Zoo admission: Adults (13 and up) $20; Kids (2 - 12) $15, (under 2) Free. Dinosaurs Unextinct: $5 for guests 2 and older.
Photos: Toby B