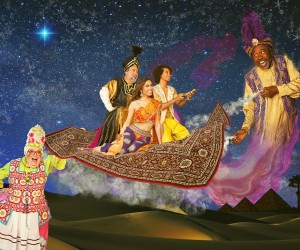 Panto in Pasadena: Aladdin and His Winter Wish (Parent Review)
The Lythgoe Family Productions British panto-style production of Aladdin and His Winter Wish at the Pasadena Playhouse is an exuberant theatrical experience, delivered with a wink and a smile. The celebrity-studded cast is out to have a good time, and they make sure to bring the audience along for the ride. If you're wondering whether this holiday show is the right one for your family, read on!
You know pantomime, right? The quiet art where the performers don't speak a word? Yeah, no. Throw all such notions of quiet decorum out the invisible window. This here we're talking about is British panto, and it's about as silent as kids hopped up on Christmas candy.

A quick primer on British pantos: Usually staged around holiday time, they use contemporary, catchy songs, stock characters, and knee-slapping humor to tell a classic fairytale. There is lots of high-spirited back and forth with the audience. The shows feature archetypal characters, such as "the Dame" (a broad comic character, played by a man), a romantic male lead (often played by a woman), a sidekick character who talks directly to the audience, and of course a Villain (Boo! Hiss!). Got it? I can't hear you..! Let's try again. Got it? Good! On with the show!


When seeing live productions, a big concern of mine is how my almost-5-year-old will react. Will she sit still? Will she be scared? Will she want to leave after the opening number? I am pleased (and highly relieved) to report that my daughter absolutely loved this show. And even better, I did too!

Despite the presence of several Disney stars, this is not Disney's Aladdin (which coincidentally is coming to Broadway this winter). The general story is close enough, though, that most kids will find it familiar. Street rat Aladdin has big dreams. Evil sorcerer Abanazar schemes to use Aladdin to retrieve a lamp – and the genie inside it! Aladdin accidentally summons the genie, and becomes his master. Aladdin becomes a prince, and woos the Sultan's daughter. Then Abanazar gets the lamp back... oh no! Evilness afoot!

The opening number is Jai Ho, (from Slumdog Millionaire). My daughter excitedly whispered to me "I know this song!" (For the record, she knows it from Fresh Beat Band, not the R-rated film). I was immediately struck by the level of talent in this production. This is no community theater; the production values are Broadway worthy.


Lead actor Jordan Fisher (Teen Beach Movie) is the real deal. He is a gifted singer who defies gravity as he dances with acrobatic grace; he infuses his lines with casual cleverness. Most tellingly, he holds his own standing next to Ben Vereen. Ashley Argota (True Jackson, VP) stars as the Princess. From her first song, (tween favorite "Call Me Maybe") it's clear why she was cast: the girl's got pipes! Bruce Vilanch shines in the role of Widow Twanky, Aladdin's man-hungry momma. I knew of him primarily as a Hollywood comedy writer, but he is right at home onstage. He puts his improv skills to good use and establishes a tone of good-natured fun that's just a tad bawdy.
By far the highlight for me was the presence of Broadway legend Ben Vereen, (Pippin and TV's Roots) as the Genie. He sings, he dances, he delivers the laughs. I've been a fan since childhood and it was simply thrilling to see him onstage.

I had noticed in the program that two teams of young performers alternate performances. I assumed they had found kids who could hit their marks and maybe carry a tune. Then I saw the first number and I was blown away. Those kids can dance! (Fittingly, The Lythgoes produces So You Think You Can Dance.) My daughter was delighted to see kids not much older than her onstage.

Most of the wordplay will go straight over kids' heads, but it's delivered with such giddy mischievousness that they can enjoy the spirit of the humor if not its exact meaning. Cultural references abound, from Justin Bieber to Instagram. Glendale is the butt of more than one joke.

Though there's not much that's outright scary, the proximity to the action may up the fear factor. The theater gets dark at times; one sequence involves fake smoke, (which my daughter then spent several minutes trying to wave away). The princess is kidnapped, struggles against being restrained and is put into a sarcophagus.


Josh Adamson is effectively creepy as bad guy Abanazar. The Panto tradition is to boo the bad guy, which definitely reduces the sense of menace. The audience we saw it with was a little slow to get with the program; it wasn't until the second act that they really got the hang of it. (I might suggest they put a few ringers in the audience to get the booing going.)

The show runs about 2 hours, with a 15 minute intermission at the halfway mark. The second half is more breezily paced. Younger kids might find the show too long, with too many "slow" sequences. (You know, when the characters talk to each other.) I would hesitate to bring a child much younger than 4, particularly anyone who has a hard time sitting still.

For an extra $100, your child can get a Golden Ticket and go up onstage for a sing-along. (The lyrics are written on a board, so pre-readers might be at a loss for words.) A few kids near me misunderstood and thought volunteers were being requested. It would be a good idea to explain this in advance if you have the kind of kid who's eager to go onstage. A Golden Ticket also includes a gift bag.

Arrive early if you can. About an hour before showtime, a
Winter Wonderland opens in the courtyard. Kids can meet fairy tale favorites (we saw Cinderella and Peter Pan), play with toys at "Widow Twanky's Toyland," do craft projects and pose at photo ops. Various crowns and light-up wands are for sale, in about the $5 range. (Many kids waved these during the show.)

The Pasadena Playhouse is located just south of Colorado Blvd, on El Molino Avenue, (about halfway between Arroyo Parkway and Lake.) Parking is convenient, with an automated lot behind the theater and several other lots nearby. If you come for a Saturday evening or Sunday show, you can find free street parking (we did!).



Production Photos: Clarence Alford.