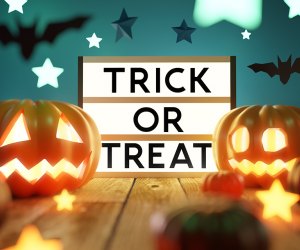 Indoor Trick-or-Treating and Halloween Events on Long Island
It's raining, it's pouring, but we promise Halloween won't be boring. Inclement weather may mean a diversion from your well-plotted trick-or-treating route. Luckily Long Island doesn't lack in options for indoor trick-or-treating and other stay-dry alternatives to keep your little ones happy and their plastic pumpkins filled with candy.
Check with your local high school as many schools around Long Island host safe trick-or-treating events for the children of their community.
Be sure to check out our list of The Best Halloween Events for Kids on Long Island, and if the weather clears up, put on your galoshes and take advantage of our guide to the Best Neighborhoods to Trick-or-Treat for Long Island Kids.