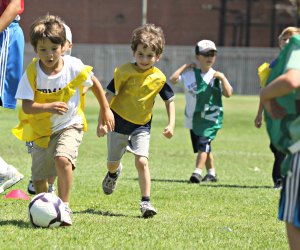 Spring Break Camps: 14 Fun Solutions for April Vacation around LA
Spring Break around Los Angeles is a moving feast; some districts have one week, and some have two. Some take a vacation in March, and some in April. Add to the mix the complications of Easter, Passover, and parent work schedules, and Spring Break camp can be a tough knot to untie. Whether your family needs two weeks full time or a day here and there, we've chosen a few of our favorites that run the gamut. From the Valley to the sea, surfing to soccer, we think you'll find something worthy of a few days away from school among the camps below.
And if you're so on the ball that spring is already covered and you've moved on to summer, check out some of our favorite art, cooking, horse, and classic outdoorsy camps in our Summer and Vacation Camp Guide!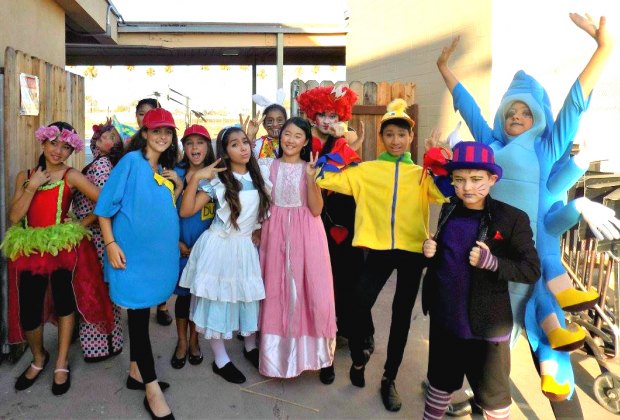 Photo courtesy of Arts and Learning Conservatory
Arts and Learning Conservatory
151 Kalmus Drive, Suite G3
Costa Mesa, CA 92626
714.728.7100
Three sessions: April 1-5 (Royal Adventure Camp), April 8-12 (Super Hero Camp), and April 15-19, 2019 (Space Adventure Camp)
8:45-2:00p.m.
Ages 5-12
Campers act out favorite musical themes and learn about storytelling, movement, and theatrical narrative. The interactive experience ends with a theatrical presentation on the last day of camp.
Blue Starz
14330 Ventura Blvd.
Sherman Oaks, CA 91423
310.880.4553
March 25-29 and April 15-19, 2019 (five-day camp)
9:0am-1:00pm (half-day) or 9:00am-3:00pm (full-day)
Ages 3-5 and 4-8
This spring break, kiddos can perform at a camp revolving around movie themes, as they learn ballet, tap, hip-hop/jazz, acting, singing/musical theater, and crafts.
Broadway Gymnastic School
5433 Beethoven St.
Los Angeles, CA 90066
310.302.0035
April 1-19, 2019
Youth Camp (5-12) 9am-3:00pm and Kinder Camp (3.5-5) 9am-12:30pm (before and after care available)
Broadway Gymnastics has been around a while, and its camps get great parent reviews on both fun factor and value for money. New students are invited to attend one free class before camp to help things feel familiar on the first day of camp. Also, be sure to ask about the Bring a Friend Day; one day of spring break camp is often designated as a day to bring a friend for free!
Camp Santa Monica
John Adams Middle School
2425 16th St.
Santa Monica, CA 90404
310.458.8540
April 8-19, 2019
8:30am-5pm (extended care available 7am-6pm)
Ages 8-14
Camp Santa Monica offers an affordable option for parents who work long hours (with financial aid available as well). Kids sign up for one of four themes: either science, arts, fitness, or water activities (water adventure camp is held at Lincoln Middle School). Discounts are available for Santa Monica residents.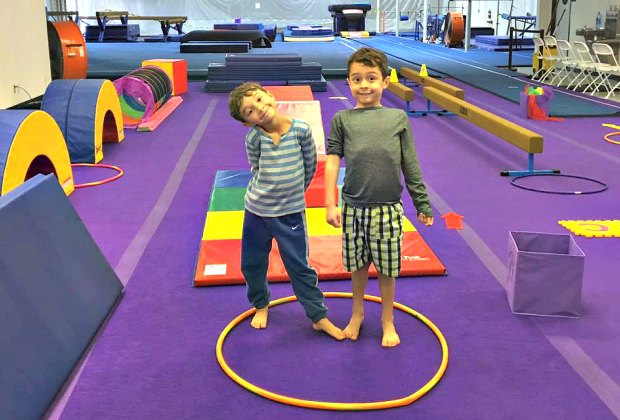 Photo courtesy of Dream Elite Gymnastics Academy
Dream Elite Gymnastics Camp
21150 Califa Street
Woodland Hills, CA 91367
April 15-19, 2019
9am-12pm or 9am-3pm (extended care 3pm-5pm)
Ages K to 5th grade
Kids get a chance to practice gymnastics, do arts and crafts, and stretch out at in this half or full day program. It's not all hard work -- fun and games are on the schedule.
Got Game Sports
Hancock Park Elementary
408 S. Fairfax Ave.
Los Angeles, CA 90036
and
Short Avenue Elementary
12814 Maxella Avenue
Los Angeles CA 90066
April 15-19, 2019
9am-3:30pm (extended care available)
Most days Got Game campers are at Hancock Elementary, playing a variety of sports (they get to select their favorites) out on the field. Thursday, however, is field trip day (destination TBA). Families can either book three days of camp (without the field trip) or four.
Gray Studios Make-A-Movie Camps
March 25-29, April 1-5, April 8-12, April 15-19, 2019
Camp schedule is Mon. 10am-3pm, Tues-Wed 10am-4pm, and Thurs-Fri 10am-6pm
Ages 5-16
818.582.3943
5250 Vineland Avenue
North Hollywood, CA 91601
or
621 Beach Blvd., Courtyard Marriott Buena Park
Buena Park, CA 90620
Have a budding Scorsese at home? Send him or her to this camp to craft a short film from concept to final cut. Each student gets a copy of the finished film and will receive a credit on IMDB. Kids will work with real industry pros, and will even get a chance to get in front of the camera (a sprinkling of improv instruction is part of the fun).
Kids on Stage
1227 4th St.
Santa Monica, CA 90401
April 8-12, April 15-19, 2019
9am-2pm
Ages 4-6 and 7-12
Little dramatists can spend a week or more over spring break creating a work of performance art in the company of Kids on Stage. Campers are divided by age and produce a show each week. One camp session is five days, and discounts are available for multiple sessions.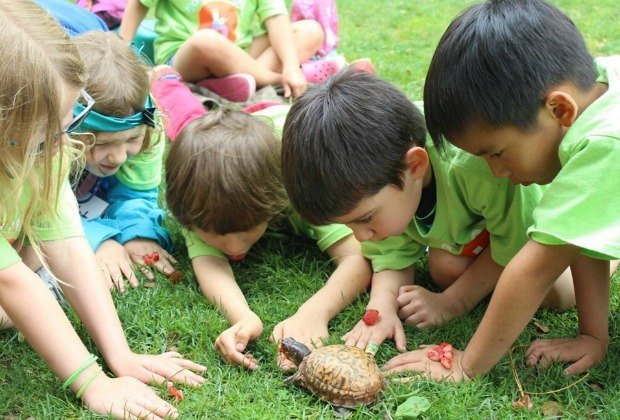 Making friends at Kidpace camp
Kidspace
480 N. Arroyo Blvd.
Pasadena, CA 91103
626.449.9144
April 15-19, 2019
9am-3pm (aftercare available 3pm-6pm)
Ages 5-9
Pasadena's popular children's museum knows how to entertain kids for a day. Most of the time is spent outdoors, in springtime nature exploration. Camp is booked by the week, in full-day sessions.
MyGym Northridge
9420 Reseda Boulevard, Suite 12
Northridge, CA 91324
818.998.7496
9am-noon
Ages 3-9
Games, relay races, gymnastics, and arts and crafts are all on the schedule. All children must be fully potty trained, and kids are divided into two age groups: 3 to 5 1/2, and 5 1/2 to 9.
Prime Time Sports Camp
April 15-19, 2019
9am-3:30pm (extended care available)
Ages 4-14
310.288.4132
at
Emerson Middle School (West LA)
1650 Selby Ave.
Los Angeles, CA 90024
or
Ivanhoe Elementary School (Silver Lake)
2828 Herkimer St., Los Angeles, CA 90039
Prime Time is a great day camp for sports fanatics, offering a spring break camp that covers a variety of different sports run by a team of coaches, educators, and sports pros. The focus is on building self-esteem and confidence while training kids in more than 10 team sports. Art options are also available.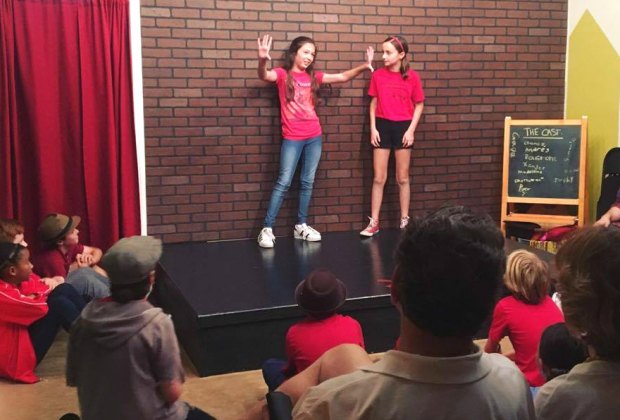 Photo courtesy of Studio LOL
Studio LOL
12434 Moorpark St.
Studio City, CA 91604
818.660.3460
April 15-19, 2019
9am-2pm
Ages 8-12
Spring break ought to be a laugh, right? The week-long camp at Studio LOL offers kids a chance to focus on building confidence, communication, and performance skills through improv, sketch comedy, and working to find the "funny" in their daily lives. The camp culminates in a performance for parents on Friday.
Camp Wildfolk
Larchmont Charter School
1265 N. Fairfax Ave
West Hollywood, CA 90046
424.341.5522
April 8-19, 2019
9am-3pm (extended care available)
Pre-K—7th Grade
Camp WIldfolk is a project-based learning camp with activities that range from animation to archery, from baking to escape rooms. Registration is by the week.
Zoo Camp
5333 Zoo Drive
Los Angeles, CA 90027
323.644.4200
April 15-19, 2019
9am-3pm (extended care 8am-9am and 3pm-5pm)
Ages 4—4th Grade
Who doesn't love the zoo? Kids get to make new animal friends, explore the zoo with specially-trained adult staff, and do animal-themed arts and crafts. Camp can be booked by the day.
Originally published March 6, 2013