KidStock
Pretend City Children's Museum

Online Robotics Camp
Young Gates - Kids Online Personalized Classes

Artificial Intelligence with Scratch Online Camp
Young Gates - Kids Online Personalized Classes
Sign up for our free newsletters.
Best Holiday and Spring Break Camps for Los Angeles Kids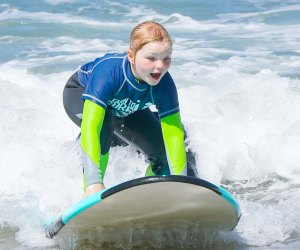 3/5/23
- By
Roberta B
Finding spring break camps in Los Angeles that work for your family can really be tricky, as school vacation calendars vary by district. Some schools take a vacation in March, and some in April; some have one week, some have two. Add to the mix the complications of Easter, Passover, and parent work schedules, and spring break camp in LA can be a tough knot to untie.
From Hollywood to Long Beach, surfing to science, and more to more, we think you'll find something perfect for your family in the camps below. As an added benefit, most of these places also offer holiday camps on long weekends when schools are closed, as well as summer camps!
And if you're so on the ball that spring is already covered and you've moved on to summer, check out some of our favorite free and affordable camps in the LA area and more camps for kids of all ages and interests (no matter how seemingly-weird, because LA has it all!) in our Los Angeles Summer Camp Guide.