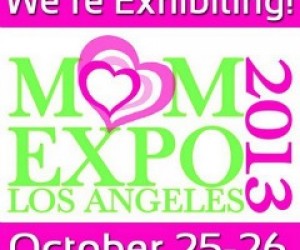 The Los Angeles Mom Expo: the Trade Show for Moms
There's a much-anticipated expo hitting LA, and it's coming a whole lot sooner than the Expo Line. The Los Angeles Mom Expo runs October 25-26, 2013 with a full program of exhibitors catering to the entire gamut of needs of LA mothers - a trade show for those of us in the mom trade. And as one of the show's sponsors, Mommy Poppins is in a position to invite 250 of our readers for free!
The Mom Expo takes place at the Agoura Hills / Calabasas Community Center, making it equally accessible from the Westside or the Valley. Exhibitors cover every aspect of the mom experience, from a Work-At-Home Mom Forum for momprenurs, to help guiding families toward a greener life, to complimentary stroller cleanings, work-out classes, and make-overs.
Kids can come along for free, and they'll definitely want to, because they get catered to with play zones, musical entertainment, a climbing wall, storytime, crafts, and - the coup de grace - a trick-or-treat trail and costume parade on Saturday (1pm-4pm). Sure, mom gets a cool Mom Expo goody bag, but kids leave with goody bags of their own.
Be sure to stop by our Mommy Poppins photo booth at the Mom Expo; you can snap a free photo of the fabulous costume your kiddo wears for the trick-or-treat trail - or dress up with some of the fun props we'll have in the booth - and share your photo on Facebook or Twitter right from our booth!
And speaking of our booth, we're excited that as sponsors we get to treat 250 of you to family four packs to the Mom Expo! Want free tickets for your family? Just be one of the first 250 readers to enter our Mom Expo giveaway.
Looking forward to seeing you there!
Expo hours:
Friday, October 25, 2013 10am-3pm
Saturday, October 26, 2013 10am-4pm.
Agoura Hills / Calabasas Community Center
27040 Malibu Hills Road
Calabasas, CA 91301
Related Articles