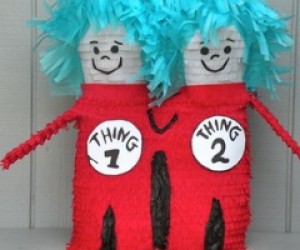 Piñatas: Where to Find the Real Piñata for LA Kids' Parties
On the hunt for that perfect piñata for your kids' birthday party? If you've checked the local chain stores, you've probably found the same designs, the same small sizes and large prices, and the same styrofoam construction. If you're looking for something simple and traditional, check the neighborhood Mexican markets first. But if your need is for a black horse or a taxi cab or a specific character for a child's birthday party; for a one-of-a-kind custom piece for a themed event; for a larger piñata that won't open on the fourth whack of the stick, or for a traditional large Mexican star for Cinco de Mayo—then you need to go to one of these independent party stores that specializes in traditional papier maché piñatas.
Many of these stores do custom orders. Expect to pay more, but you will get exactly what you want. Bring a picture (or two) to leave for reference, and be sure to allow a few weeks for the construction.
La Piñata
1803 Lincoln Blvd
Venice 90291
310.306.3348
More than a piñata and party supply store, La Piñata is a full-service party rental shop as well. Tables, chairs, columns, couches, glassware, cookware—these folks have it all available. The website is rental-focused; see the facebook page for photos of the piñatas.
Las Piñatas
2128 W Whittier Blvd
Montebello 90640
323.722.6039
Closed Mondays
This store offers party planning, party rentals (including bounce houses), and a specialty in piñatas. Custom piñatas are available. The store serves East LA and the west San Gabriel Valley for deliveries and rentals.
Piñata Fiesta
316 E Anaheim St
Long Beach 90813
562.551.8115
The fiesta includes party supply rentals, bounce houses, and more than 1000 piñatas! A true one-stop shop in the South Bay. The photo section of the company's Facebook page boasts lots of piñata pictures.
The Piñata House
452 W Vernon Ave
Los Angeles 90037
323.238.7035
Family owned and operated since 1978, The Piñata House stocks many hand-crafted character piñatas and takes custom orders as well. Check out the pictures on the website!
Piñatas Villafan
2221 W 2nd St. Ste A
Santa Ana 92703
714.541.3244
Party supplies, party rentals, and piñatas abound. Known for custom and traditional piñatas, Piñatas Villafan has plenty of pictures worth checking out on its Facebook page.
The Piñata District
East Olympic Blvd and South Central Ave
Los Angeles 90021
The Piñata District is not officially recognized as a district by the city, despite efforts—so you won't see any identifying signs. Rest assured, though, you won't be able to miss it! This stretch of Olympic Boulevard is lined with party supply stores displaying all shapes and sizes of piñatas. Parking can be a challenge, especially on a Saturday—but Saturdays also bring out street vendors with even more goodies. The piñatas here are larger and less expensive than those found at chain stores—and they are made of papier mache, not styrofoam. For customers looking for a very specific shape, color, or character, this is the place to come looking. Come prepared, and you can also get the rest of your party supplies.
Some (not all!) of the Piñata District party and piñata stores:
Amazing Piñatas
1204 E Olympic Blvd
213.489.3076
Joker Party Supplies
1512 E Olympic Blvd
213.627.1840
Raquel's Cash and Carry
1238 E Olympic Blvd
213.327.0802
Tapia's Party Supply
1248 E Olympic Blvd
213.488.1123
And, of course, for parents unable or simply not inclined to go running all over town looking for, or special ordering, the perfect piñata, there is an online option: check out Whack Piñateria! This Riverside-based home business has no storefront, and all piñatas are shipped. Whack can make a custom piñata in any design you want; or partiers can order one of the many super cute standard designs. Whack also makes pinãtas with pull strings—yes, instead of whacking, partygoers can just grab and pull a string to release the goodies.