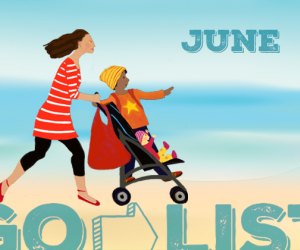 June GoList: Best Things To Do with CT Kids This Month
With school winding down and camps just getting started, June really is the perfect month to devote to family fun. It's Connecticut Trails Day from June 1st to 2nd, so consider kicking off the month with one of these short, easy hikes that are perfectly suited to kids. Highlights this month include lots of festivals, front porch concerts, fireflies and pirates. Of course our Summer Fun Guide and events calendar are chock-full of more ideas, but if we had to choose our very favorite June activities, these picks would make our top 25. Have fun out there!
Weed Beach Festival — Darien
Saturday, June 1
The festivities include three great bands as well as activities for the kids. There will be a clambake (for which advance ticket purchase is required) as well as other food vendors on site.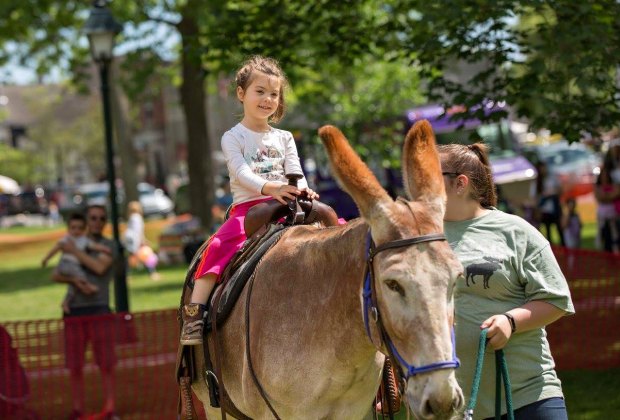 There are donkey rides at the Little Folks Fair. Photo courtesy of Community Nursery School
63rd Annual Little Folks Fair — Guilford
Saturday, June 1
A petting zoo, donkey rides, Storyland, and circus arena are just some attraction of this event that turns the Guilford Green into an oversized playground.
Main Street Festival — Stratford
Saturday, June 1
Stratford's annual Main Street Festival brings over 100 local vendors, plus bands, food, entertainment, kids acticvities, and more to Main Street.
Mianus River Trail Hike — Stamford
​Sunday, June 2
Take an easy, all-ages hike through the Mianus River Trail. Make sure to wear appropriate footwear and bring a bottle of water.​
Celebrate! West Hartford — West Hartford
Saturday, June 1 - Sunday, June 2
At Celebrate West Hartford there will be a wide range of family activities – a highly rated juried arts & crafts show, great food, entertainment, games, carnival rides, and a certified 5K road race.
Porch Jam — Rowayton
Saturday, ​June 8
Sixteen Rowayton homes have generously donated their porches for sixteen bands whose performance times will be staggered over the course of the afternoon.
Catherine's Butterfly Party — Newtown
Saturday, June 8
During this family event there will be educational exhibits and demonstrations, and nature based craft projects for kids. There will be local vendors, food trucks, face painting, games and crafts, and live music to add to the celebration.
Connecticut Family Festival —New London
Saturday, June 8
This free family festival celebrates literature, the arts, boats, music, and the environment making it the largest family festival in southeastern Connecticut. The Festival will include environmental stewardship activities, hands on children's activities, sailing, food and retail vendors and more at the City Pier.
Litchfield Walking Tour: 1819 — Litchfield
Saturday, June 8
What was it like to live in the country's original co-ed college town 200 years ago? Come find out!.
Strawberry Festival — Cheshire
Saturday, June 8
Enjoy mouth-watering fresh strawberry shortcake, hot dogs, hamburgers, cotton candy, and other treats at the 81st celebration of this traditional New England festival. The Cheshire Community Band and the Cheshire High School Jazz Combo will perform live music.
Wing Ding Parade — Bridgeport
Sunday, June 8
Get creative as you dress up for the kid's parade through Beardsley Zoo. Your means of transportation are up to you—make a float, pull a wagon, ride a bike, or just walk together.
Captain Kidd's Treasure Hunt — Milford
Sunday, June 9
Join Captain Kidd and his crew as they sail into Milford Harbor and "take over" downtown Milford. Come dressed as a pirate and be a part of Connecticut's best and largest scavenger hunt! Participants will pick a downtown treasure map and a booty bag; follow the clues listed on the map and fill up your booty bags with treasures galore.
Yankee Doodle Fair — Westport
Thursday, June 13 - Sunday, June 16
Bring Dad, bring a friend, and bring the family! Yankee Doodle Fair is Westport's last remaining, family-oriented, carnival style event.
Shakespeare on the Sound — Rowayton
Thursday June 20 - July 7
The provocative challenge to the conventions of gender unfolds under the stars in the natural outdoor amphitheater of the park in Rowayton.There are special activities available for children before the show at 4pm.
Summer Solstice Food Truck Festival — Shelton
Friday, June 21
Connecticut's original Food Truck Festival returns to Hamden with three dozen food vendors, live music, two DJs, and a kids' zone. Admission and parking are free.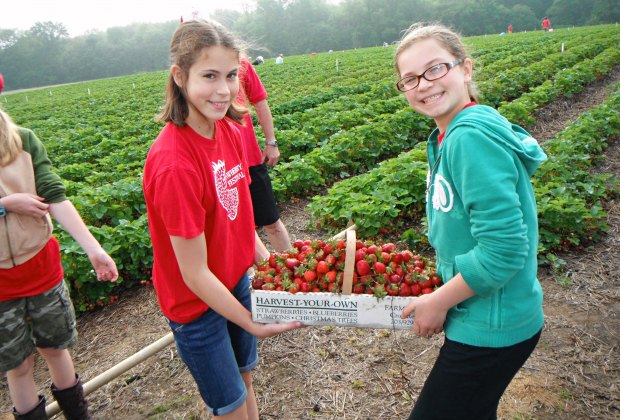 Monroe Strawberry Festival. Photo courtesy of Monroe Congregational Church
Annual Strawberry Festival — Monroe
Saturday, June 15 - Sunday, June 16
Celebrate strawberry season with this juried crafts show complete with strawberry shortcake, strawberry pie, children's games, and music.
Fairy Festival — Bethlehem
Saturday, June 29
Get your passport to the land of fairies and enjoy tea with a fairy godmother, stroll along the woodland walk and build a fairy house, or create your own fairy house at home and enter the contest.
Pizza With Penguins — Mystic
Saturday, June 29
​Enjoy a pizza buffet, highlighted with the arrival of the aquarium's penguins in the main gallery.
Butterfly Hunt — Hartford
Saturday, June 29
Help the Connecticut Butterfly Association track local butterflies and learn about more than 20 different species at Cedar Hill Cemetery in Hartford. Appropriate hiking shoes, long pants, and bug repellant are recommended.
St. Andrew's Italian Feast — New Haven
Thursday June 20 — Sunday, June 23
The St. Andrew the Apostle Society and the Amalfitani-Italian Community of New Haven continue to celebrate their heritage and traditions. Join them for great Italian food, entertainment, parades, and kids activities.
Great American Campout — New Canaan
Saturday, June 22​
This is a special evening full of fun, camp tunes, a night hike, and the adventure of camping.
CT Irish Festival — North Haven
Saturday, June 22 - Sunday, June 23
Celebrate Irish history and culture with music, dancing, food, demonstrations and much more! Kids can enjoy a petting zoo, games, pony rides, storytelling, clowns, face painting and more.
Ansonia Midsummer Renaissance Faire — Ansonia
Saturday, June 22 - Sunday, July 7
Explore an interactive fantasy world set in a time long ago where elves, fairies, goblins, animal-kin, dwarves, and magic are real. Bring the family to this world of history and imagination with an interactive village full of music, magic and fun.
Hartford Latino Festival — Hartford
Saturday, June 22
Celebrate the region's Latino cultures with a festival that features lives entertainment, cultural food and beverages, children's games and activities, vendors, and more.
Fireflies! — Mystic​
Saturday, June 30
Families will learn about the butterfly lifecycle and how to create a garden to sustain bees, butterflies, moths and other beneficial pollinators. The celebration culminates in a parade to the meadow, where each attendee will release a live butterfly!