June GoList: Best Things To Do with LA and OC Kids This Month
School lets out early these days, which means pretty much all the weekends of June count as summer. Summer movie series are already lighting up the Southland night; the beaches are hopping, and the water parks and splash pads are open. If you're ready to kick off summer with the biggest, most once-a-year-ish events happening in June, then read on. We'll continue to send our weekly picks, of course, and we'll keep adding to our Event Calendar daily; but consider yourself on notice for these June favorites—many of which are free!
Click through to the full listings, so you can add them to your personal calendar.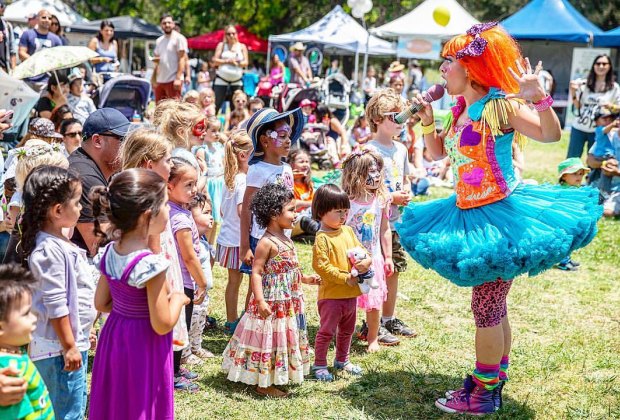 Photo courtesy of Great Big Family Play Day
Balboa Island Parade - Newport Beach
June 2, 2019
(FREE)
If there are two things that just scream summer, surely those two things are islands and parades. Now try a parade on an island that you don't even need a boat to reach, and you have the perfect way to kick off the season. If the island steals your heart, you could return the following weekend for the free Wooden Boat Festival at the Balboa Yacht Club.​
Great Big Day of Play - Griffith Park
June 2, 2019
SoCal Moms' great big event is a family must-do, with as much kids' entertainment per square foot as anyone could wish for. Mommy Poppins is proud to be a media partner for this event.
Playhouse Block Party - Pasadena
June 8, 2019
(FREE)
Pasadena Playhouse celebrates its centennial with a free block party along El Molino. Activities specifically for kids are planned in a Kids' Zone in the theater's courtyard.
Palos Verdes Street Fair & Music Festival - Palos Verdes
June 8-9, 2019
The Ferris wheel is 65-feet tall and the pony rides are free at the South Bay's largest street fair and carnival.
REDCAT International Children's Film Festival - Downtown
June 8- June 23, 2019
These animated and live action shorts from around the world are shown in hour-long blocks, grouped by theme and age appropriateness. All the films are kid friendly, delivered in bite-sized servings so as not to tax little ones attention spans.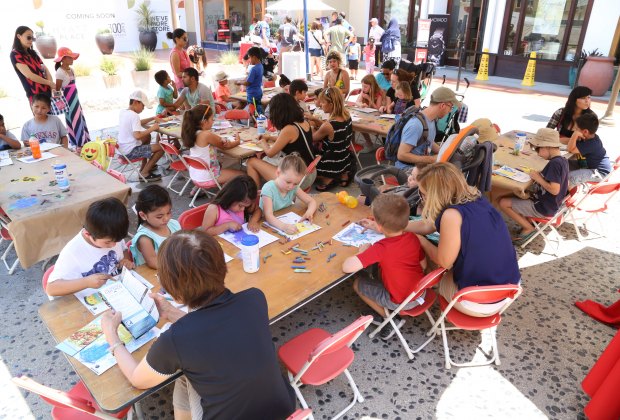 At the Pasadena Chalk Festival, kids can show off their creative talents in the Children's Chalkland making Fathers Day cards. Photo courtesy of Paseo Colorado ​
Pasadena Chalk Festival - Pasadena
June 15- 16, 2019
(FREE)
Artists paint the town with hundreds of temporary masterpieces. Families can get inspired and contribute their own chalky decor in Kids' Chalkland.
Opening Night at the Bowl - Hollywood
June 15, 2019
Opening night at the bowl this year is going to be John ... wait for it... Legend- ary!
Music of the Grateful Dead for Kids - a Father's Day Celebration - Echo Park
June 16, 2019
Rock and Roll Playhouse brings the music of the Grateful Dead to the Echoplex for a Fathers Day bash, with fun and activities to keep little kids happy while the oldies play.
Concours d'Elegance - Beverly Hills
June 16, 2019
(FREE)
Beverly Hills' biggest public event of the year takes place on Fathers Day, when Rodeo Drive hosts some of the world's most expensive cars, lined up on one of the world's most expensive streets.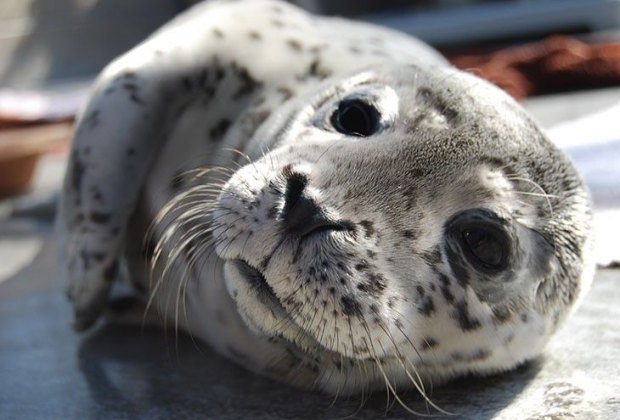 Get up close with a Pacific Harbor Seal at Seal Day. Photo courtesy of Marine Mammal Care Center
Seal Day - San Pedro
June 22, 2019
(FREE)
The wonderful and unpretentious Marine Mammal Rescue Center toots its own horn but once a year, inviting the public to come see the good work it's been doing for more than 25 years, saving stranded seals and sea lions and nursing them back to health. The festival includes, food, games, educational booths, and visits with the sea mammals.
Discover Marina del Rey Day - Marina del Rey
June 23, 2019
(FREE)
The Marina provides a beautiful backdrop to this annual family-centric festival at Burton Chace Park, held once again on the same weekend as MarinaFest.
West LA Sanitation Yard Open House - West LA
June 29, 2019
(FREE)
One family's garbage is another family's.... favorite annual event. It may sound crazy, but the open house at West LA's sanitation yard is one of the most popular kid-friendly happenings on the Westside, with tours, prizes, and garbage trucks galore.

Garbage trucks never looked so appealing. Photo courtesy of LA Sanitation
Griffith Park Free Shakespeare - Griffith Park
Opens Saturday, June 29, 2019
(FREE)
LA's version of Shakespeare in the Park kicks off another summer season with Twelfth Night, playing for picnicking crowds every Wednesday through Sunday evening through July 21.
Celebrate America - Santa Monica
June 29, 2019
(FREE)
Santa Monica always gets in before the 4th of July rush with its free community Independence Day fireworks celebration and concert.
Day of the Ancestors: Festival of Masks - Leimert Park
June 30, 2019
(FREE)
Festival of Masks is a daylong event of mask making, life-sized puppets, art, food, music, and the discovery of the African history and culture of the surrounding communities of Leimert Park. This year's fest shines a spotlight on South African cultures and the influence they have had.