Lakeside Getaway at Cathedral Pines Campground in Maine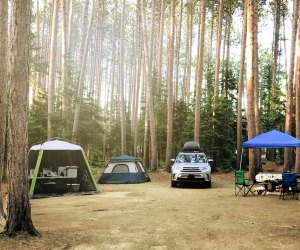 Far, far away (about 26 miles from the Canadian border), you will find an enchanted place anchored by towering pines, where a star-filled sky twinkles after dusk and the cry of loons, a pretty but feisty native water bird, is the only sound that breaks the night. Welcome to Cathedral Pines Campground in Eustis, Maine, where during the day, families hike or relax on a private lake beach, and children bike, play, and savor ice cream. The setting of this Maine campground is as idyllic as it sounds.
Cathedral Pines Campground Review
The Cathedral Pines Campground, open May 15 to October 1, is located on 300-acres along Flagstaff Lake, the fourth largest lake in Maine. About 20 sites are waterfront ($40 per night), accommodating tents or RVs, while another 95 are scattered in the shadows of stunning red pines ($32-$35 per night). Each site features a picnic table and a deep fire pit equipped with grates, perfect for cooking over open flames. Most include water and electrical hookups, so remember to bring the coffee maker, good for warming up a chilly morning (yes, even in the summer) with coffee, tea, or hot chocolate.

Enjoy a canoe ride or a refreshing swim in Flagstaff Lake.
Though not extremely private (you will see the campers around you), most sites are large and generously spaced. RVs or multiple tents fit comfortably, along with anything else you want to bring. If you're settling in for an extended stay (many families do), there is plenty of room to set up eating, relaxation, and entertainment areas. Pets are welcome, making this a complete family-friendly campground.



Among its offerings, Mandy's Diner features refreshing sweet treats.

If you're worried that children will get bored at the campsite, don't be. Even after your family plays fun camping games, the campground offers plenty of attractions, including a rec center, a playground, a private sandy beach with canoe and kayak rentals, and paved shaded paths great for biking. Amenities more likely to impress the grown-ups include laundry facilities, hot showers, flush toilets, dumping stations, and (mostly reliable) Internet access in two areas. Hint: the bathrooms (sink, shower, toilet in one room) near the rec center and playground are most private, making them ideal for family use. Ice and wood are sold onsite, and if you need other supplies, Pines Market is just a short drive away.

Though the kids might be more excited about cornhole than history, the area presents a great opportunity for learning. The campsite's area is known as one of Benedict Arnold's stops during his ill-fated march to Quebec City in 1775. At the entrance of the campground, commemorative plaques retell this account. Drive a few miles north toward the Canadian border to stand on the edge of the Chain of Ponds and review a few more American history lessons to bring back to the campfire.
RELATED: 10 Northeast Swimming Lakes for a Weekend Getaway



Learn about American history while standing on the edge of Chain of Ponds.
Fun Maine Activities To Do Nearby
Though you can easily spend a few relaxing days without leaving the campground, this rural area of Maine is worth exploring, starting with the boardwalk and loop located right across the street. Owned and operated by the Stratton-Eustis Development Corporation, the 2-mile trail is a beautiful and serene walk through pines. If you'd rather venture out on four-wheels, grab an ATV trails map at the campground front office and explore the miles of trails designed for quad use. If you'd rather relax on the water, book a Flagstaff Lake Scenic Boat Tour and imagine the three villages underneath that once housed hundreds of people (yes, you read this right: the settlements were demolished and flooded between 1928 and 1950).

If your family would rather lace up the hiking boots, the Bigelow Preserve is a must. Be sure to consult maps in advance, because the elevation and length of most trails will likely entail day hikes that are too strenuous for younger children (under 12); however, you will find easier hikes in Carrabassett Valley, including the 15-minutes easy/moderate stroll through the woods leading to West Mountain Falls (the trailhead is located just before the Sugarloaf Golf Course parking lot).

The trail leading to West Mountain Falls makes for good family photo ops.

Of course, Sugarloaf Mountain, one of our favorite New England ski slopes, offers plenty of non-winter activities, such as mountain biking and the Anti-Gravity Complex that includes a skate park and trampolines. Zip lining and scenic lift rides are popular but temporarily closed due to COVID-19 concerns in 2020.
Another fun attraction, though also closed temporarily in 2020 due to the pandemic, is Sandy River and Rangeley Lakes Railroad; the museum has restored period railroad cars and historic buildings, recreated the original narrow gauge rail system that once transported passengers, and includes on-train historical reenactments.

Other fun things to do with kids in the area include the Ski Museum of Maine (admission is FREE!), The Sugarbowl Family Entertainment Center, and The Eighty 8 Donut Cafe.
Whether you spend the days on trails, in a boat, or chasing waterfalls (or even if you do not venture far from your campsite), a stay at Maine's Cathedral Pines Campground will create a lasting summer memory as sweet as the cinnamon bun milkshake from Mandy's Diner.
Find more nearby places to visit with our Maine Family Travel Guide.
All photos courtesy of the author.