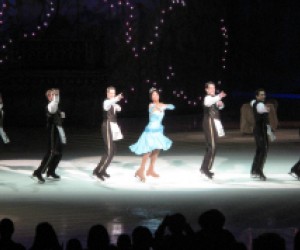 Disney on Ice: Dare To Dream - Review
There are certain things we've come to expect around the holidays, and Disney's annual touring ice show is one of them. This year's sparkling edition, Disney on Ice: Dare To Dream, is toe-looping and sit-spinning its way through the Southland already, from Downtown to Orange County, and we definitely recommend grabbing some rink-side seats!
If anyone at your house has a thing for princesses, this year's ice show will literally have her jumping out of her seat; I know because I was surrounded by girls of varying ages ALL jumping out of their seats. The show follows three story lines - the two newest members of the Disney princess society, Tiana and Rapunzel, plus a requisite Cinderella frenzy. Each story gets the skating, singing Cliff Note treatment on the plot, with breathtaking costumes (obviously), an impressive set, and opportunities for pair and solo skaters of each gender to shine.
The opening sequences is one of the best group numbers, courtesy of The Princess and the Frog; who can resist an ice rink full of Mardi Gras-clad characters twirling, kicking, and jumping to Oh When the Saints? It's a colorful, toe-tapping, grin-inducing romp. Be sure to arrive with plenty of time, because you don't want to miss any of the opening number!
The Cinderella sequence straddles the interval, keeping us dangling on that all-important question of how on earth Prince Charming will find the owner of the glass skate. The ultimate princess and her ultimate prince deliver everything their adoring fans could hope for, including a beautifully conceived coach pulled by skaters who look and move like elegant steeds.
If you have sons with you who start getting antsy watching ball gowns and step-sisters, encourage them to keep calm and carry on, because the most innovative part of the production by far is the Tangled sequence. Boys have some sword-fighting pirates and even a pantomime horse on blades to look forward to (thinking about that guy at the back just never gets old), plus a jewelry thief who flies in on wires from time to time. But it's Rapunzel's hyperbolic hair that steals the day. The famous hair is represented by - among other things - reams of golden silk suspended from the rafters, and this is more than just decoration. The pair skaters grab hold of the silks and use them to fly Cirque du Soleil style, alternating remarkable moves on the ice with unbelievable moves in the air. The effect takes Disney on Ice to a whole new level.
All told, Dare To Dream is holiday entertainment that the entire family can enjoy together - especially with the MOM discount code that allows a family of four to attend for $60. Southland families can catch the show this month downtown at Staples Center, at Honda Center in Anaheim, or down in Long Beach just after New Year. If you go to a performance at Staples, why not arrive a little early - or stay a little late - for some inspirational ice skating at the LA Kings Holiday Ice Rink at LA Live? The rink is directly opposite the entrance to Staples Center and features a giant Christmas tree to skate around. Add a Disney princess dress, and someone's got a perfect holiday photo for 2012!