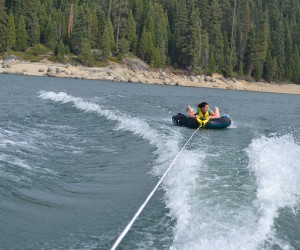 5 Day Trips with Water Features: Lakes, Beaches and Water Parks Close to NYC
As the city hits a full summer boil, many of us are looking for a little escape, preferably one where we can dunk our roasting selves in some sort of body of water. Whether you prefer cool beach waves, an afternoon of kayaking or tubing along the river or maybe dashing down a winding water slide, water features provide instant relief to sweltering summer heat.

While I love getting out of the city for a weekend trip, sometimes all the planning, packing and finagling of kids' sleep schedules can really take a toll. Instead of an extended stay, why not sneak away for a quick day trip? Luckily you don't have to go far. We've rounded up five destinations under two hours from NYC by car, so you'll be back before bedtime!
Greenwood Lake, New York
About an hour and a half drive from NYC, Greenwood Lake is the perfect spot for a quick lake trip getaway. Head to Skip's Dockside Marina to rent kayaks, canoes and paddle boats by the hour. The lake is serene and small enough to feel manageable, even with young kids, but large enough to spend a good amount of time exploring. For a casual lunch with outdoor seating, Breezy Point Inn offers great food and views. If you head to the nearby town of Warwick, you can visit Pennings Farm, an orchard and farm market that has a great playground and petting zoo for kids, abutting both an ice cream stand and a beer garden. What could be better than that?

Bucks County, Pennsylvania
For older kids who love the water and know how to swim, tubing in the Delaware River is a perfect way to spend a lazy Saturday or Sunday. About an hour and a half from NYC, Bucks County is situated along the river and is filled with historic homes and beautiful farms. Take the scenic drive, spend a couple of hours tubing with the family (make reservations ahead of time with River Country), then head to one of Bucks County's fantastic restaurants for a quick dinner on the way home. Sprig & Vine is a fun and kid-friendly vegan restaurant in New Hope, PA that shares a shopping center with the Bucks County Children Museum, in case you're not ready to head home just yet.

Harriman State Park - Bear Mountain, New York
For beautiful mountain views and another lake adventure, head to Bear Mountain. An hour and a half jaunt from NYC, Harriman State Park has two lakes, both with beaches and swimming and perfect for big and little kids. Tiorati Beach and Welch Beach both offer lake swimming with surrounding tables for picnicking. The picnic area has several small barbecues, so bring along some hamburgers and hot dogs if you like!

Playland - Rye, New York
Less than an hour from NYC, Playland is known for its many rides for kids both big and small; however, the park also offers a large outdoor pool and beach access on the Long Island Sound. Chair and umbrella rentals are available for the beach. The park has many options for food if you want to grab a quick lunch or early dinner before you head home.

SplashDown Beach - Fishkill, New York
Sometimes you just need a god old-fashioned trip to a water park! About an hour and forty-five minutes outside of the city, SplashDown Beach Water Park in Fishkill, NY will satisfy your water park craving. For preschoolers, the Bob the Builder Splash Works area features slides and dumping buckets, as well as guest appearances by Bob himself. Also check out the Croc Creek Wavy Lazy River for tubing complete with a wave area. Brave older kids can try the four story high speed Bullet Bowl slide. The park also has a pool and a beach. Private cabanas are available to rent for the day and waiter service is included!
Photo credit: Flickr, Bob n Renee