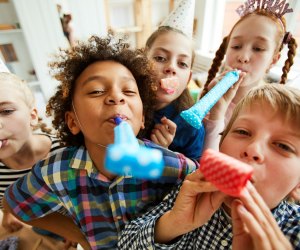 Birthday Freebies for Boston Kids: Free Gifts, Meals and Treats
My kids love to get free stuff, and to be honest, I get pretty excited about it too. Here are some of our favorite birthday clubs for kids, with great freebies like ice cream, burgers, and gift cards. I've chosen birthday clubs that offer free stuff to kids (and often to their parents), plus some that give you BOGO or free with purchase deals for your child's birthday.
Even when it's not your child's birthday, kids can visit these museums at no charge and eat free at these area restaurants. See more no-cost activity ideas in our Free Fun Guide for Boston Kids!
Birthday Perks for Kids at Toy, Book, and Clothing Stores Around Boston
Boing Toy Shop—Jamaica Plain
Sign up for Boing's Birthday Program and your child will receive a postcard in the mail at the beginning of his or her birthday month that can be redeemed at the store or a birthday gift of a free bin item AND 15% off an entire purchase.
Rock Paper Scissors—Duxbury
Join the free birthday club and your child will be mailed a special birthday Toy Store Treasure Chest Certificate that will allow him or her to pick a toy from the store's "treasure chest."
Magic Beans—Boston, Wellesley
Surprise birthday gifts when you sign up for the Magic Beans newsletter and update your profile to include your kids' birthdays.
Barnes & Noble—various locations
30% off a children's book or toy when you join, and a free cupcake on your child's birthday.
Build a Bear—Braintree, Natick, Burlington
Kids can pay their birthday age during their special month for a "Birthday Treat Bear" (regularly $14).
Old Navy—various locations
To get a coupon for a percentage off of a purchase, scroll down to Sign Up & Save, then add yourself and kids ages 10 and under. You also get a 20% off coupon to use within two weeks of signing up.
The Children's Place—various locations
Score 20% off during your child's birthday month when you sign up for My Place rewards.
Journeys—various locations
Journeys Kidz Birthday Club members get a 15% off gift card and a nice birthday card in the mail on their big day.

Birthday Perks for Kids at Restaurants and Ice Cream Shops around Boston
Dunkin Donuts—various locations
Treat your child to a free hot chocolate on his or her birthday by signing up for the free DD Perks program.
JP Licks—various locations
Earn at least three punches on a free "cow card," and earn a small ice cream on your child's birthday.
Baskin Robbins—various locations
Get free ice cream on your birthday and your child's birthday.
Dairy Queen and Cold Stone Creamery—various locations
Kids (and families) enjoy BOGO on their birthdays.
Burger King—various locations
Join BK Crown and get a free hamburger for your child's birthday.
Chuck E. Cheese—various locations
Chuck E.'s offers the birthday kid 100 free tickets with any food purchase.