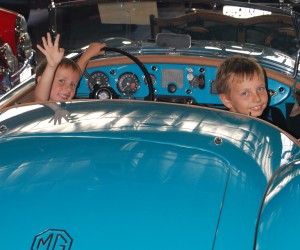 8 Small & Low-Cost Museums for LA Kids
Los Angeles is full of museums, including some well-known free ones—The Getty, The California Science Center, and LACMA (free through their NexGen kids program). These free museums are also all huge and often very crowded with summer camps, field trips, and members. Free museum days offer access to many other large museums, and MOTA Day is a free day for several in the Pasadena area. But if you are looking for something a bit smaller, less crowded, or just for something new-to-you, on a day you choose, you still have options. These eight museums, all located in Los Angeles County, are all either free or donation-based - meaning you can get a family of four in for twenty dollars or less. Some may only take an hour to visit, but you may want to spend the whole day at others.
Are you or a family member active-duty military? See our master list of museums participating in the Blue Star Program.
Automobile Driving Museum
610 Lairport St
El Segundo 90245
310.909.0950
Free, suggested donation of $5/person

This museum is a must if your kids love cars! With a display of more than 130 classic vehicles, there is a lot to see. You can also get into many of the cars—how fun is that?! If you visit Tuesday through Friday, you can take a self-guided tour. Docent tours are available on weekends. On Sundays, a few cars are brought out to give rides—but FYI, rides are for visitors age 10 and up only. Want to make a transportation day of it? The museum is less than a half mile walk from the Green Line's Mariposa Station.

Bergamot Station
2525 Michigan Ave
Santa Monica 90404
310.453.7535
Galleries are free
SMMOA has a suggested donation of $5/general and $3/artists, students, seniors.

Not exactly a museum, Bergamot Station is an art gallery complex and cultural center that includes the Santa Monica Museum of Art. The different galleries host a wide variety of exhibits at any given time and may include textile, sculpture, painting, ink, jewelry, and other arts. The galleries are free to visit, and there is also a small grassy area with benches in the parking lot, and a cafe. SMMOA offers a variety of exhibits.
The Bunny Museum
1933 Jefferson Drive
Pasadena 91104
626.798.8848
Requested donation of $5/person, 4 and under free; street parking

A whole museum devoted to bunnies? Indeed! Candace and Steve house The Bunny Museum in their Pasadena home, and are open 365 days a year. Call to set up an appointment for viewing—no appointments are needed on holidays. Tours take about one hour. If you want, bring a bag or bunch of vegetables or fruit for the real bunnies you'll be seeing—but please no carrots; everyone brings them. Fresh greens, romaine lettuce, or fruit are ideal (see list on website FAQ). And don't worry--there are only nice bunnies in this museum.
Forest Lawn Museum
1712 S Glendale Ave
Glendale 91205
Free, with free parking

Yes, this museum is at a cemetery—but don't be put off by that! Follow the main road up the hill, and you will find the museum, a church, a very large parking lot, and a great view of the Glendale area. This museum is very small, with 2 rooms available for traveling exhibits and a third room that has a permanent sculpture collection. Check the website for current and upcoming exhibits (the current exhibit is Vroom: The Art of the Motorcycle). Don't pass up the sculpture collection—it is small enough for even young kids to see everything before tiring out. Make a game of it and have everyone choose their favorite sculpture.

Los Angeles Fire Department Museum
1355 N Cahuenga Blvd
Hollywood 90028
323.464.2727
Free, $5 donation suggested

The perfect place for your budding firefighter, this museum is housed in what was once the largest fire station west of the Mississippi. Now, it houses more than 30 different fire engines, a room of model fire engines, displays of equipment, and more. A kids' dress up and play area is available as well. The museum is mostly staffed by volunteer retired firefighters, so you can also get first-hand stories about life as a firefighter. Open on Saturdays only, from 10am–4pm.
Los Angeles Maritime Museum
600 Sampson Way
San Pedro 90731
310.548.7618
Requested donation: adults $3, seniors $1, 17 and under free

This museum has something for everyone—it is a gem. Housed in the 1941 Municipal Ferry Terminal, the building is on the National Register of Historic Places. There are many boat models that are fascinating in their detail. Exhibits on LA's fishing and canning industries, commercial diving, boat building (through August 2014), art created by sailors at sea, and the history of the USS Los Angeles round out the offerings—and teach you all about Los Angeles's port and shipping industry.

The Nethercutt Museum and Collection
Museum: 15151 Bledsoe St, Sylmar 91342
Collection: 15200 Bledsoe St, Sylmar 91342
818.364.6464
Free

The Nethercutt Museum offers self-guided tours of their collection of more than 130 classic and special-interest automobiles. Outside the museum is a restored locomotive and private Pullman car to walk through. Kids under 12 must be accompanied by an adult. If you have older kids, consider the Nethercutt Collection: by guided tour only (make reservations well in advance!), ages 10 and up only. See an amazing collection of early cars and hood ornaments, as well as music boxes, dolls, coins, and figurines. The highlight for many is the collection of automated mechanical instruments, including music boxes, striking watches, nickelodeons, and grand pianos. A select few will be demonstrated.

Wells Fargo Los Angeles History Museum
333 S Grand Ave
Los Angeles 90071
213.253.7166
Free; park at a meter, the Wells Fargo garage is expensive

This small, free museum looks at the history of Southern California and the part Wells Fargo played in it. Exhibits include an original stagecoach, gold samples, a re-created Express office, and more. Open 9-5 Monday through Friday only.