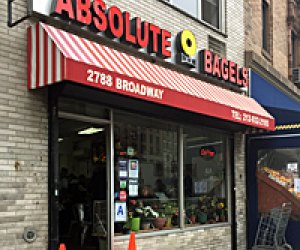 12 Morningside Heights Family-Friendly Restaurants: From Great Bagels to Old-School NYC Eateries
Sometimes it feels like Morningside Heights has about as many restaurants as it does college students, which is to say, a lot. Broadway and Amsterdam Avenue overflow with cozy cafes and raucous bars, and during the warmer months, sidewalk-dining options are plentiful. If you find yourself in this neck of the woods enjoying all the cool things there are to do with kids, we've got a roundup of the top 12 family-friendly restaurants where you can grab a bite with the brood.
Absolute Bagels
2788 Broadway between 107th and 108th Streets
This is, hands down, my family's favorite spot to pick up an authentic New York bagel, and the line out the door on weekends proves we're not the only fans. Expect to wait, but rest assured, these bagels are worth it. There's nothing like one of Absolute's hot, fresh-out-of-the-oven, signature carb treats, assuming you time it right. If not, expect to pay an extra 10 cents to get it toasted.

Koronet Pizza
2848 Broadway between 110th and 111th Streets
Don't tell my kids, but I first started frequenting this spot after late-night bar-hopping in college. What I loved then holds true today: this pizzeria sells the biggest slices you'll find in Manhattan (so big, you'll need two paper plates to hold one piece) at reasonable prices. While older kids will get a kick out of debating whether to fold or tear their piece, the staff will gladly cut a slice into bite-size bits for youngsters. While there's plenty of bar-stool seating around the edges, there are just two small tables in the joint, a challenge for dining with toddlers. Better to get your order to go and eat in nearby Riverside Park.

V&T Pizzeria
1024 Amsterdam Avenue between 110th and 111th Streets
If you're craving Italian but sit-down dining is more your style, this old-school joint (opened in 1945!) offers large portions at reasonable prices. With everything from pizzas by the pie, to Italian staples (various pasta and meat dishes), to a simple kids' menu, V&T is sure to leave you stuffed with leftovers to boot.

Kitchenette Uptown
1272 Amsterdam Avenue between 122nd and 123rd Streets
This comfort food standout serves three meals a day, but its weekend brunch is its shining star. From the famous biscuits to a wide-ranging bakery menu, Kitchenette is something to write home about. Kids will also love the milk shakes, which go way beyond your basic vanilla!

Tom's Restaurant
2880 Broadway at 112th Street
Sit in a window booth here and you may end up in a tourist's photo. The spot famously served as the exterior of Monk's Cafe on Seinfeld. Inside, it looks nothing like its TV counterpart, but you'll find reliably good old-school diner fare with a wide-ranging menu.

Cascabel Taqueria
2799 Broadway at 108th Street
There's a lot to love about this modern, Mexican joint (there's also an Upper East Side location). The fun, quirky atmosphere is inspired by Luchadors and Luchadoras, professional Mexican wrestling performers. When we visited, my kids were given plastic action figures to play with while we waited for our food. Speaking of eats, the main draw here is the wide variety of tacos. However, Cascabel has an impressive brunch menu that might be better for less-than-adventurous eaters. Mom and dad can still opt for something spicy, though, or indulge in bottomless adult beverages.

Symposium Greek Restaurant
544 West 113th Street between Broadway and Amsterdam Avenue
Duck off the neighborhood's main drags and into the indoor garden at Symposium. Here you'll find authentic Greek cuisine. If you want an entertaining show, order the saganaki—flaming cheese—as an appetizer. The presentation will impress even the most jaded mini-New Yorkers.

Dig Inn
2884 Broadway between 112th and 113th Streets
This seasonal "farm-to-counter" market offers an ever-changing seasonal menu, but you can always expect high-quality food cooked with the utmost care. Sandwiches, salads and "Marketplates" make up the bulk of the menu, but there's also a wide-ranging selection of teas and fresh-squeezed orange juice.

Toast
3157 Broadway at 125th Street
1268 Amsterdam Avenue between 122nd and 123rd Streets
This locally owned mini-chain seems to have the market cornered on the neighborhood, with two outposts in the neighborhood, plus a third on Broadway and 105th Street. The Broadway locations sling home-style food in large portions in a sit-down atmosphere. The newest addition to the Toast family is Toast Chicken on Amsterdam Avenue, which has a fast-casual feel, and specializes in high-quality, reasonably priced chicken meals—whether you like it fried or roasted. Finish your meal off with a freshly-fried cake doughnut.

Mel's Burger Bar
2850 Broadway between 110th and 111th Streets
If you're in the mood for a burger and fries, look no further than this popular spot. The menu is filled with Mel's loaded-burger creations, or you can order a plain patty and pile on whatever toppings you fancy. Its "Wall of Fries" offers an impressive array of options such as garlic fries, sweet potato fries, disco fries and more.
And for Dessert...
The Hungarian Pastry Shop
1030 Amsterdam Avenue between 110th and 111th Streets
This neighborhood mainstay opened its doors in 1961 and has been serving up the sweet stuff ever since. The friendly staff welcomes customers as friends and won't rush you through your treats—a blessing and a curse as tables can be hard to come by. You can always take your sweets to go and enjoy them on the beautiful grounds of the Cathedral St. John the Divine just across the street.

Mondel Chocolates
2913 Broadway at 114th Street
This old-school candy shop has been around since 1943 and was famously Katharine Hepburn's favorite treat store. With everything from truffles, to cordials, to sugar-free chocolates, this sweet stop really hits the spot. Its boxed chocolates also make impressive gifts.

Still hungry? Check out our Restaurant Guide for the best family-friendly eateries throughout NYC.

Read all of our posts about exploring Morningside Heights with kids.