10 Great Parks for Birthday Parties in the Valley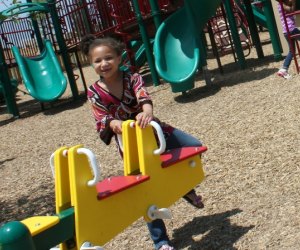 Every kid loves a birthday party! And we have a whole lot of information on different theme parties, party guides, and even party crafts. Sometimes, though, you just need a great park for the perfect party—a playground, grassy areas, picnic tables, a grill, and maybe a bounce house or piñata. These 10 Valley parks are all great for kids' birthday parties, all have bathrooms available (check the hours), and all are a bit different. Do you want shade? A fenced playground? Water features? Lots of grass? Plenty of table space? There is something here for you.
Be sure to contact the park office to reserve space—some parks require reservations, some require reservations for large groups. In any case, a reservation guarantees you will get the space you want. The park office will also have a current list of pre-approved bounce house vendors if bounce houses are permitted—using a pre-approved vendor guarantees you will have the correct insurance coverage. Most of all, have fun!
Burbank
Lincoln Park
300 North Buena Vista St
Burbank 91505
818.238.5300

Great for toddlers, Lincoln Park features a shaded and enclosed playground—and there is lots of sand to play in! There is also plenty of grass, and a branch library is right here. Burbank requires a park reservation permit for any group over 25 people, or if you are hiring a bounce house or other service. You can also hire the city's party planning for an additional fee, which includes 2 staff, games, and more.
McCambridge Park
1515 N Glenoaks Blvd
Burbank 91504
818.238.5381
With a new playground and shade structure from 2013, lots of grass, and picnic tables, McCambridge Park is a great place for a birthday party, and you will need to reserve your spot. The playground is partly fenced, and the park also has a gym, tennis courts, and a pool.
Glendale
Lower Scholl Canyon Park
2849 E Glenoaks Blvd
Glendale 91206
818.548.2184
This neighborhood park has BBQ pits, picnic areas, lots of grass, mature trees, and of course a play area. Bounce houses are OK with permit, and tables must be reserved—there are also grouped tables under ramadas. Located on a deadend street tucked against the hills in a residential neighborhood, this is a great place to escape the city.
Verdugo Park
1621 Canada Blvd
Glendale 91208
818.548.2184
Do you have a huge family and thus host huge birthday parties? Verdugo is Glendale's largest city park, and if you need a large space and lots of tables, this is the park for you—there are 79 (!!) reservable tables here. There are also 12 BBQ pits, lots of mature trees, plenty of grass, a kid's play area, and a skate park. Bounce houses are fine with a permit.
Los Angeles
Anthony C Beilenson Park (formerly Balboa Park)
6300 Balboa Blvd
Van Nuys 91406
818.756.9743

Barbecue pits and a large children's play structure—plus bathrooms and Lake Balboa right by the structure—make this park a winner. You can also fish or rent pedal boats, but there is no swimming. Covered picnic pavilions can be reserved, and bounce houses are allowed (use a preapproved vendor to make it easy). This park is also very popular and crowded, so be sure you have plenty of adults to watch the kids.
Dearborn Park
17141 Nordhoff St
Northridge 91325
818.363.3556

With recently upgraded accessible playground structures, mature trees, lots of grass, and sand to play in, Dearborn Park is lots of fun. There are also plenty of picnic tables and benches. The playground is not fenced.
Panorama Recreation Center
8600 Hazeltine Ave
Panorama City 91412
818.893.3401

Kids play area with some shade, mature trees, picnic tables, BBQs, and a kids splash pad! Water play is on during the summer only, approximately mid-June to mid-August. If planning a summer party, call to confirm if it will be on.
Serrania Park
20865 Wells Dr
Woodland Hills 91364
818.883.9370

Serrania Park has a fenced playground with shade cloths, lots of grass for playing, a hiking trail with views, picnic tables, benches, and mature trees. And, it's not on a busy street. Be aware that this park is very popular with local dog owners.
Travel Town
5200 Zoo Dr
Los Angeles 90027
323.662.5874

Travel Town charges no admission—and thus can be a low-cost low-key option for a destination party. There are several options for parties that will affect your cost: you can rent a covered picnic area or an entire train car. You can also add a Thomas or Chuggington mat, track, and cars and engines for your guests to play with. There is the train ride (extra cost), and the indoor museum (no cost) and restored train cars and engines (no cost). There is also plenty of grass for the kids to play on.
Valley Glen Community Park
6150 Atoll Ave
Van Nuys 91436
818.756.8188
This neighborhood park has undergone a major upgrade recently. A new, fully fenced playground has shade cloths, and there is a new jogging/walking path around the park. There is still plenty of grass for a game of soccer, red light green light, or free play. Picnic tables are being replaced, and additional improvements are in the works. Call to confirm access to the amenities you want on the date you schedule.

Photo credit: dadblunders via flickr