10 Houston Blogs To Follow Right Now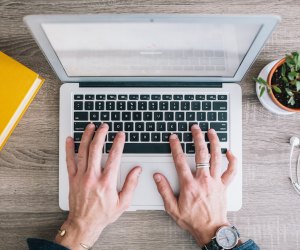 Here at Mommy Poppins, we are always striving to give Houston parents the best resources for living it up in the Bayou City. And what better way to do that than recommend some local blogs that highlight Houston hotspots, fun and easy DIY projects, and fashion tips (lord do I need those fashion tips). And we want to hear your favorites! Send us an email to houston@mommypoppins.com to let us know where you get your daily dose of parenting blogging goodness. And without further ado, and in no particular order, here are 10 local bloggers to start following right now:
My Little Cup of Life - If you love traveling - with or without kids - you will love Noa Enav. Her blog has a few posts about Houston, but the real gems are in her blog's travel section where she writes about her adventures across the globe with her little one.
C.Style - This fashion and lifestyle blog is written by an honest mother of two boys. While some of her posts focus on the kids, most are about making yourself feel beautiful, where to find the best shopping in Houston, and fun tips - like this great post on fun girls' getaway spots around town.
Snapshots and My Thoughts - Aside from the beautiful photography, Snapshots and My Thoughts has a plethora of great content, from reviews of local hotspots to recipes and book recommendations. And the DIY section has some fabulous finds for the Pinterest-lovers out there.
Sugar & Cloth - But for the truly Pinterest-obsessed (I feel you, mama - all of those late nights spent pinning 50 kinds of chocolate chip cookie recipes because you have to have the best for your little angels), Sugar & Cloth has tons of recipes, DIY ideas, entertaining tips, and more to keep you busy for months.
Dapper House Designs - We are big fans of any blog with ideas on how to live life on a budget, and Dapper House Designs provides just that. The author is an interior-design expert and blogs about how to beautify your home without breaking the bank. Because there's nothing worse than setting up your beautiful, brand new furniture just hours before your toddler gets a stomach virus.
Veronika's Blushing - Love clothes? Love shopping? Or, do you love just trying to not look like the walking dead when under the public eye? If you fit into any of these three categories, start reading Veronika's Blushing right now. She can help even the most style-challenged of us look hip. There is a family section with product recommendations and more.
The Simple Parent - Author Mariah is a former teacher, so her DIY and crafts section is full of fun activities to do at home with the kids. Crafts with complex set-up are just a waste because the kids will get bored after 10 minutes anyway, which is what makes the content on The Simple Parent so great - all of her ideas really are simple!
Slightly Overcaffeinated - With a blog bio that includes, "I require coffee and wine at regular intervals," it's not hard to see why we love reading Slightly Overcaffeinated. Author Candy writes about the real...stuff of parenthood, from the "joys" of 100th day of school celebrations to surviving summer break with the kids.
Lipstick & Brunch - As a mom, I have little time to put on decent makeup, let alone actually go shopping for makeup. Nicole brings it all together in her trendy blog with the latest makeup and fashion trends, and she also has great reviews on yummy new restaurants to try around town.
Crumbine Ed - Picking the right school for your kid can be harder than an application for college. Blogger Aisha believes that it is very important to find the school that will meet your kid's needs. In her blog, she gives advice on how to find the right school for your son or daughter all the way from pre-K to 12th grade.