Kids Playhouse: Astoria's Awesome New Drop-in Play Space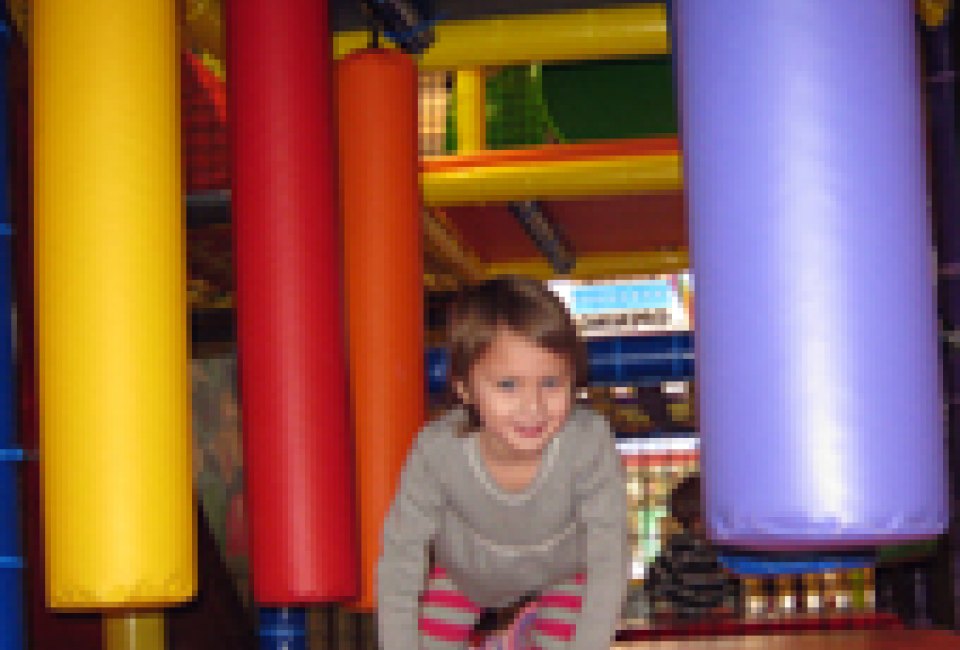 3/6/12
- By
Petek
Editor's note: This review was written prior to Kids Playhouse changing owners. My daughter and I are always on the lookout for places to play indoors when it's cold or rainy. And if the spot is really cool, we don't mind traveling a bit to get there. So even though we live in Brooklyn, we decided to make the inter-borough trek to Queens to check out Kids Playhouse, Astoria's newest drop-in play space.

Although it's an hour from our home, my daughter and I have already been back—twice. The last time we went, my preschooler spent two and a half hours running, climbing and sliding, and I still had trouble convincing her to leave. And as much as she loved the space—you can see how awesome it is by clicking through our slide show—I loved the price: Drop-in play is just $7 per visit.
Kids Playhouse is a spacious and noticeably clean play space located near one of our favorite New York City culture spots, the Museum of the Moving Image. The friendly owners, Sam and Moe, are on hand to greet all of their customers personally. Children must remove their shoes before playing on the colorful equipment and socks are required at all times.

There's a carpeted toddler area with two small playhouses, lots of stuffed animals, a pink rocking horse and other age appropriate playthings. My almost-four-year-old enjoyed romping with the younger kids in here, but the section is really best for children under 3.

Older kids will have a blast on the two-and-a-half level Adventure Maze, where kids can climb, slide, crawl and explore. The cool double slides are long and super-fast (a bit too fast for my kid, but seemingly the highlight for many school-age kids). My daughter loved the obstacle course, where she crawled through a green tube and made her way through a foam forest and other challenges.

There's also an arcade (great for older siblings who may get dragged along). The video games include old-school classics like Ms. Pac-Man and Galaga, and contemporary fare like The Fast and the Furious, California Speed and Jambo! Safari, all 50 cents per play. There are also claw "games" where kids can try to win little prizes... usually to no avail.

Kids Playhouse really has all the bases covered: There's even a snack bar where you can buy fast eats, like individual pizza pies. My daughter devoured hers while watching Disney Junior, which was playing on the flat-screen TV. (Now do you see why she never wanted to leave?) There are also tables and chairs near the Adventure Maze, so adults can purchase a drink and then utilize the free Wi-Fi while keeping an eye on their kids.
Drop-in play (up to four hours) costs $7 per child and is offered seven days a week—assuming the play space isn't booked for a private party.

Kids Playhouse is already quite a popular birthday party spot. Packages include two hours of private party time for up to 15 kids, pizza and juice for children, beverages for adults, a gift for the birthday child, balloons, invitations, game tokens and other perks. Packages cost $295 Monday-Thursday and $395 Friday-Sunday.

Kids Playhouse is located at 34-17 Steinway Street between 34th and 35th Avenues, less than one block from the Steinway Street subway station. Call ahead to confirm hours and make sure it's not closed for a private party: 718-806-1288
For other places to play inside in NYC, check out our Indoor Activity Guide.
Places featured in this article:

Sign up for our free
newsletters.
Mommy Poppins is a family activity website that helps people find things to do with kids.
©
2023
MommyPoppins. All Rights Reserved.
mp-prod4-v4.32.99
Click Here to Sign Up!
i