Tips for a Successful Ski Outing in Connecticut With the Kids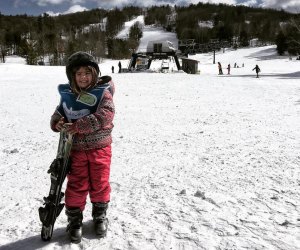 If you're like me, the thought of taking your small fry skiing is, well…daunting. There's the expense, the crowds, and don't even get me started on the hassle of hauling all that gear…
But now as I watch my 5, 7, and 9 year old whiz past me on the slopes (admittedly, not a major feat – I'm no Lindsey Vonn!), I'm so glad we started them skiing at a young age. If you're just starting to contemplate taking your little guys skiing, I've put together a list of ingredients essential for a successful day ski trip in Connecticut (read into this: everything-I-didn't-do-but-wish-I-had the first few times we went on family ski trips).
1) Find a relatively small mountain. This isn't the Olympics, and you likely won't get off the smallest hills the first few times you go.
Sundown, 126 Ratlum Road, New Hartford, CT, 06057, 860.379.SNOW
2) Go early and leave early. This season, we've been arriving at Sundown at 9am. The parking lot is relatively empty, and we can walk right to the ski lift in matter of minutes. When we leave around noon, the crowds are picking up.
3) Rent skis for the season. If you're going to ski more than twice, it usually makes more economic sense. Plus it eliminates the chaos of visiting the rental facilities on the mountain. Lots of Fairfield County outfits do seasonal rentals, including Outdoor Sports in Wilton, and Ski and Sport, in Ridgefield and Westport. If you choose to go with seasonal rentals, ask the store if they have coupons for local ski areas.
Outdoor Sports, 80 Danbury Road, Wilton, CT, 06897, 203.762.8324
Ski and Sport Ridgefield, Ethan Allen Highway, Ridgefield, CT, 06877 203.438.3645
Ski and Sport Westport, 877 Post Road East, Westport, CT, 06880, 203.966.1671
4) Make a pit stop prior to arriving at the mountain. We stop at the Dunkin' Donuts 2 miles south of Sundown. 3 chocolate glazed munchkins, a bathroom run, and everyone into snow pants. Definitely easier than taking the whole crew into the lodge's restrooms.
5) Bring a bag of extra mittens. Just in case. Ski trips come to abrupt stops if little hands get cold or wet. And if your kids end up really enjoying skiing, you may want to invest in a ski gear backpack. At 5, 7, and 9 my kids can now all carry their own gear (Hallelujah).
6) Bring some candy that you can keep in your jacket pocket (Starburst work for this family). Sometimes a little sugar is exactly what a 3 year old needs in order to keep on trucking, and being able to give them a little treat on the mountain is much easier than taking them inside for hot chocolate.
When skiing with little guys, the small details make a big difference. See you slopeside!
Originally published 2/2/2013.