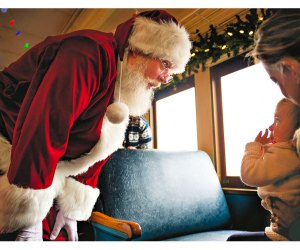 Must-Do Holiday and Christmas Experiences for Connecticut Kids
1. Bundle up in the car and take a drive through a wonderland of lights—New Haven
Fantasy of Lights is an annual tradition in the Elm City, and open mid-November until after Christmas.
2. Experience the Nutcracker, a timeless treasure presented annually—Hartford
Dozens of Connecticut children perform in this adaptation of the classic story. Performances run December 12 through 15.
3. Roam the historic Burr Mansion and gaze at the amazing decorations in each room—Fairfield
Each room in the mansion is decorated by local artisans and interior decorators, from December 6 through 8. Santa will be on the premises!
4. Grab the Santa Special from the Essex Train Station—Essex
Make lasting memories with your children as you ride the Santa Special, and chat with Santa and Mrs. Claus. Grab tickets—this sells out quickly!
5. Put on some skates and glide on the ice—Hartford
Winterfest offers free skating 7 days a week during the cold months. Rentals are available, and the rink is open from 11am to 8pm.
6. Take a stroll on Elm Street—New Canaan
Many towns in Connecticut offer community building Holiday Strolls. This is often the time when Santa arrives and the local tree is lit.
7. Thousands of lights will make a trip to Holiday Lights unforgettable—Bristol
Set to music, Lake Compounces Holiday Lights delight kids and grownups alike. Selected rides will be open for kids, and food trucks (and even Santa) will appear.
8. See the absolute best Gingerbread exhibit in the state—South Windsor
A teeny, tiny library just over the river is the annual location of two floors of gingerbread creations. Beautiful decorations surround an adorable shop with homemade goodies.
9. Come see the reindeer with the big red nose—New Haven
Rudolph the Red Nose Reindeer is this year's children's production for the holidays at the Shubert Theater. Running time is 90 minutes.
10. Begin your holiday season on the water—Mystic
At this event, Mystic will be lighting up their Christmas tree and having a unique light parade, which culminates with the arrival of Santa. WInning vessels are given prizes. This event is attended by thousands.
11. Have brunch with Santa on the river—Middletown
Choose from a delicious breakfast menu while you coast down the river on Rudolph's Holiday Cruise. Cruise includes a visit from Santa and a magic show.

Greenwich's shopping district gets festive during the annual Reindeer Festival. Photo courtesy of the event
12. See live reindeer (perhaps flying?) at the Greewich Reindeer Festival—Greenwich
Santa and his real reindeer are back at the Greenwich Reindeer Festival and Santa's Village. Children can ride on the Winter Wonderland Carousel, opening November 29.
13. Skip the trains, and try a trolley at the Santa's Trolley Winter Wonderland—East Haven
Starting on December 1, ride a historic trolley decorated for the season and spend some time with Santa as you go. No reservations are needed, and the trolley comes every 20 minutes.
14. Share a meal with the big man in red—Bridgeport
Come and have breakfast with Santa himself at The Klein. He may be busy, but he still has to eat!
15. Go pick out an amazing Christmas tree at Angevine Farm—Warren
There are so many places to tree shop, but Angevine offers trees in different sizes with different price points.
16. Let your heart grow three times its size with the Grinch—Hartford
The Bushnell is putting on a production of Dr. Suess's How the Grinch Stole Christmas. The show runs Dec. 13 through 15.
17. Celebrate Winter on the New Haven Green—New Haven
Take a horse drawn carriage ride, see live ice-carving, do a craft, hear Santa read a story and so much more at this free event.
18. Learn about holiday traditions at a beautifully decorated mansion—Norwalk
The Lockwood-Matthews Mansion will be in full holiday regalia. You will be able to learn about the holiday's development from 1850's to the 1930's and see magnificent trees and vintage toy trains.
19. Race for candy canes—Weston
The Great Candy Cane Hunt is on! Collect the candy canes, win prizes, and meet Santa.
20. Be amazed by the amazingly decorated Wonderland at Roseville—Fairfield
People flock to Roseville Terrace every year to see the amazing lights put up by a family.
21. Do not miss the Christmas Village put on by the Bozenski's—Torrington
A huge holiday display with Santa always in attendance, the Christmas Village is an sparkling, holiday event for all.
22. Drive through the much-loved Holiday Light Fantasia—Hartford
Hartford's own sparkling, twinkling light display in Goodwin Park.
23. Take a trip to Bethlehem...Connecticut, that is—Bethlehem
Enjoy the Christmas Town Festival in a little town in Connecticut, December 6 and 7. There will be live music, Santa, a hayride, a choir-bell concert, and more.
24. Enjoy brunch with Santa at St. Clements—Portland
Eat a delicious meal that you don't have to cook or clean up from, and visit with Santa.
25. Do you love the movie: The Christmas Story? Then you'll love the play—Thomaston
Will Ralphie get his BB gun for Christmas? Find out at this delightful stage adaptation.
26. Jump on the Holiday Hay Wagon and take a ride to Santa's house—Bristol
The Indian Rock Nature Preserve hosts an annual winter wonderland event, this year on December 7 and 8. See the hall of decorated trees and the indoor waterfall, and mail a letter from Santa's Post Office.
27. Meet the Gingerbread Family— New Milford
This musical is about your favorite holiday cookie family. The Gingerbreads of Broadway is a family-friendly, "Claus-approved" show.
28. Watch Santa descend a tall building (no seriously!)—Stamford
Santa, Rudolph, and the Grinch will rappel down Stamford's Landmark Square building at Heights and Lights. This feat is followed by the square's annual tree lighting.
29. Enjoy the Nutcracker put on by the Ridgefield Conservatory of Dance — Ridgefield
The classic tale of wooden soldiers and dancing ballerinas takes place in Ridgefield, too. This great holiday tradition is doable at a reasonable cost, too.
30. Have fun by the fire at the Firelight Festival — Guilford
Come to the Museum to roast marshmallows, eat roasted chestnuts, enjoy popcorn and mulled cider, and listen to The Night Before Christmas.