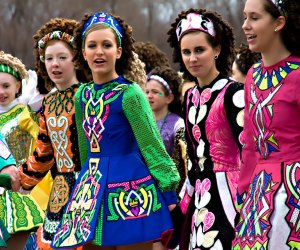 Things to Do in Chicago This Weekend: St. Patrick's Day, Maple Sugar, Kids' Theater
The biggest, greenest party of the year hits Chicago this weekend, with family-friendly St. Patrick's Day celebrations all over town. The biggest and greenest, of course, is the annual dyeing of the Chicago River on Saturday (catch the best views from a kid-friendly river cruise), set dressing for the great downtown St. Patrick's Day parade. But with kids it might be just as fun to hit one of the many neighborhood celebrations—the South Side St. Patrick's Day Parade on Sunday is family-friendly, as are the Northwest Side celebration, the Naperville parade, the big party at Gallagher Way in Wrigleyville, and the St. Patrick's Festival at the Irish American Heritage Center.
It's another great weekend for children's entertainment. This is your last chance to see The Princess and the Pea at the Marriot Theatre, and on Sunday kids can rock out to the Music of Queen. Enjoy free movies and activites at the One Earth Film Festival and embrace your inner goth at a $3 screening of The Addams Family. Make this weekend extra sweet by hitting up the Sugar Bush Festival or the 48th Annual Maple Syrup Festival to see how maple syrup is made.
For more ideas for family fun in Chicago, our jam-packed event calendar is at the ready. Note that events may be cancelled due to the coronavirus, and we will continuously update our event calendar to reflect any change or cancellation.
OUR LATEST VIDEOS