8 Great Bakeries for Birthday Cakes Around Boston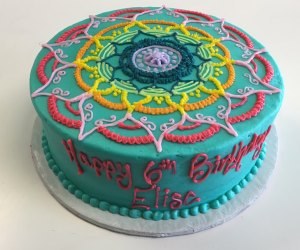 Whether you're hosting a birthday party at home or at another location, you're going to need a cake to celebrate your child's big day. Ideally, we'd all have the time and energy to whip up a beautiful creation ourselves, but it's a tall order, especially during a busy week. That's when we call in the pros. We rounded up eight of the best bakeries in Boston for when you want your child's birthday to be extra special...while preserving your sanity!
Cakes 4 Occasions — Danvers
This award-winning North Shore bakery is the place to go if you're looking for a cake that's not only beautiful, but also nut-free. Owner Kelly Delaney has been making some of the most coveted birthday cakes in the area for more than 20 years, so she's clearly no flash in the (baking) pan. Cakes for Occasions can do everything from first birthday and smash cakes to sport- and doll-themed cakes.
Confectionately Yours — Quincy
If you call the South Shore home, look no further than Confectionately Yours in Quincy to for your child's next birthday cake. The bakery makes its dreamy buttercream frosting on-site everyday, so it's always super fresh. Choose from a variety of sizes, flavors and designs to make the cake as unique as your child.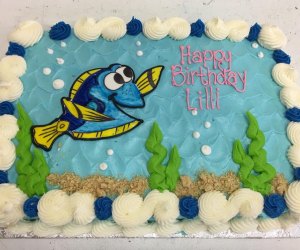 Custom cakes can make any birthday extra special. Courtesy of Confectionately Yours.
Donna's Cakes — West Roxbury
This Boston bakery has changed hands a few times, but it's now back in the same family that started it 26 years ago. Donna's Cakes prides itself on using only their signature buttercream frosting, which it can apply to round cakes, sheet cakes or even cupcakes. Choose from one of the bakery's many whimsical designs.
Lyndell's Bakery — Somerville
In a city steeped in history, we couldn't leave one of its oldest bakeries off the list. Lyndell's Bakery in Somerville has been crafting cakes and other confections for more than 130 years! That's a lot of birthday cakes. And Lyndell's can make your child's next one extra special with one of the bakery's custom designs featuring characters, sports, animals, or almost anything else you can think of.
Oakleaf Cakes Bake Shop — Fenway
Oakleaf Cakes had humble beginnings in its owner's kitchen, but as demand rapidly grew, the bakery had to find another home. When you visit the Fenway shop, you'll immediately know why Oakleaf's popularity has soared (hint: it's the attention to detail). Oakleaf can even craft some pretty crazy concoctions, like life-sized Star Wars figures made entirely out of cake!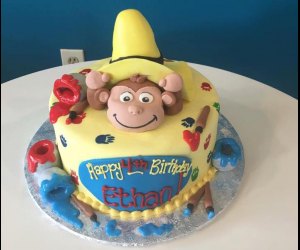 Select from characters, sports, animals or other designs to crate a custom cake. Courtesy of Confectionately Yours.
Party Favors — Brookline
This one-stop shop for all your party needs has been serving the Boston-area for more than 50 years. Not only can you order a delicious and beautiful custom cake from Party Favors, but you can also pick up balloons, streamers, and other party supplies while you're there. Select from character, animal or gender-specific birthday cakes at this Brookline bakery.
Sweet Tooth — South Boston
Located in South Boston, Sweet Tooth is all about creating custom cakes for birthdays and other special occasions. Combine delectable cake flavors with various icings and fillings to create your child's ideal cake. If you prefer cupcakes to one big cake, Sweet Tooth has a big selection of specialty flavors and can even do mini-cupcakes.
Yum Bunnies Cakery — Belmont
Based in Boston for a decade, Yum Bunnies is all about creating sweet treats that are as tasty as they are eye-catching. Select from a variety of cake and frosting/filling flavors and designs to create a custom cake, or try one of Yum Bunnies Cupcake Parties where the kids get to bake and decorate the cupcakes themselves.
---
Top image courtesy of Larena Hindy and Donna Grandy/Donna's Cakes.