Best of August: 21 Top Things To Do in Westchester and the Hudson Valley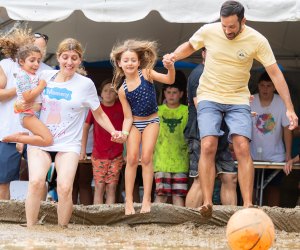 Summer is not over yet! August in Westchester and the Hudson Valley is a great time to enjoy outdoor movies and concerts, summer festivals, and the best beach days.
Our August picks are packed with family-friendly summer fun, featuring top events such as Harry Potter in Concert, the New York Air Show, and the World Helicopter Day celebration. August fairs and festivals include the Sunflower Festival, the Dutchess and Ulster county fairs, and the kickoff of the New York Renaissance Faire. Families who don't mind a little dirt (or a lot!) are invited to beat the heat by getting muddy with Peppa Pig at the Muddy Puddles Mess Fest in Mahopac or build a winning work of sand art at the Sand Castle Competition at Glen Island Beach.
Find more amazing August fun in this list of 25 Ways to Beat the Heat with Westchester Kids, 50 Free Things to Do This Summer, and our Summer Activity Guide for Westchester Kids,
We're adding more events to our family activity calendar every day, so don't forget to check it frequently.