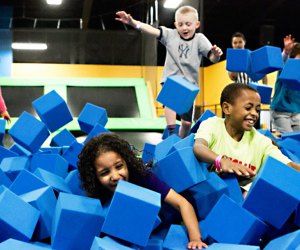 Hudson Valley Indoor Play Places Worth the Trip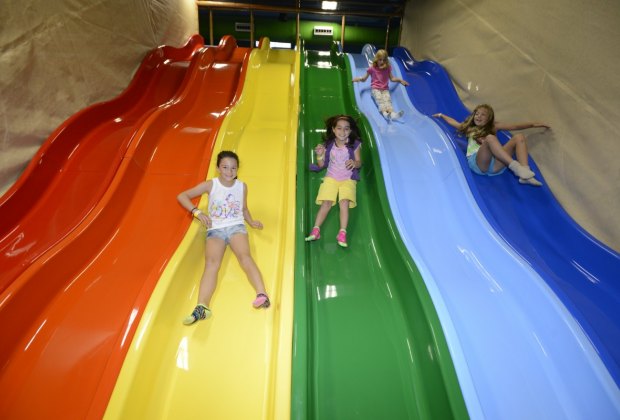 The giant bumpy rainbow slides at Billy Beez are a hit with kids of all ages!
Billy Beez – Middletown and West Nyack
Billy Beez, which has locations in the Galleria at Crystal Run Mall and at the Palisades Mall in West Nyack, is a vibrant maze of slides and tubes. Older kids will love the ball-blasting area with cannons and vacuum tubes, while toddlers and babies can roam safely in their own smaller structure with soft climbing mats. At the Middletown location, preschoolers and toddlers can also play in a fenced, pretend-play area known as Honeycomb Village, but this area does require an additional fee. We're not crazy about having to spend extra money to access one feature, but we do have to admit that the 4-year-old we went with was completely and totally in love. Billy Beez can be crowded, but even the day we went to the Middletown location—a school break on a frigid day, aka prime time—it never felt overwhelming. Do be prepared to wait to enter on busy days—every guest must be registered, photographed, and scanned. You'll be given a keycard that you can use at any Billy Beez location, which will cut down on entry times for return visits. Security is serious at Billy Beez; our bracelets were scanned going in, and they were checked again when we left. Take note: Parents must also pay to enter. Outside food is not permitted, but there's a well-stocked café that serves food. Billy Beez has drop-off play every day, as long as you book 24 hours in advance.
RELATED: Top Indoor Play Spaces for Kids in Westchester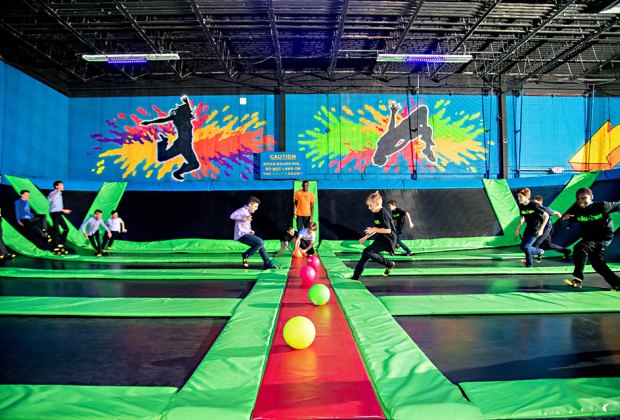 Bounce! Trampoline Sports has dodgeball games and a host of other activities.
Bounce Trampoline Sports has two different locations, one in Rockland County and the other in Dutchess (a third, in Middletown, is set to open soon.) We recently visited the Valley Cottage location with a 9-year-old and a 4-year-old, and both boys had an excellent time—not always easy with a five-year age difference. In addition to trampolines on the floors and walls, there are also basketball hoops, dodgeball courts, climbing nets and giant foam pits. Bouncers 5 and under get their own separate section with their own little foam pit, trampolines, and a giant inflatable castle. The dodgeball zones are also broken up for ages 6-11 and 12 and up. Adults can jump too! Two major pluses: There was plenty of supervision by friendly staff to ensure no concussions would be had, and the entire place was extremely clean. (Really—even the foam blocks in the pits looked brand-spanking-new.) You are not allowed to bring in outside snacks, but there are multiple vending machines with healthier snacks beyond just candy and chips. Make sure you sign the online waiver before attending, and show up 15 minutes prior to your scheduled start time. Bounce also hosts birthday parties.
A popular birthday party destination, the Castle has something for most ages: roller skating, laser tag, video games, go-karts, batting cages, rock wall, a "free fall" ride, and miniature golf. Its Ballocity indoor play structure has places to climb and slide while kids use cannons to fire soft foam balls at each other. (This last one is fun but very loud, so those with sensitive ears take note.) All activities require using a point card that costs $1 for the first time; you can reuse the card on subsequent visits. A small snack stand serves pretzels, nachos, Slushies and the like, while the Jesters restaurant has pub food and beer. The Castle often runs package discounts during off-peak hours, so check the site for deals.
A climber's heaven, the Elk's Place indoor playground has trampolines, slides, and ball blasting for the older kids, as well as soft climbing objects for babies and toddlers. Kids up to age 14 are welcome to come play. The Elk's Place also hosts birthday parties and has drop-off play times.
RELATED: Top Indoor Birthday Party Places for Westchester Kids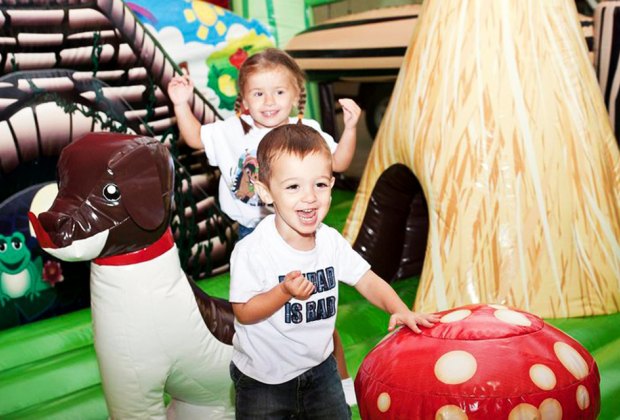 All-day farm fun and play is affordable at Fun-E Farm.
Head to the Hudson Valley Mall in Kingston, where kids up to age 12 can get in a day of bouncing on everything from farm-themed bounce houses to slides—plus an area specifically for the under-5 set. While you can't bring your own food, you can get some on-site. The Fun-E Farm is open every day—and is just $9.99 for the entire time. A variety of birthday party packages are also available. Do note that you can download the safety waiver ahead of time, which you'll need to sign in order to play.
RELATED: 30 Ways To Spend a Rainy Day with Westchester and Hudson Valley Kids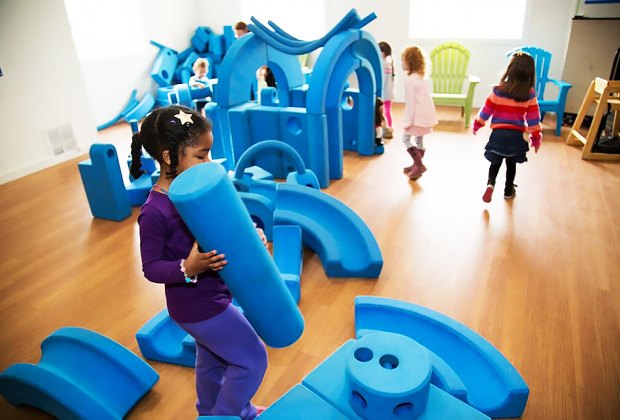 Young children love the big blue blocks of Imagination Playground at the Mid-Hudson Children's Museum.
Sometimes it can be hard to find ideas for things to do with smaller children, but this museum takes the guesswork out of it, as it's geared specifically toward that age group. (In fact, it bills itself as the "Hudson Valley's best place for (little) kids.") And there's tons for them to do—from exploring the exhibits, which include The Science Center, Imagination Playground, and even a garden, among others, to taking part in events and educational activities, like storytimes. And be sure to mark your calendar for the third Saturday evening of the month: that's when families get in free.
This newly-renovated family entertainment center has 20 bowling lanes, an arcade, and escape rooms, plus a full menu of eats.
This indoor entertainment center has rides, arcades, a three-story soft-play structure, virtual games, and more.
Photos courtesy of the venues.
This post was originally published in 2016 and has been updated since.