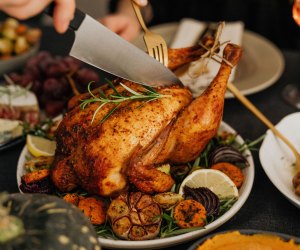 Turkey Takeout! Where To Order Thanksgiving Dinner in Connecticut
Thanksgiving celebrations may look different in 2020, but this holiday is still best spent gathered around a table with loved ones. If you're looking for places that will prepare a Thanksgiving meal for you—more appealing than ever, perhaps, this stressful year—look no further than these Connecticut restaurants offering turkey and all the trimmings for takeout or pickup dinner. Think roasted turkey, sweet potatoes, mashed potatoes, green beans, kid-friendly mac and cheese, and, of course, pies of all kids.
If you are in the mood to cook (and learn a little history), consider rounding up your little chefs to try these old-fashioned, "first" Thanksgiving recipes that you can make with kids. Our Connecticut holiday guide has even more ideas for making your time at home and with family more festive and meaningful than ever in 2020.
Restaurants Serving Thanksgiving Takeout in Fairfield and Western, CT
Long Ridge Tavern - Stamford
Whatever you are craving for Thanksgiving, Long Ridge Tavern has you covered for pickup. With a full, three-course menu of offerings, you can choose from butternut squash soup, traditional roasted turkey, Atlantic salmon fillet, and more. Top it all off with pumpkin pie or Tavern cheesecake. Call ahead to place your takeout order.
Brick Walk Tavern - Fairfield
At Brick Walk Tavern, you have your choice of ordering a full turkey dinner for 4 to 10 people. To accompany your turkey, you can choose from a variety of scrumptious sides including roasted potatoes, Brussels sprouts, loaded stuffing, and mac and cheese. All orders must be placed by November 18.
Luna Azzura - Fairfield
Luna Azzura's Thanksgiving Feast includes whole cooked turkey, apple-nut stuffing, mashed potatoes, green beans, and cranberry sauce. Your feast will all be packaged for pickup to enjoy in your home. You can also place an order for an individual turkey dinner. Orders must be placed by November 22 and will be available for pickup on Thanksgiving Day.
Frank food company -- Kent
The Frank food company is preparing a takeout dinner that includes a brined and roasted turkey paired with cheddar, sweet potato gratin, and pumpkin pie. Orders can be placed for a serving for two or four people. The order deadline is November 16.
Fortuna's Catering - Bridgeport
Fortuna's Catering will deliver the turkeys and all the trimmings right to your door. Thanksgiving Packages are priced per guest, so there will be no fighting over leftovers. Orders must be placed by November 19 and will be delivered on November 25 with easy reheat instructions.
Restaurants Serving Thanksgiving Takeout near Hartford, CT
Artisan - West Hartford (and Southport)
Celebrate at home with this festive menu from Aritsan. Both locations are offering a three-course prix fixe menu for $45 per person. Selections include a choice of entree turkey, salmon, or housemade gnocchi. Orders will be taken online until November 22.
Rooster& Co - Newington
Rooster & Co is serving up a Thanksgiving Family Style Dinner that you can enjoy from the comfort of your own home. The feast includes VT Cheddar Cheese, Parker House rolls, maple balsamic Brussels sprouts, cornbread and sausage stuffing, mashed potatoes, and gravy. This carryout meal feeds four adults.
Fire At the Ridge - Middlefield
Thanksgiving dinner from Fire At The Ridge includes soup, salad, and a complete turkey dinner with all the trimmings. You will also get a choice of pumpkin or apple pie for dessert. All orders must be placed no later than November 23.
Restaurants Serving Thanksgiving Takeout in East, CT
Griswold Inn - Essex
Gris-To-Go is serving up a fully cooked and packed meal to easily warm up at home. All dinners include rolls and butter and your choice of three sides. Feast on roasted turkey with sage and sausage stuffing, green beans almondine, honey-glazed carrots, or white cheddar mac & cheese. All orders must be placed by November 20 and will be available for pick up on November 25.
Daniel Packer Inne - Mystic
Nestled on the banks of the Mystic River, the historic Daniel Packer Inne has a tradition of serving old-fashioned Thanksgiving dinner. In 2020, they are packing up all their delicious food to go in a prix fixe, three-course menu. Pumpkin bisque, roast turkey, braised short ribs, and pumpkin cheesecake are just a few of the items on their menu this year. Orders must be placed by November 23.