Montessori Preschools In and Around Philadelphia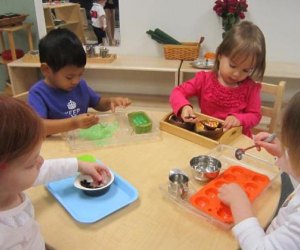 Montessori learning is a great way to foster independence and teach kids a love of learning. Montessori schooling encourages your child's sense of curiousity and adventure. If you're interested in starting your child on the Montessori path, check out one of these great preschools. If you're looking for something a little bit different, be sure to visit our Preschool Guide and our Directory to find more awesome preschools in your area. Whether your kid loves nature, wants to learn a new language, or just loves to play, Mommy Poppins has all the info you need to choose the right preschool.
Clementine Montessori School—Philadelphia
At Clementine, students explore the world at their own pace with their own purpose as teachers guide children throughout the learning process. Clemetine offers mixed-age classrooms so that younger kids can learn from older students, and older students can reinforce what they've learned by helping to guide the little ones. During the course of a typical school day, students at Clementine Montessori enjoy learning about art, Spanish, music, cooking, and gardening as extensions to their regular classroom activities.
Greene Towne Montessori School—Philadelphia
Greene Towne teaches kids from age 18 months to 6 years. Greene Towne's curriculum is designed to develop each child's full human potential – emotionally, physically, intellectually, and socially – and to foster a life-long love of learning. The classrooms here are also mixed age, but each group will stay with one teacher for the duration of the program, creating a self-sustaining community.
Gladwyne Montessori—Gladwyne
This nonsectarian Montessori school is for children age 2 through middle school. Gladwyne Montessori offers 2 Stepping Stones classrooms for the youngest kids who are able to attend as few as 2 or as many as 5 days per week, and 6 primary classrooms for children age 3-5. There are also 3 elementary school classrooms for children in grades 1-6, and one middle school classroom for grades 7 and 8. Kids in the Stepping Stones classrooms will learn practical at-home life skills like cooking, cleaning, and more. They will learn language from stories, songs, books, and pictures, and will use puzzles and manipulative games to develop fine motor skills.
Olde City Day School—Philadelphia
Olde City Day School can be found in the Germantown, Old City, and Newbold neighborhoods of the city. The child-centered approach focuses on building a stable and nurturing relationship with your child. The preschool program utilizes learning centers as well as whole class activities. Learning takes place informally and in teacher-directed small groups. Teachers choose different themes throughout the year, based on the interests of the children, that will be interwoven throughout all of the lessons.
Lansdowne Montessori School—Lansdowne
The motto here is "Learn by doing." Within the learning environment, kids can choose their own activities and lessons based on their needs, tendencies, and interests. The teacher acts as a guide and facilitator and prepares the environment to accommodate the changing needs of the students. Lansdowne Montessori teaches children age 2.5-6.
Bala House Montessori—Bala Cynwyd
This school specifically offers preschool and kindergarten programs for kids age 3-6, as well as extended care. Kids will learn independence, self-confidence, and social skills. Bala House has five mixed-age early childhood classes and two kindergarten classes. In addition to teaching traditional Montessori elements in child-centered classrooms, staff model and teach positive social skills and caring values. The school's mission is to allow children to discover themselves.
Fishtown Montessori—Philadelphia
Located in Fishtown, the school has three classrooms that take the traditional Montessori curriculum with a blended approach to address needs specific to the 21st century. Classes are comprised of a mixed-age preschool and kindergarten experience for children ages three through six. There is also an older toddler program for children ages two to three years old and the option to attend for a 10 or 12 month school year for those who need summer programming. Open from 7:00am to 6:00pm the school keeps hours with an intention to convenience working families.
Our House Montessori—Philadelphia
Housed in a beautiful historic mansion built in 1878 and intentionally located within walking distance of multiple parks, museums, and other city amenities, Our House Montessori spent nearly a decade starting and expanding the toddler program at Green Towne Montessori School in center city Philadelphia before expanding to a new school. Built in the mold of Maria Montessori's Casa Dei Bambini they've created an environment that not only nurtured the children in their care, and also allowed them to have a closer relationship with their families.
Philly Montessori—Philadelphia
Philly Montessori is a Spanish Bilingual Montessori micro-school, for children aged 18 months to 6 years old. The term micro-school speaks to their commitment to provide a highly personalized educational setting for each child. Students have complete access to the entire campus- including fully equipped Montessori classrooms, an indoor gym, and an urban garden.
International Montessori Schools—Various
With various locations across the Philadelphia-regiono, each IMSchools classroom is designed to give children "the beauty, order, and independence needed to discover their own joy in learning." IMSchools welcomes children ages 6 weeks through 4th grade. Each campus offers a Pre-Primary (18 months – 3 years) and Primary Program (3–6 years.) Currently, the Elementary Program (grades 1-4) is available exclusively at the Paoli campus, while Infant Program (6 weeks-18months) is available at Malvern, Great Valley and Wilmington campuses.
The programming for each school as well as the physical environment is based on the five main Montessori areas.
Photo courtesy of Greene Towne Montessori.
Updated August 2019