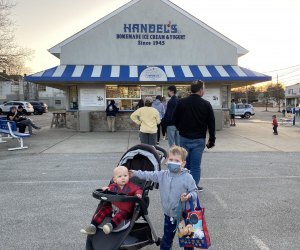 10 Great Things to Do with Kids and Families in Berwyn, Pa.
Nestled between the more populated towns of Wayne and Malvern, smaller but versatile Berwyn has much to offer residents, families and anyone coming to visit. Indulge your sweet tooth, learn a new skill, or wade in the creek, with many locations within a half-mile of each other in the heart of downtown Berwyn.
A visit to Berwyn, less than 20 miles west of Philadelphia, with your kids is worthwhile any time of year, but it's especially satisfying in the spring. That's why we think it's an ideal addition to our Philly Spring Fun Guide. We're sure you will, too.
As with many communities, COVID-19 protocols are in place throughout Berwyn. Visitors should wear masks and observe social distancing guidelines. If a location appears too crowded, try using the "nearby" search feature on our event calendar to find something else to do.
10 Things to Do with Kids in Berwyn, Pennsylvania
There is so much to take advantage of here: tennis, basketball, and volleyball courts; baseball fields; and a pavilion with a nearby playground for kids. There is even a designated area just for toddlers. Leashed dogs are welcome. Off-leash hours are available during certain times and with township registration. Trout Creek runs through the top part of the park, so kids can get their feet wet and cool off on a warm day.
Bring your water shoes to wade in the creek and your net to catch minnows. The 48-acre park boasts a forested, peaceful trail that follows the creek for an out-and-back walk that is mostly shaded with sunshine peeking through the tree cover; it's ideal for kids of all ages. The park welcomes dogs on leashes.
RELATED: Philly Playgrounds that Received Upgrades in 2020-21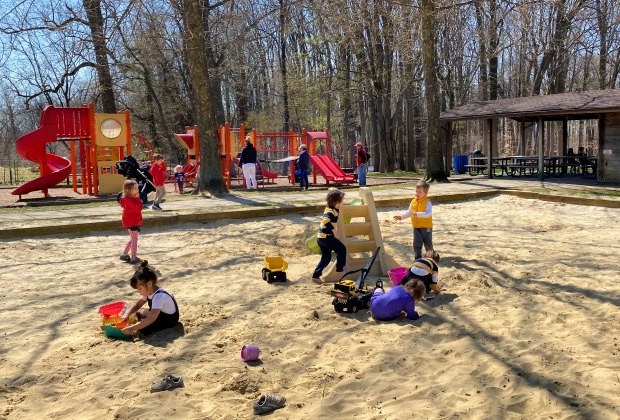 There is something to do for just about everyone at Frank Johnson Memorial Park. Photo by Corrie Stango
Johnson Park, which has a pavilion and bathroom for park visitors, is quiet and somewhat tucked away. It features a toddler playground, an open field, and basketball and volleyball courts. Kids are welcome to bring their own sand toys to the volleyball area. Leashed dogs are allowed. Next door is Easttown Library, where, when fully reopened, anyone interested can join in children's singing, reading, and STEM-related classes.
Winter, spring, summer, or fall, Handel's Ice Cream is open for them all. Delighted ice cream-goers can often be seen even on the coldest of days, waiting at the checkout counter, eager to enjoy one (or more) of Handel's 40-plus flavor options. For ease, customers can order online and select a designated time for pickup or curbside delivery. As a true full-family stop, doggie cones are also available for hungry pups.
Eat your waffle cone and then come jam! Berwyn's School of Rock is directly across from Handel's Ice Cream and conveniently located down the street from the Berwyn train stop. Currently offering a free lesson for new students, School of Rock has programs for toddlers, adults, and everyone in-between. 2021 summer camp is on, and each week is dedicated to a different era or band, including "Best of the 90s" and "Green Day."
On select days after school and until 6pm, students can participate in Springhouse Education's (formally known as The College Process) "Homework Club." Experienced teachers are on hand to support students' needs, and students can drop in when they like. Grab your ice cream before or after Homework Club because Handel's is also across the street.
RELATED: 30 Things We Are Excited to Do with Kids in Philly This Spring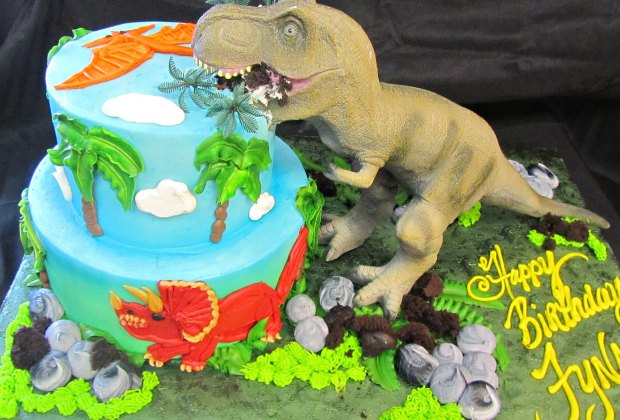 It's not a dino, but rather a lifelike cake. Photo courtesy of Clay's Bakery
Enjoy cakes for any occasion and mini chocolate chip cookies that are out of this world. This family-owned and operated bakery has won awards in Philly Mag and Main Line Today. Plan your next special event with a cake from Clay's. In addition to yellow and chocolate, cake flavors include amaretto, pumpkin spice, mint chocolate chip, and more. Clay's also makes cookie decorating kits for most holidays. Pickup is simple in its parking lot; just text the number on the posted signs, and a Clay's employee will bring your order right to your door.
Gran Vecino; welcome, great neighbor. Just over the bridge that connects the Berwyn train stop to route 30 sits kid-friendly La Cabra Brewing. If safely dining in, the upstairs (available for parties) is a cozy, fun space with couches by the fireplace on one side and the games "hook and ring" and darts on the other. Sundays are for live-fire cuisine, just like La Cabra Brewing Smokehouse in Bryn Mawr, its sister restaurant. Pick up BBQ kits of brisket, pork, baby back ribs, mac and cheese, and cornbread on "Smokehouse Sundays". Outdoor dining is also available.
Have a sweet tooth in the family? Who doesn't? Sweet Jazmine's motto is "We pride ourselves in baking from scratch!" Sweet Jazmine's makes and designs delicious cakes for any occasion in addition to gluten-free desserts and the "Sweet Potato Signature Collection." Inspired by her son when he was a toddler, the chef's sweet potato collection includes cake, cheesecake, pie, and muffins. Customers can also take advantage of bake-at-home options.
RELATED: Great Places to Learn to Ride a Bike in Philly

Introduce your child to martial arts at Dragon Gym of Berwyn. Photo courtesy of Dragon Gym Martial Arts
Newly opened in 2021 and right next to Sweet Jazmine's, Dragon Gym offers birthday parties and prides itself as "the most well-established martial arts school in Chester County." Some of the many martial arts classes for kids and adults include tae kwon do, Korean karate, hapkido, power yoga, and Brazilian jiu jitsu. Certified instructors teach classes designed to meet a child's stage of development. Dragon Gym is dedicated to teaching the community the benefits of martial arts, physical fitness, and healthy living.
Getting to Berwyn, Pa.
From Philadelphia, take I-76 west. Take exit 331A, merging onto I-476 south toward Chester. Take exit 13 for U.S. 30 west and continue on U.S. 30 into Berwyn.