Passover Events in New Jersey for the Whole Family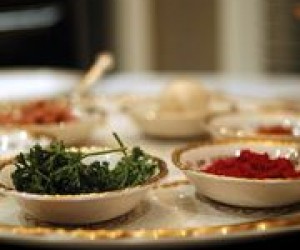 An eight-day festival, Passover is celebrated in the early spring, from the 15th through the 22nd of the Hebrew month of Nissan. It celebrates the emancipation of the Israelites from slavery in ancient Egypt. This year, Passover begins on April 6th, at sundown. The first two days and last two days of Passover (or "Pesach," in Hebrew) are full-fledged holidays; the latter days commemorate the splitting of the Red Sea. The Passover Seder (a Hebrew word for: order, arrangement) is a ritual feast that marks the beginning of Passover. Traditionally, during the seder, families and friends read the Haggadah, a book that contains the Passover story/history, special blessings and rituals, songs, and more. Seder customs include drinking four cups of wine (adults only!), eating matza (unleavened bread), partaking of symbolic foods placed on a seder plate and reclining in celebration of freedom.
Here are some kid-friendly Passover events for the whole family in New Jersey:
Temple Neve Shalom in Metuchen is hosting a post-Passover Pasta Night on Sunday, April 16th at 5pm, sponsored by Neve Shalom Men's Club.RSVP to Matthew at: 732-968-4489. 250 Grove Street, Metchen ($8.00 per person.)
Congregation Etz Ahaim in Highland Park is hosting a Pre-Pesach Luncheon on Saturday, March 31, 8:45-11:30 a.m. (the Shabbat before Pesach). There will be special lectures, great food and more. RSVP in advance to Daniel at: 973-610-1281. 230 Denison Street, Highland Park. ( Teens and adults: $18, Kids 12 and under: $12, Children 5 years and under: FREE).
There will be a Community Passover Seder on Friday and Saturday, April 7th and 8th at 7:30 PM at Chabad House in Denville for the whole family. Enjoy hand-baked matzoh, four cups of wine and a delicious full course meal. By reservation only. Rabbi Levi Dubinsky will preside. Sponsored by: Chabad of Mountain Lakes, Boonton Twp. & Denville. 22 Old Boonton Road, Denville, 973-551-1898

DeHart Community Center in Maplewood is hosting a seder on Sunday, April 8th at 10:00 called Slurp, Slouch & Shmooze. Join the Jewish Cultural School & Society (JCSS)—the only "secular synagogue" serving Essex, Bergen and Passaic Counties—for a model Passover seder in the Secular Humanist Jewish tradition. Families of any faith—or none—are welcome! 120 Burnett Ave., Maplewood, 973-233-0714 (Suggested family donation: $30/non-members, $10/members)
Join in the fun at the Gan (preschool) Passover Celebration at the Jewish Congregation of Kinnelon. To be held Sunday, April 1 at 9:00 a.m. There will be songs, games, crafts, creative seder ideas and more. 91 Kinnelon Rd., 973-838-5566.

Congregation Beth Israel in Scotch Plains is hosting an event called 300 Ways to Make an Unforgettable Seder, open to families on Sunday, April 1 at 9:30 a.m. Admission is $5.00 for both members and non-members. This hour-long media presentation will focus on the history of Seder, customs, ideas and more. The temple will also be hosting a community seder on Friday, April 6th at 6:30, open to both members and non-members of the synagogue. Matthew Axelrod, Cantor of Congregation Beth Israel, will lead the family-friendly seder. 18 Shalom Way, Scotch Plains, 908-889-1830. (For the seder, adults/$25 and children 5 years old and under/$13)

Chabad Jewish Center of Monroe will be hosting a seder on Friday, April 6 at 7:00 p.m. It's described as warm, friendly and easy-to-follow. Please RSVP in advance to temple. 261 Gravel Hill Rd Monroe Twp. 732-656-1616 ($36/adults; $15/child.)
United Synagogue of Hoboken is hosting a second night Seder on Saturday, April 7th at 7:00 p.m. Rabbi Robert Scheinberg leads a traditional seder, with the congregation's "special touch" -- come ready to participate! Everyone is welcome, and babysitting will be available. The meal will be catered, but the temple is seeking volunteers to assist. For other Passover events, click here. 115 Park Avenue, Hoboken, 201-855-6696.