The Very Hungry Caterpillar Show
DR2 Theatre

NYC Easter Brunch Cruise 2023
Event Cruises NYC

Easter Fun Cruise with Egg Hunt 2023
Event Cruises NYC
Sign up for our free newsletters.
Interstellar Cinderella: A Space Musical for the Whole Family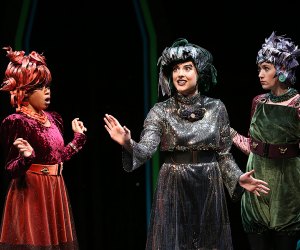 11/22/17
- By
Rachel Aimee
There's a new version of Cinderella in town and it's probably the most fun, the most feminist, and the only version that features the princess as a futuristic space engineer. I took my kids to the opening matinee of family musical Interstellar Cinderella, from the creators of Wanda's Monster and The Amazing Adventures of Harvey and the Princess, and the results were out of this world.
Since it was my son's first theater visit—and he's not great at sitting still for more than a few minutes at a time—I wasn't sure how it would go, but it turned out I had nothing to worry about. This delightful, high-energy production has enough glowing spaceships, out-of-this-world costumes, and catchy musical numbers from the queen of kid rock, Laurie Berkner, to keep even a boisterous 4-year-old glued to his seat and wide-eyed for 50 minutes.
Now's the time to make your holiday plans, from joyous performances and tree lightings to Santa and shopping. Check out our Holiday Guide for NYC Kids to cross everything off your list.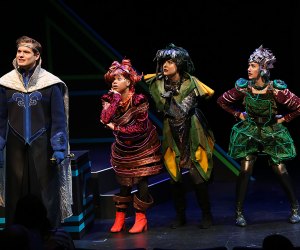 The futuristic setting includes all the classic characters, but also spaceships and a mechanically-gifted princess.
We arrived at the theater early, but instead of having to find ways to entertain the kids before the doors opened, we relaxed while they took advantage of the themed craft activities provided. My son made a spaceship out of a paper plate, while my 7-year-old daughter created a constellation with stickers on black construction paper. Before the doors opened, the children gathered round for a reading of the book of the same name (written by Deborah Underwood, author of The Quiet Book and, our family's personal favorite, A Balloon for Isabel).
Set in 3017, Interstellar Cinderella is a futuristic retelling of the classic, in which the title character is a space mechanic who lives in the basement of her family's spaceship, fixing and programming the household devices for her mean stepmother and stepsisters, while working on her own invention: a hyper warp speed engine to revolutionize space travel. Cinderella's sidekick Murgatroyd, a moving, talking robotic mouse on wheels, was my kids' favorite thing about the show. When the prince announces a space parade and contest for the most original rocket, Cinderella can't wait to show him her space engine. But when her stepmother foils her plans, she has to rely on the magic of a two-headed Fairy God-Bot to help her get to the parade.
RELATED: Best NYC Holiday Shows for Kids: Elf, Charlie Brown, and More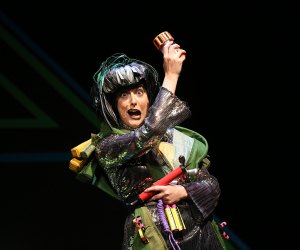 Just as in the original, the stepmother tries to thwart Cinderella's success.
The space parade was a high point for my son, who gazed and reached out in wonder as luminous rocket ships were paraded around the theater. At the gravity-free ball that follows, Cinderella and the prince bond over their love of space travel, but when the clock strikes midnight, Cinderella has to run, leaving behind her magic socket wrench. Fans of the original fairy tale may be able to predict where the story goes from there, but diehard feminist parents will be glad to know that the script holds onto its empowering message until the end.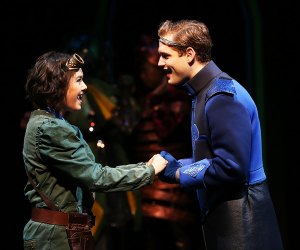 In the end, Cinderella picks a career over a prince.
At the end of the show, the cast got the kids up and dancing in their seats with a singalong to Laurie Berkner's "Rocketship Run." Children then had the opportunity to take pictures with the cast.
Created by dynamic creative duo Barbara Zinn Krieger and Laurie Berkner, Interstellar Cinderella lives up to NYC Children's Theater's standard of outstanding productions for the whole family. The show is aimed at kids aged 4–8, but the script, acting, and musical numbers are good enough to keep older kids and adults thoroughly entertained as well. And parents of young kids will be relieved to know there are no scary parts!
Interstellar Cinderella is playing at The Beckett Theater at Theater Row, 410 West 42nd Street, Saturdays and Sundays at 11am and 2pm through Sunday December 17. On Saturday December 9 there's a sensory-friendly performance designed for children on the autism spectrum. Best for ages 4–8. 50 minutes. Tickets: $29.95.
All photos by Carol Rosegg/courtesy the production.