Jungle Animals Invade Times Square in Free New AR Experience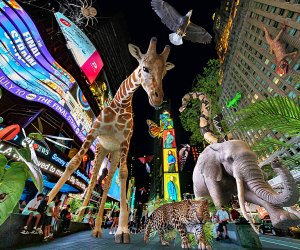 The term concrete jungle takes on a whole new life in NYC this month thanks to the debut of Concrete Jungle AR, a brand new augmented reality experience that's bringing a wild new look to Times Square. Debuting today, and running through August, visitors to the crossroads of the world can immerse themselves in a menagerie of wildlife roaming the city streets set against the backdrop of NYC's most iconic and brightly lit billboards and buildings.
Read on for more information on this urban safari and learn what you need to know before you visit Concrete Jungle AR. If your kids can't get enough of this new technology, be sure to explore one of these virtual reality experiences for kids in NYC.
Subscribe to our newsletters to get stories like this delivered directly to your inbox.
Concrete Jungle AR brings five distinct, interactive viewing zones to Times Square, where, with the help of the Concrete Jungle AR app, guests can experience a virtual playground as wildlife ranging from giraffes and elephants to birds of prey and giant spiders come to life on their screens with all of the city as their backdrop.
Viewing zones are stationed along Broadway and Seventh Avenue from 47th Street to 43rd Street. Each Concrete Jungle AR viewing zone is home to a different environment. See the African savanna come to life on the northern end; jungle animals roam near the Marriot Marquis, and birds, reptiles, and insects spring to life closer to 43rd Street.
In addition to marveling at the technology, the Concrete Jungle AR app lets visitors play interactive games, earn badges, and snap selfies with animals peering over their shoulders. Real-life park rangers are on site seven days a week from 4pm-9pm to help visitors navigate the experience.
The interactive installation is produced by Jamestown, owner and developer of One Times Square—the iconic building which hosts the New Year's Eve ball drop annually, and is but a taste of what's to come. Currently under construction, the building promises a 21st-century visitors center for the Times Square district when finished, complete with a 12-floor AR/VR experience promising more immersive installations. Visitors can also look forward to an outdoor viewing platform of the New Year's Eve ball and Times Square streets below, plus an interactive museum.
Concrete Jungle AR is FREE and open to the public 24 hours a day through August. Before visiting, be sure to download the Concrete Jungle AR app, available on Apple or Google Play.